Throughout January, we ran a competition on Instagram entitled Cook, Snap & Win. And we had some amazing entries!
The criteria to enter was simple: select a recipe from Veganuary.com/recipes, cook it, take a picture of it (snap!) and tag us on Instagram with the hashtag #CookSnapWin.
The prizes up for grabs are sensational! Three bundle prizes for 1st, 2nd and 3rd place, made up of fabulous contributions from the following supporter companies…
Nakd Wholefoods
Indigo Herbs
Ten Acre
The Vegan Kind
Booja-Booja
Fry's Family Foods
CoYo
Tofurky (USA winners only)
Unicorn Goods (USA winners only)
We have been blown away by the quality of the entries! So much so, that we've created a highly commended category in addition to awarding 1st, 2nd and 3rd place. To those of you in this new category, we'll be getting in touch within the next fortnight with a personal note of thanks.
OK, now the important stuff…
Who won and how did we pick them?
Due to the outstanding number and quality of the entries, we considered the following when selecting the winners:
Whether the entry was from Veganuary.com
The level of difficulty and effort
The quality of the photograph
And whether there was anything else to take into account…
And here's what we decided!
3rd Place
@emma__franklin23 chose three different Veganuary recipes for her entry: Spicy Bean and Veg Soup, Key Lime Pie Green Smoothie and Chia Pudding. We were impressed by her effort, the vibrant colours and the fantastic flavour combinations. Well done!
2nd Place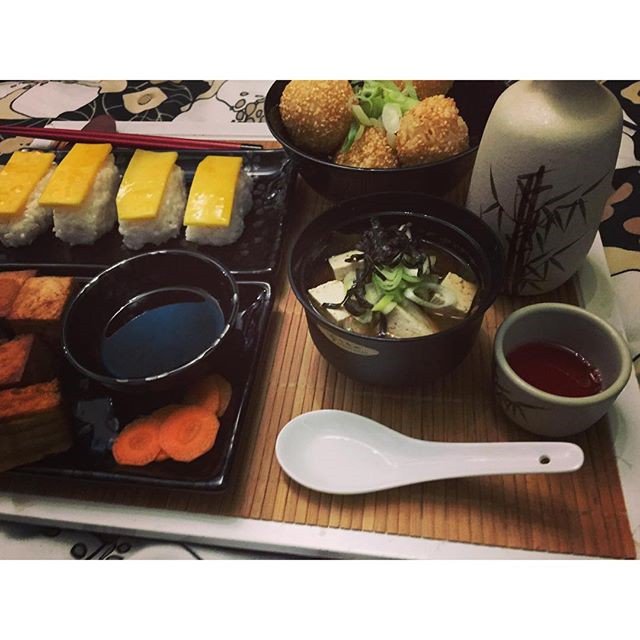 @paperwrist picked four different Veganuary recipes for her entry: Miso Soup, Baked Tofu, Rice Balls and Fruit Nigiri Sushi. What a wonderful Japanese feast, and so beautifully presented! Superb cooking, very well done.
1st Place
@aartik1's entry was stand out from the moment it popped up on our Instagram feed! The restaurant-style presentation, the crystal-clear photo, and the fact that it is an almost picture-perfect replica of the recipe on Veganuary.com. We were unanimous in our decision. Huge congratulations @aartik1 on submitting such a delicious and well-crafted entry. Maybe we're looking at the first vegan Master Chef here folks… Watch this space!
Highly Commended
In no particular order, here are the entries that we decided couldn't go without a mention! Fabulous food created by all of you…
Thank you to everyone who entered! If any of the images above have made you hungry then why not recreate your own version at home tonight? Check out our Recipe section for over 500 fantastic vegan food ideas!