If you're stuck on what to get people this Christmas, or just fancy doing something a little bit different that's more eco-friendly, why not make something for your loved ones this year instead of buying them presents? Our edible vegan Christmas gifts are sure to go down a treat.
We've highlighted some of our favourite recipes below that would make brilliant homemade gourmet gifts. Covering a variety of savoury and sweet dishes, from jams to truffles and vegan cheese to pate, there really is something for everyone!
You could wrap individual ideas to gift to friends or choose a few different recipes and make your own vegan hamper for someone special. It's so much more personal than buying one and it will probably work out cheaper too.
I mean… who doesn't love millionaire shortbread and chocolate brownies? These are one of the most indulgent vegan brownies you will ever come across, but then isn't Christmas all about over-indulgence? This hybrid treat will make the perfect gift for the chocolate lover in your life. Regardless if they are vegan or not these are guaranteed to get you off their naughty list and right to the top of their nice list!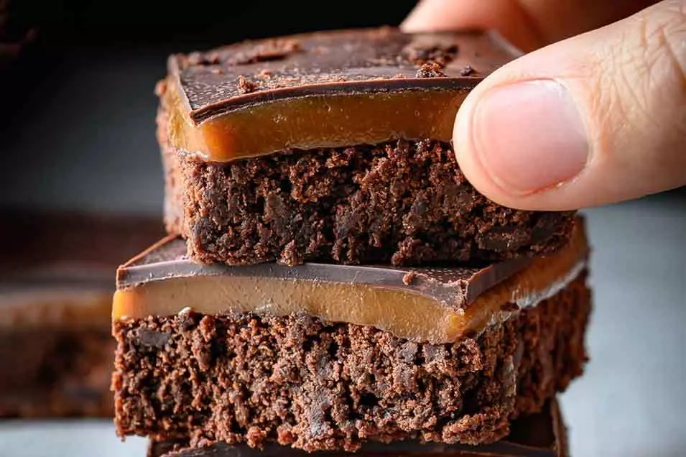 Nothing says Christmas like the classic combination of chocolate and orange. Throw in a bit of pecan too and you're on to an absolute winner. When it comes to gift-wrapping you could either box up individual slices to give to friends and family, or if you're feeling generous, gift someone the whole pie (if you can resist eating a slice yourself!)
Jars of homemade jams, pickles and chutneys have long been a Christmas gift classic. This recipe uses raspberries, but you could substitute for any fruit you might have
on hand. The key ingredient to this healthy jam recipe is Chia seeds. They are a great way to easily thicken jams as they do all the hard work for you. You won't need to rely on cooking the fruit down, adding pectin or tons of sugar to help it set.
Roasted chestnuts are synonymous with Christmas, but have you ever tried chestnut butter before? This creamy, delicious spread is amazing on toasted baguette or crackers and will make the perfect addition to any vegan or non-vegan cheese board.
Speaking of cheese boards… don't forget the crackers! These rosemary oatcakes are not only vegan but gluten-free too and would pair perfectly with the chestnut butter above or with this decadent walnut pate. Have some fun with them and get some Christmassy themed cookie cutters to make them even more festive!
These Ferrero Caramels are a healthier, plant-based version of that Italian classic that we're all used to seeing stacked up into golden pyramids around the festive period. This recipe uses almonds, but you could easily switch them to hazelnuts if you wanted to re-create something closer to the original. If you wanted to make them extra special, you could even buy your own gold foil to individually wrap them up in!
These raw mini-Christmas puds are extremely Moorish! All you need is a decent blender and they will come together in just a few mins and last for up to two weeks in the fridge. Don't forget to sprinkle with some extra desiccated coconut to create a "snow effect" and top with a cranberry and two pumpkin seeds to look like a berry and holly.
If you're making something for someone who isn't the biggest sweet tooth, then these savoury butternut squash and tomato muffins will make the perfect edible gift. Not only are they vegan but they are gluten free, soy free, nut free and yeast free too so can be enjoyed but almost everybody. Make sure you've got some Christmassy-themed muffin cases to put them in!
Chocolate… Maple… Meringue… we hope we're speaking your language! These delicate chocolate dipped meringues are made using aquafaba (the brine drained from a tin of chickpeas) but don't worry, they don't taste anything like chickpeas once they're finished! They look and taste super luxurious, especially when they are gift wrapped properly. Just try to remember you are making these as a gift for someone else, so don't eat too many yourself!
These Christmas Mincemeat slices are super simple and quick to make. If you're using pre-made mincemeat like we did make sure you've checked the label to ensure its vegan. Some mincemeat contains suet (beef or mutton fat), but it is possible to get it without. If you're feeling up to it and have the time you could always make your own vegan mincemeat too! There are plenty of recipes online to choose from.
You may wonder if it's even possible to make vegan eggnog, considering pretty much all its ingredients are traditionally non-vegan! Usually it's made with milk, cream, sugar, whipped egg whites, and egg yolks but it is still possible to get a rich, creamy, comforting drink with completely plant-based ingredients. This recipe uses cashew milk as it makes it thick and super velvety. If you want to make an alcoholic version, simply add a shot of bourbon or Kahlúa! Make sure you write clear instructions on the label so the receipt knows to heat it up before drinking.
This parfait is a great way of transforming any nuts, biscuits or dried fruit you might have hanging out at the back of your cupboard into something that's completely delicious, luxurious and celebratory. The vegan honeycomb is amazing and would make a great gift on its own but adding it into this parfait takes it to a whole new level. Presentation wise, we'd recommend cutting it up into slices or squares and popping them into a gift box to make them look extra special.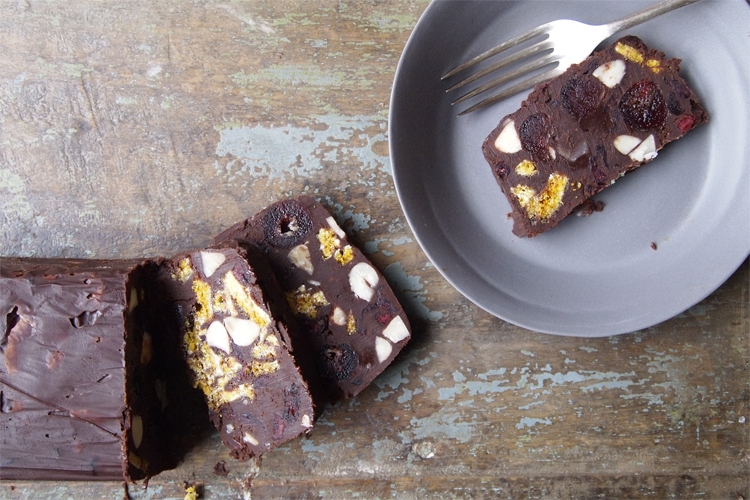 This cardamom fudge is actually a traditional Indian recipe called Burfi that is often eaten at Diwali, but we think it also makes a perfect Christmas day treat. The recipe uses chickpea flour which may seem like an odd addition at first but is quite a common component in Indian desserts. The addition of chickpea flour also means this fudge comes with a decent hit of protein too. The perfect gift for the fitness freak in your life!
This sweet chilli relish has fabulous subtle flavours and spice as it uses Ancho Poblano chillies which are a milder, sweet variety. If you're making it for a serious chilli lover and want to turn up the heat, simply swap for a hotter chilli like habanero or savina. If you make it super-hot be sure to write a warning on the label!
This granola recipe is so quick and easy to make. It's also really customisable so feel free to add any other nuts, fruit or even chocolate flakes if you fancy. You could even add some extra cinnamon and some nutmeg to make it taste extra Christmassy. Put it in a nice jar and make your own custom label so you can write out a personalised message.
You might want to make a double batch of these because there is no way you'll be able to resist eating a few yourself. They're super easy to make and RIDICULOUSLY delicious. When it comes to packaging them up, did you know you can buy empty sweet boxes online for less than £5? This means you can create your own luxury chocolate boxes to gift your friends and family! We've got a few different recipes for truffles and chocolates on our website so you could even make your own luxury vegan chocolate selection box! A few of our favourites include these Chocolate Blueberry Lovehearts, Hazelnut Truffles, Spicy Raw Chocolate Bonbons and these healthier Nutty Chocolate Truffles.
This everyday cookie recipe is so easy you don't even need to roll the dough or use cookie cutters. However, they do need to rest for a couple of days in a cookie jar or tin to reach their perfect texture so make sure you bake them ahead of time! Gift them as they are or you could sprinkle them with sugar before baking, cover with lemon icing or dip in dark chocolate to give them extra pizzazz!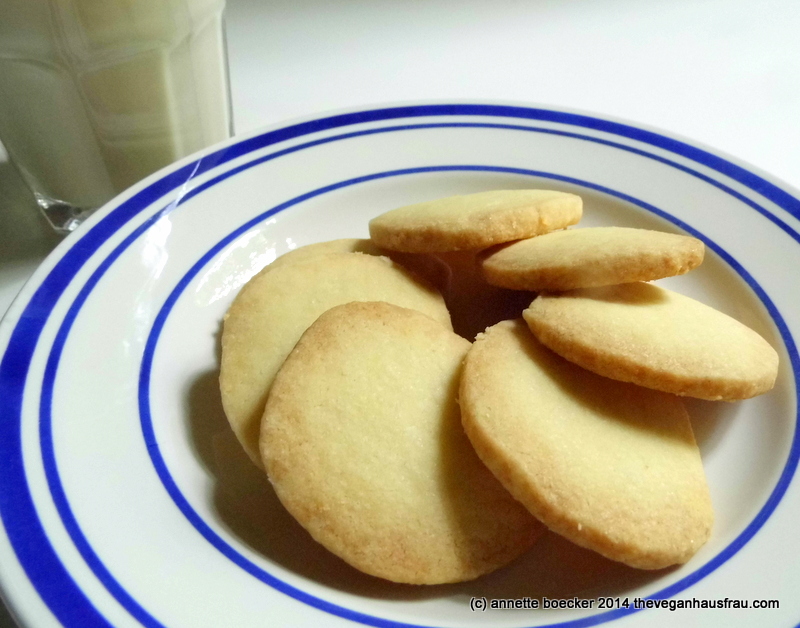 Another homemade jarred hero! This 6-ingredient pesto is packed full of Mediterranean flavour and although doesn't seem that Christmassy is an absolute delight when combined with vegan cheese and crackers.
And speaking of vegan cheese, have you ever considered trying to make your own? There are lots of very complicated and fancy vegan cheese recipes out there but this one is so simple and easy, even the least experienced cook can manage it. You quite literally just throw everything into a blender, heat it all up and then transfer into a mould to set. Easy!
These traditional Cypriot Christmas Biscuits are almond biscuits/cookies that are super popular in Greece and Cyprus. They are similar to shortbread but with a little alcoholic hit thanks to the cognac. They already look pretty Christmassy after you've sprinkled them with confectioner's sugar but you can make them even more festive if you use star or snowflake cookie cutters.
This chestnut, black olive and thyme pâté is super quick and easy to make. The dense almost fudgy texture of the chestnuts means you don't need to add any fat and the heat of the raw garlic and cayenne pepper combined with the kick of the brandy help make for a lively feast. It would be a great addition to a homemade vegan cheese and meat hamper.
Impressed with these edible vegan Christmas gifts? If this post has inspired you to try going vegan, why not sign up to our free 31-day email series to help you on your way?

If you can't wait to get started, head straight over to our collection of hundreds of recipes!