Having a kitchen full of versatile and tasty ingredients is your first step to creating fantastic vegan food! Use our list of vegan food essentials to get started.
Don't feel that you need to rush out and buy everything straight away though. Simply use this as a guide to grow your Veganuary larder. You'll find all the inspiration you need for cooking with these within our recipe section, and If you're not sure where to find them then our Product Directory is here to help. Happy cooking!
Dairy Replacements:
Vegan Butter:
Olé and Flora Vegan margarine
Dairy Free Cheese:
Tofutti, Sheese, Violife, Nature & Moi (Checkers), and Woolworths dairy free cheese.
Plant Milks:
Soy, Rice, Oat, Almond, Coconut, Hemp, etc.
Yogurts:
Woolworths soya yoghurt, artisan coconut yoghurt, Cape Crème yoghurts.
Dairy Free Ice Creams:
Tofutti, Le Qoquin, Urban Vegan, Dolce Vita dairy free.
Protein:
Tofu:
Extra firm for cooking or silken for sauces and desserts.
Clearspring Tofu:
Delightfully firm, with a natural taste that is sure to make you feel healthier than ever before.
Seitan:
Meat replacement made from wheat gluten – great 'meaty' texture.
Clearspring Young Jackfruit Chunks:
The fibrous and meaty texture of this incredible fruit allows you to cook yourself up something with a satisfyingly "meaty", all without the meat!
Peas:
Garden peas (frozen or canned).
Beans:
(Dried and/or canned) – kidney beans, black beans, pinto beans.
Chickpeas:
These are good as a healthy savoury snack, or sprinkled onto your dinner to add a little

crunch.

Seeds:
Sunflower, pumpkin, sesame, chia, flax, hemp etc. Seeds are packed full of good stuff!
Nuts:
Almonds, cashews, walnuts, brazil nuts, pine nuts.
Nut butters:
Peanut butter, almond butter, cashew butter, hazelnut butter etc.
Lentils:
Puy, red, brown and green – in dry form or packed ready to throw straight into sauces/curries. A wonderful 'meat' substitute in Bolognaise, Shepherd's Pie, Lasagne etc.
Miso:
Traditional Japanese seasoning – eat as a soup or use as a flavouring.
Clearspring Miso:
Use the different flavours in different dishes, to season, flavour and heighten your cooking to the next level.
Tamari/ Soy Sauces:
Tamari is a thicker, less salty, fermented soy sauce with less wheat than soy sauce.
Tempeh:
Similar to tofu in that it is made from fermented soy beans, but less popular in Western countries. Firmer than tofu with a stronger flavour. Great to marinate.
Fry's:
All vegan frozen product range, including burgers, sausages, chicken-style strips and nuggets. Try out their gluten free falafels – delicious!
Quorn:
A meat-free alternative made from Mycoprotein. Some of their new products are vegan, check your local supermarket.
Linda McCartney:
A delicious range of meat-free sausages, burgers, and pies (note, not all the products are vegan – read the labels).
Urban Vegan:
Having a braai?

These guys have got you covered. A frozen range of boerewors, cutlets, bacon, patties, balls, ribs – available at select Spar's and Wellness Warehouse stores.
Herbivohr:
They make vegan biltong, bacon, deli meats, ribs, steak, and have just recently launched their vegan boerewors.

Available online at Pink Piggy Lifestyle, Jackson's Real Food market.
Oh! Poppyseed:
Even more vegan biltong.

They make droëwors as well. Available from their online store, Wellness Warehouse, online at Pink Piggy Lifestyle, and select other stores.
Orgran – Vegan Easy Egg:
Orgran has cleverly crafted an egg substitute that comes in a box, this great alternative can make scrambled eggs, frittata, omelettes, quiche, and is completely gluten, wheat and meat free!
Grains & Dry Ingredients:
Brown or wild rice:


More nutritious than white rice.

Quinoa:
Great source of protein. Wash well before cooking.
Oats and millet:


Excellent choices for a hearty breakfast.

Whole-wheat couscous:
Toast it in the pot with some spices before you add water to get that incredible, wholesome couscous taste.
Whole or multi-grain pastas
Whole grain / sprouted bread and tortillas
Polenta:
Boil to make traditional polenta. If you have leftovers, cut the cooled polenta into cubes and fry them with a bit of oil to make polenta chips, simple and delicious!
Chickpea Flour:
Used frequently in Indian cooking, this flour is really versatile. You can make pancakes, bhajis and even

'omelettes'

with it. It is also gluten-free.
Noodles:
The Chinese Kitchen chow mein noodles, Simple Truth gluten free noodles (Checkers), Rice noodles, Soba noodles.
Cooking:
Agar agar:
Vegan substitute for gelatine.
Nutritional yeast:
A lovely cheesy flavour and can be fortified with B12, although SA brands are not.
Vegetable stock:
(Cubes or powder) Go for the low sodium option.
Vegetable bouillon
Tomato paste/puree
Worcester sauce:
A great way to add extra flavour to soups and stews (check that it doesn't contain fish/anchovies – Wellington's is vegan).
Oils:


Extra Virgin Olive Oil is the best for cooking, but there's a range of vegetable oils at your disposal – including canola and sunflower.

Pizza bases:


Pick n Pay fresh bases, Woolworths thin & crispy bases, Simple Truth gluten-free bases (Checkers).
Baking:
Egg Replacer:
a great egg replacer for baking is Orgran No-Egg.
Flax seeds:


(Good source of Omega 3 – can sprinkle on breakfast cereal or smoothie). Can also replace eggs

Chia seeds:
Great replacement for eggs – one chia 'egg' equals 1 tablespoon of seed to 2 tablespoons of water.
Coconut oil:
Good for replacing butter.
Agave nectar:
Great honey replacement.
Maple syrup:
Great honey replacement.
Blackstrap molasses:
Fantastic source of iron.
Pastry:
Today brand puff and short crust pastries are vegan, as is Pick n Pay and Checkers' home brands, as well as Woolworths' puff pastry.
Note:


South African sugar is vegan, yay!
Condiments & Sauces:
Egg-Free Mayonnaise:
B-Well, Cross & Blackwell Trim, Martinnaise, Taysti.
Mustard:
Most mustard is vegan – Dijon, Hot English, American, etc (Steers mustard is not vegan).
Tomato Sauce/Ketchup:
All Gold, Heinz, Pick n Pay brand, Simple Truth (Checkers), etc.
HP Sauce
Hot Sauce:
Tabasco, Sriracha, Sriracha mayo, Fynbos Fine Foods sauces.
Wellington's Sweet & Sour sauce:
Perfect for stir fries.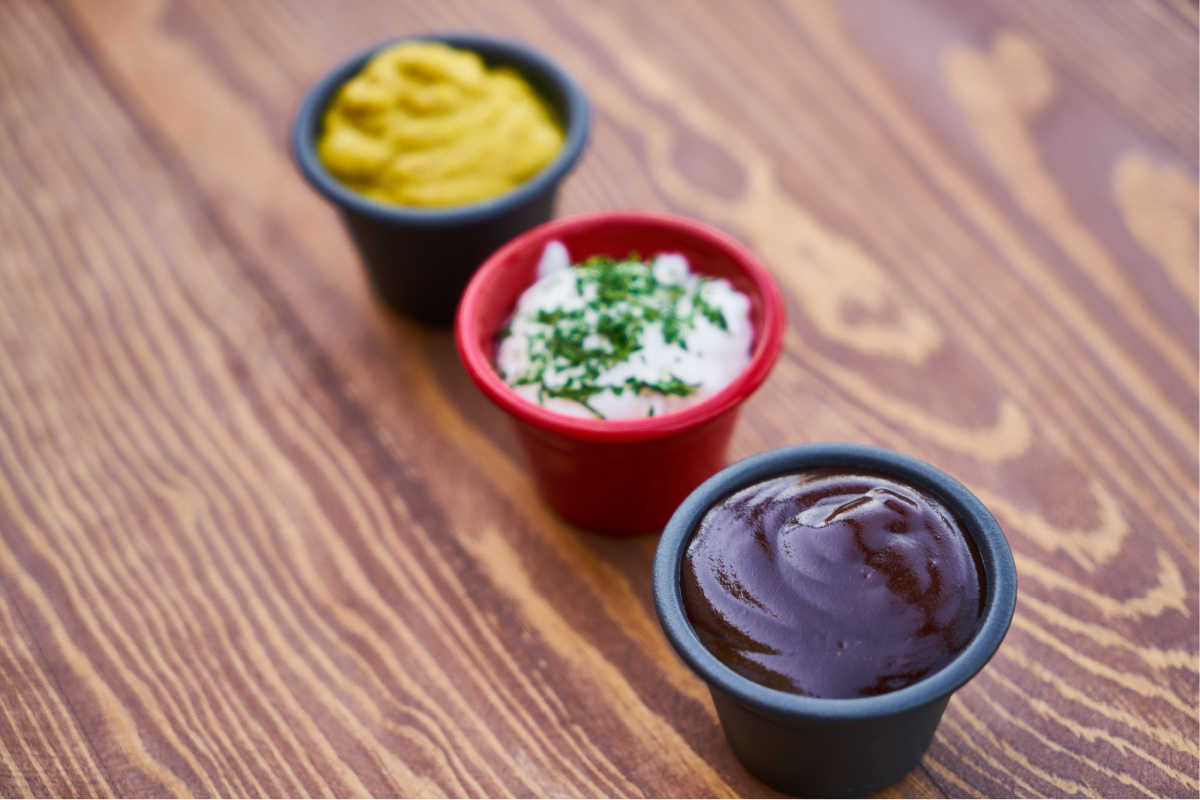 Snacks:
Dried fruit
Crackers
Hummus
Root vegetable/corn chips
Dark chocolate
Nuts and seeds
Clearspring SeaVeg Crispies:
These moreish little snacks are crunchy, light and healthy! If you really want to, you can crumble them over your miso soup for some added depth of flavour.
Orgran – Sugar-Free Cereal Acai Coconut:
Ever miss the nostalgia of eating a big bowl of crunchy cereal in the morning before school? Well, Orgran has our backs, grab some of your favourite plant-milk and dig into a bowl of this deliciously healthy cereal.
Orgran – Sugar-Free Cacao Cookies:
These little bad boys are a delicious mystery. They have a delightful texture, crisp yet not dry, with a few toasted buckwheat seeds thrown in for that added crunch!
Fruits & Vegetables:
Don't hold back here – eat a rainbow! Some of our favourites include:
Kale:


A vegan superfood (along with other cruciferous vegetables), an excellent source of calcium and other vitamins and minerals.

Bell peppers:


Great raw dipped in hummus or in a stir fry (buy organic when possible).

Sweet potato:


A fantastic source of vitamin A.

Mushrooms:


Get your B vitamins here!

Berries:


Strawberries, blueberries and raspberries (again, buy these organic when possible).

Avocados:


One of the good fats!
Cosmetics & Toiletries:
"Vegan" just doesn't apply to food, try these products that will surely leave your hair and body feeling fresh and nourished:
Nak Hair Australia
Blonde Hair Shampoo & Conditioner
Nak Hair Australia
Platinum Blonde Hair Shampoo & Conditioner
Nak Hair Australia
Blonde Plus Hair Shampoo & Conditioner
Nak Hair Australia
Volume Shampoo & Conditioner
Nak Hair Australia
Hydrate Shampoo & Conditioner
Nak Hair Australia
Anti-Yellow Shampoo & Conditioner
Nak Hair Australia
Structure Complex Shampoo & Conditioner
Nak Hair Australia
Structure Complex Protein Shampoo & Conditioner
Check out how you can use these ingredients!
As vegans, we have to be mindful of what ingredients will act as decent substitute options so that we can still enjoy a fudgy brownie, a crisp cookie, or a fluffy cheesecake.
Check out our vegan baking guide to see how you can use some of these incredible ingredients to make equally incredible treats!