Having a kitchen full of versatile and tasty ingredients is your first step to creating fantastic vegan food! Use our list of vegan food essentials to get started.
Don't feel that you need to rush out and buy everything straight away though. Simply use this as a guide to grow your Veganuary larder. You'll find all the inspiration you need for cooking with these within our recipe section, and If you're not sure where to find them then our Product Directory is here to help. Happy cooking!
Dairy Replacements:
Dairy alternatives are some of the most important vegan food essentials. But moving on from dairy doesn't mean leaving your favourite foods behind. From plant-based butters you won't believe are vegan to creamy milks for your coffee, there are plenty of dairy replacements available.
Vegan Butters
Supermarkets offer an array of vegan butter (or 'spreadable joy,' as we like to call it). Perfect for your morning toast, cooking and baking, vegan butter doesn't disappoint.
Nuttelex – all eight varieties of the nuttelex range of butters are vegan.
Naturli vegan butter
Flora Plant Buttery
Vegan Cheese
Can't live without cheese? Well, you don't have to! Cheese may be one of the hardest animal-based products to recreate, but many brands offer amazing dairy-free alternatives to mozzarella, parmesan, cheddar and much more. No vegan food list would be complete without these cheeses.
Bio cheese 
Made with Plants 
Bute Island Sheese 
Tofutti 
Damona 
Plant Milks
Embrace the exciting tastes and textures plant-based milks have to offer. There are so many non-dairy options choose from, so you're guaranteed to find one you love. Perfect for your morning cuppas, baking endeavours and everything in between, dairy-free milks won't let you down. Here's a round-up of our favourite plant milk brands, including soy, rice, almond, oat, and coconut varieties.
Vitasoy
Nutty Bruce
Bonsoy
Macro
Pure Harvest
Almond Breeze
Oatly
Califia
Australia's Own
Sanitarium So Good
Minor Figures
MilkLab
Happy Soy Boy
Dairy-Free Yoghurts
We couldn't leave dairy-free yoghurts out of our vegan food list. Whether you're looking for a Greek yoghurt alternative for your breakfast or a fruity-flavoured treat, these brands have you covered. Some are based on soya, others almond or coconut, so test them out and see which works for you.
Coyo
Plantitude
Cocobella
Wise Bunny
Nakula
Plantitude
So Delicious
The Collective Plant-Based
Danone Activia Plant-Based
Vegan Mayo & other sauces
Some dishes just aren't complete without a dollop of mayo, right? Thick, creamy and full of flavour, vegan mayonnaise ticks every box. Once you enjoy these delicious animal-free alternatives on your sandwiches and salads, you won't look back.
Follow Your Heart Vegenaise
Made with Plants – Mayo, cheeseburger sauce, ranch, aioli
Praise – Vegan Mayo, 99% fat free mayo
Masterfoods Garlic Kebab Sauce
Coles – Vegan mayo, garlic aioli, chipotle mayo
Celebrate Health – Mayo
Plant Life – Chipotle mayo, herbed mayo
Nando's – Vegan Perinaise
The Goods – Vegan Mayo
Flying Goose Sriracha Mayo
Cream
Cooking cream, whipped cream, sour cream – and all without dairy! Perfect for any recipe – sweet or savoury – that calls for cream.
Loco – thickened cream, dollop, sour cream
Flora Plant Cream
Oatly cooking cream
Dairy-Free Ice Cream
We all deserve an indulgent treat from time to time, which is why dairy-free ice cream has to be on our vegan shopping list. There's no shortage of sweet treats to help you cool down, whether you're looking for classic tubs or ice cream bars. Get stuck into these dairy-free delights.
Peter's – Plant-based vanilla
Plantitude
Pana Organic
Oatly
Ben & Jerry's
Magnum
Drumsticks
Connoiseur Plant Based range – select tubs and ice cream bars
Proud & Punch
Coles Vegan Range
Sanitarium So Good
Vegan Chocolate
Chocoholics rejoice: vegan chocolate has never tasted better. Whether you love decadent dark chocolate or classic milk-infused varieties, there's a dairy-free chocolate for you. When that sugar craving strikes, here are the brands to look out for.
Pico
Pana
Vego
Kresho
Treat Dreams
Totally Vegan by Charlie
Bite Society
Sweet William
GoMaxGo
Health Lab
NOMO
i-Choc
Moo Free
Vegan Chocolate Co
Alpha
Fry's – Peppermint Cream, chocolate cream, strawberry cream.
Lindt EXCELLENCE range with 70%, 85%, 90% and 99% Cocoa dark chocolate bars.
Vegan Desserts
Trying vegan food means embracing delicious new flavours. Thanks to the growing range of vegan dessert offerings, it's never been easier to satisfy your sweet tooth as a vegan. From soft, spongy cakes to devilishly decadent puddings, there's a dessert to suit everyone. Next time you're stocking up on vegan food essentials, sink your spoon into these plant-based desserts.
Plantitude – Vegan dark choc brownie, vegan dark choc Belgian cake, granola cookies
Woolworths – Vegan lotus biscoff cake, lattice apple pie,
Aunt Betty's dairy free creamy coconut rice
Sara Lee Joy range – Key Lime Pie, Choc Coconut Bavarian
Fancy Plants – Silky chocolate pot, vanilla rice pudding
Soreen – Banana lunchbox loaves
We Love Cake – Caramel slice
Nature's Kitchen – Chocolate cupcakes, chocolate tea cake, chocolate chip cookies
vegan Protein:
Protein is a hot topic when it comes to going vegan, but there's no need to worry. Most foods contain some protein and there's so much choice when it comes to tasty sources of vegan protein. You shouldn't struggle to get enough protein on a vegan diet, but you may struggle to choose from all the fantastic products on offer! Whether you're looking for whole, plant-based sources or meat alternatives, there's no shortage of protein-packed foods available.
Meat Alternatives
We can't keep up with the ever-growing range of meat substitutes, but we'll give it a go. These products typically use seitan or soya as their base.
Quorn (not all Quorn products are vegan – check the label)
Beyond Meat
Oumph!
Tofurky
Gardein
Fry's
Linda McCartney
V2
Moving Mountains
Fable
Made With Plants
Sanitarium Veggie Delights
Sunfed
Plantein
Plant Asia
Veef
Plant-Based Proteins
Make sure you get plenty of these whole, plant-based foods in your diet.
Tofu: extra firm for cooking or silken for sauces and desserts
Beans, chickpeas and lentils: dried or canned beans such as kidney beans, black beans, pinto beans. Lentils are a wonderful meat substitute in Bolognese, shepherd's pie and lasagne
Seeds: sunflower, pumpkin, sesame, chia, flax
Nuts: almonds, cashews, walnuts, Brazils, pine nuts
Nut butters: peanut butter, almond butter, cashew butter, hazelnut butter
Tempeh: similar to tofu in that it is made from fermented soya beans. It's firmer than tofu with a stronger flavour
Quinoa: a grain that's also a great source of protein
Seitan
Protein powders: there are many vegan versions available, including flavoured options
Grains & carbs:
Brown or wild rice:
More nutritious than white rice.
Quinoa:
Great source of protein. Wash well before cooking.
Oats and millet:
Excellent choices for a hearty breakfast.
Whole-wheat couscous:
Toast it in the pot with some spices before you add water to get that incredible, wholesome couscous taste.
Whole or multi-grain pastas
Whole grain / sprouted bread and tortillas
Polenta:
Boil to make traditional polenta. If you have leftovers, cut the cooled polenta into cubes and fry them with a bit of oil to make polenta chips, simple and delicious!
Chickpea Flour:
Used frequently in Indian cooking, this flour is really versatile. You can make pancakes, bhajis and even 'omelettes' with it. It is also gluten-free.
Noodles:
The Chinese Kitchen chow mein noodles, Simple Truth gluten free noodles (Checkers), Rice noodles, Soba noodles.
Cooking and baking:
Agar-agar: vegan substitute for gelatine, available from many supermarkets and wholefood shops
Nutritional yeast: a lovely cheesy flavour and great for vitamin B12. Try Marigold Engevita
Vegetable stock: (cubes or powder). Low sodium options are available
Vegetable bouillon
Miso: a fermented paste that's great for adding umami flavour
Oils: olive oil, rapeseed, sunflower, coconut
Egg replacements: flax seeds or chia seeds (1 tablespoon of seed to 2 tablespoons of water for each egg required. Available in supermarkets and wholefood shops)
Honey replacements: agave nectar, maple syrup, date syrup
Blackstrap molasses: fantastic source of iron
Nutritional Yeast – one of the must-have vegan food essentials for cooking and baking
Condiments & Sauces:
Egg-Free Mayonnaise:
B-Well, Cross & Blackwell Trim, Martinnaise, Taysti.
Mustard:
Most mustard is vegan – Dijon, Hot English, American, etc (Steers mustard is not vegan).
Tomato Sauce/Ketchup:
All Gold, Heinz, Pick n Pay brand, Simple Truth (Checkers), etc.
HP Sauce
Hot Sauce:
Tabasco, Sriracha, Sriracha mayo, Fynbos Fine Foods sauces.
Wellington's Sweet & Sour sauce:
Perfect for stir fries.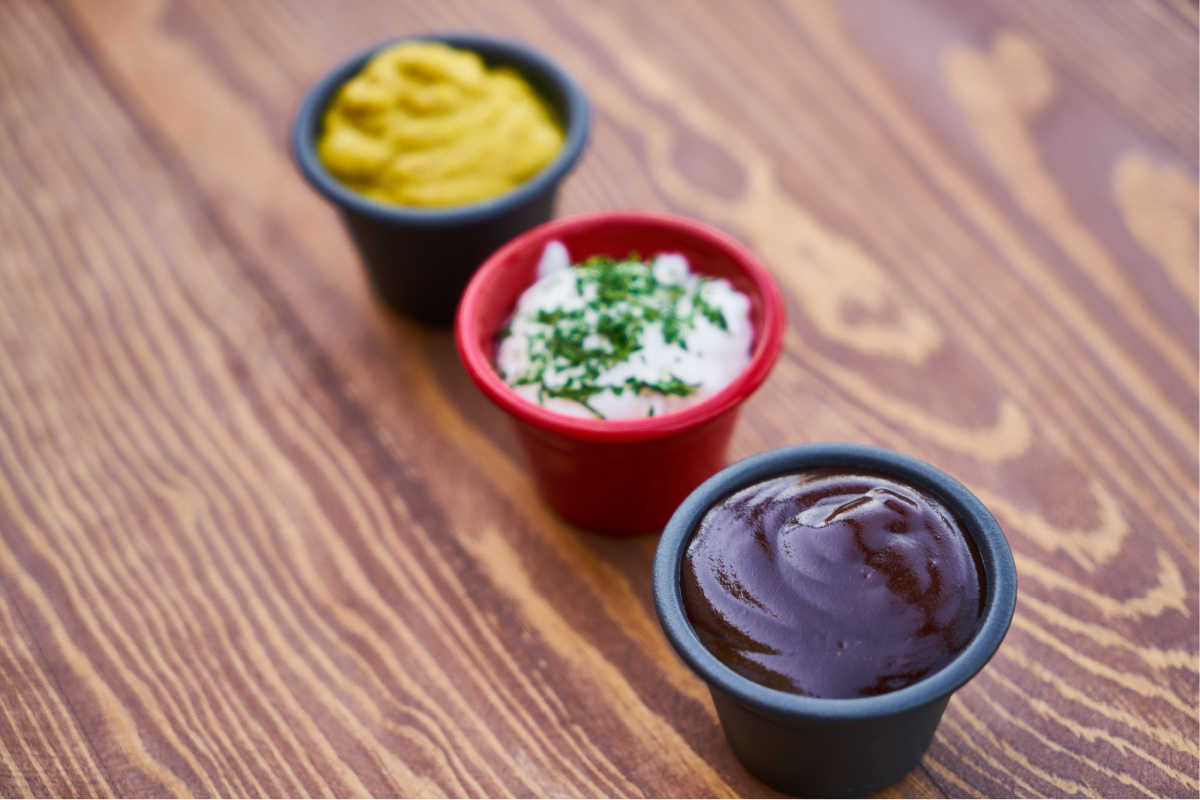 Snacks:
Whether you need an energy boost on the go or a tasty treat, there are plenty of vegan-friendly snacks. You'll be pleasantly surprised to know that many of the snacks you enjoy are accidentally vegan!
There are lots of vegan crisps and popcorn
Sausage rolls and pasties
Samosas and bhajis
Spring rolls and dumplings
Plant-based nuggets and fish-free fingers
Dried fruit
Nuts and seeds
Sweets and candies
Fruits & Vegetables:
Don't hold back here – eat a rainbow! Some of our favourites include:
Bell peppers:
Great raw dipped in hummus or in a stir fry (buy organic when possible).
Sweet potato:A fantastic source of vitamin A.
Mushrooms:
Get your B vitamins here!
Berries:
Strawberries, blueberries and raspberries (again, buy these organic when possible).
Avocados:
One of the good fats!
Cosmetics & Toiletries:
"Vegan" just doesn't apply to food, try these products that will surely leave your hair and body feeling fresh and nourished. Many companies produce vegan cosmetics and toiletries now, so feel free to check your local area for the products available to you. Here are a couple of examples:
Nak Hair Australia
Blonde Hair Shampoo & Conditioner
Nak Hair Australia
Platinum Blonde Hair Shampoo & Conditioner
Nak Hair Australia
Blonde Plus Hair Shampoo & Conditioner
Nak Hair Australia
Volume Shampoo & Conditioner
Nak Hair Australia
Hydrate Shampoo & Conditioner
Nak Hair Australia
Anti-Yellow Shampoo & Conditioner
Nak Hair Australia
Structure Complex Shampoo & Conditioner
Nak Hair Australia
Structure Complex Protein Shampoo & Conditioner
Check out how you can use these ingredients!
As vegans, we have to be mindful of what ingredients will act as decent substitute options so that we can still enjoy a fudgy brownie, a crisp cookie, or a fluffy cheesecake.
Check out our vegan baking guide to see how you can use some of these incredible ingredients to make equally incredible treats!