Whatever your reasons for celebrating, Easter can be an ideal time to explore the wonders of a vegan lifestyle.
Team Veganuary are feeling rather giddy at the prospect of putting our feet up and having a little break over the long weekend with our furry friends, as we're sure you are too!
Spring is well and truly in the air; blue skies, double figures and even more than a glimpse of Sun – what's not to love?! This time of year is all about rebirth, new beginnings and fresh starts… the perfect time to think about trying vegan!
Compassion
Veganism means compassion, for the animals, for the planet and for our own health – it's what we stand for, and what drives us forward. It's not easy to see little lambs happily jumping around in fields, and know they will soon end up on someone's Easter plate, and for many people, making this connection stirs up strong emotions leading them to no longer eat lamb, and subsequently look to removing more animals out of their diet. Joining the dots between what you see on the fields and what ends up on your plate can truly transform you.
Chocolate
Easter = chocolate, and there is an abundance of vegan chocolatey treats available – hurray! Eggs, bunnies, cakes… the list is endless!
Inclusivity
 Perhaps you have a vegan family member and are worried about making separate meals. Maybe you're the only vegan in the family and are anxious about feeling like the "awkward one" (which you're not, by the way).
Sometimes people make their minds up about vegan meals, before even trying anything, and occasions such as Easter can be an ideal opportunity to get creative and share the love (and veganism) – through food! By making and sharing something that everyone can eat, it's not only easier, but also much less stress and hassle – plus, it's always fun to try new tastes and different recipes.
Feeling Great
 Whether you want to feel great after eating something healthful and full of vibrant veggies, or you want to feel amazing because no animals were hurt in the making of your dinner – a plant-based Easter meal can bring all the feels to the table. Plus, you'll have much more room for chocolate 😉
All the Food!
Just in case we haven't mentioned it before… there is so much fantastic vegan food out there – literally anything non-vegan has a vegan alternative. Whether you prefer to make everything from scratch, or enjoy the ease and speediness of ready meals; many supermarkets have their own assortment of vegan staples and products to help you create the Easter meal of your dreams.
Not quite sure what to have? Don't panic – team Veganuary have your back. Here's what some of us will be enjoying this weekend:
With what can only be described as a hummus addiction and a predisposition to Middle Eastern food, Rachida Brocklehurst, our Digital Content Manager, is planning a Middle Eastern magical mezze feast, including homemade hummus, baba ghanoush, tabbouleh, stuffed vine leaves and as many olives as you can throw a stick at.
She also highly recommends Vegan Recipes from the Middle East by Parvin Razavi if, like Rachida, roast dinners aren't your thing.
Charlotte Willis, our Social Media & Supporter Care Officer, finds that starters should be kept nice and simple, so anything from bruschetta, filled puff pastry parcels and soups to lighter bites such as raw spring rolls works perfectly.
Main courses at Easter are a great way to showcase that there is no need to eat lamb or meat at this time of year, and she recommends:
–          Mushroom wellingtons
–          Pies with steakless fillings such as soya chunks, chickpeas and lentils
–          Whole roasted cauliflower
–          Mixed beetroot Tarte Tatin
–          Big casseroles
Fancy dessert? Charlotte adores Hot Cross Bun bread and butter pudding: vegan hot cross buns, vegan chocolate chips and raisins with Bird's custard and marmalade. Simply amazing! Alternatively, why not try mini mousse-filled eggs? Get a small dark choc Easter egg and fill it with a mixture of whipped coconut yogurt, chocolate and agave syrup. Sprinkle some chocolate shavings on the top and fresh fruit!
 Stuart Gibbons, our Development Officer, recently got creative in the kitchen and veganised this recipe. He replaced the chicken broth with bouillon and the yoghurt with a vegan alternative.
"It was really easy and delicious. I'll definitely make it again, and it would be a good centrepiece for an Easter dinner. We had it on its own one night, and then used the leftovers to stuff peppers the next night with some veg on the side. I thought it would be nice to stuff a butternut squash too."
For a version that offers a full vegan recipe, try out One Arab Vegan's offering.
  Candice Haridimou, our Social Media & Supporter Care Officer, is in for a treat from her chef extraordinaire mum, and this year she'll be making a Seitan Kleftiko for Easter, which is a vegan twist on a traditional Greek dish which usually uses lamb!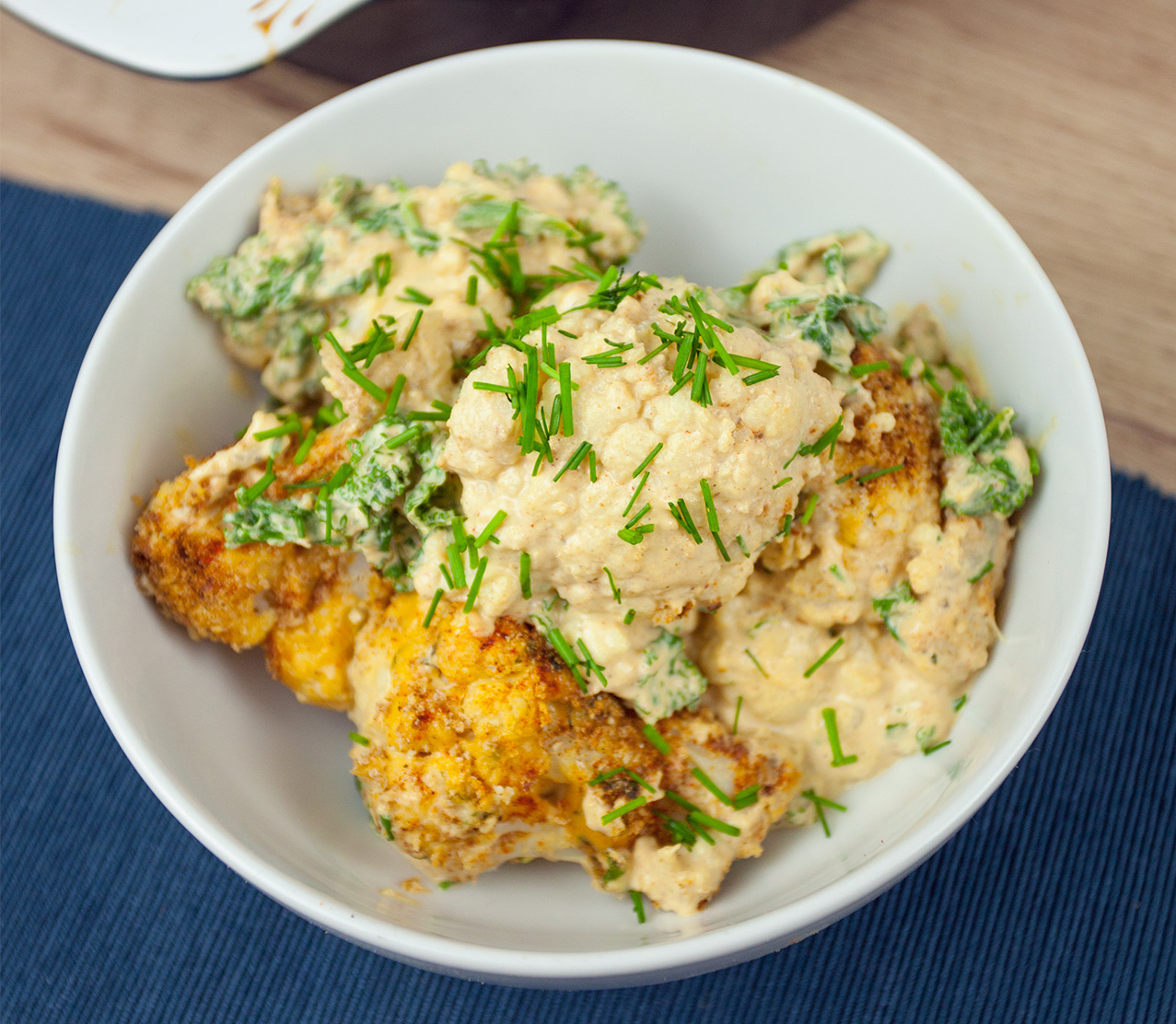 Felicity Crump, our Marketing Assistant, will be having cauliflower cheese with her roast dinner, and recommends So Vegan's delicious recipe.
 And of course, if you fancy trying vegan with us this Easter, sign up to our free 31 day email series!