The number of 'chicken' and 'egg' replacement products that are available now in the US is staggering! There are so many plant-based options across all the major supermarkets available to try and with new products being released all the time, it can be hard to keep up! We've put together a comprehensive list of brands for you to keep an eye out for in 2021!*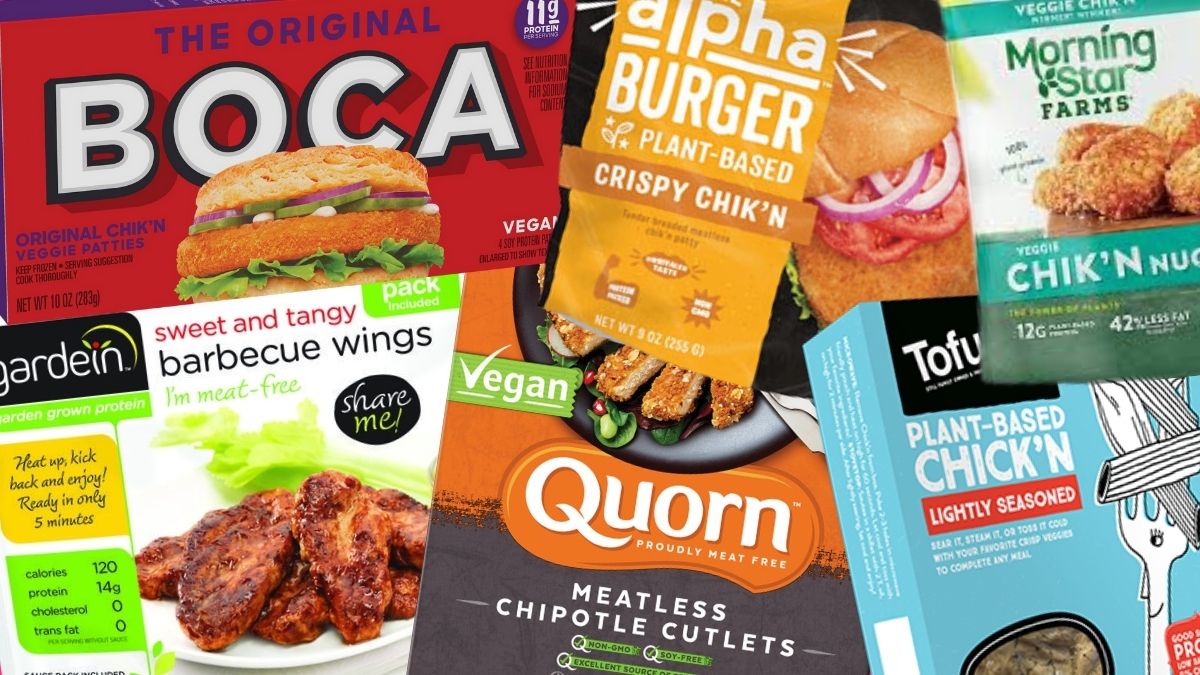 Chicken Alternatives:
Alpha Foods
Crispy Chik'n Burger
Original Chik'n Nuggets
Grilled Chik'n Strips
Atlas Monroe
Vegan Extra Crispy Fried Chick'n
Vegan Extra Crispy Fried Chick'n Popcorn Pieces
Boca
Original Chik'n Veggie Patties
Spicy Chik'n Veggie Patties
Original Chik'n Veggie Nuggets
Daring Foods
original pieces
original breaded pieces
cajun pieces
lemon & herb pieces
Gardein
Seven Grain Crispy Tenders
Chick'n Scallopini
Crispy Chick'n Sliders
Sweet and Tangy Barbecue Chick'n Wings
Mandarin Crispy Chick'n
Nashville Hot Chick'n Tenders
& more!
Hungry Planet
Hungry Planet Chicken Ground
Southwest Chipotle Chicken Patty
Lightlife
Smart Tenders Plant-Based Chicken
Morningstar Farms
Chick'n Nuggets
BBQ Chick'n Nuggets
Original Chik Patties
Buffalo Chik Patties
No Evil
Comrade Cluck
Quorn
Vegan Meatless Chipotle Cutlets
Vegan Meatless Buffalo Dippers
Vegan Meatless Pieces or Fillets
Vegan Meatless Spicy Pattie
Simulate
Original Nuggs
Spicy Nuggs
Discs
Sweet Earth
Mindful Chik'n Strips
Shredded Seasoned Chik'n
Seasoned Chipotle Chik'n Strips
Shredded Korean Style BBQ
Tofurky
Plant-Based Chick'n Lightly Seasoned
Plant-Based Chick'n Thai Basil
Plant-Based Chick'n Sesame Garlic
Plant-Based Chick'n Barbecue
Upton's Naturals
Chick Seitan
Supermarket own label with chicken alternatives:

Aldi: Earth Grown Vegan Meat Free Chickenless Patties (Original, BBQ, or Buffalo), Earth Grown Vegan Meat Free Chickenless Tenders
Trader Joe's: Chickenless Crispy Tenders, Chickenless Mandarin Orange Morsels
Kroger: Simple Truth Emerge Plant-Based Chick'n Grind, Simple Truth Emerge Plant-Based Chick'n Patties
Walmart: Great Value Plant Based Chick'n Tenders, Great Value Plant Based Chick'n Patties
Target: Good & Gather Plant-Based Meatless Chick'n Tenders
---
Egg alternatives:
Bob's Red Mill – Egg Replacer (for baking)
Ener-G – Egg Replacer (for baking)
Neat Egg – Egg Replacer (for baking)
Follow Your Heart – VeganEgg
JUST – JUST egg, Just Egg Folded, JUST Egg Sous Vide
Peggs – Plant Eggs
Simply Eggless – Plant Based Egg
Vegg – Vegan Egg Yolk, Power Scramble, and baking mixes
---
Egg-Free Mayonnaise:
Best Foods/Hellmann's – Vegan Dressing and Spread
Follow Your Heart
Original Vegenaise
Organic Vegenaise
Soy-Free Vegenaise
Reduced Fat Vegenaise
Grapeseed Oil Vegenaise
Avocado Oil Vegenaise
Sriracha Vegenaise
Roasted Garlic Vegenaise
Pesto Vegenaise
Chipotle Vegenaise
Horseradish Vegenaise
Tartar Sauce Vegenaise
Organic Garlic Aioli Vegenaise
Kroger Simple Truth – Plant Based Mayo Spread
O'dang Egg-Free Mayo
Cucumber Dill
Lemon Garlic
Roasted Red Pepper
Sir Kensington's
Classic Vegan Mayo
Chipotle Vegan Mayo
Special Sauce Vegan Mayo
Avocado Oil Vegan Mayo
Target Good & Gather – Vegan Dressing
Trader Joe's– Vegan Spread and Dressing
Wildwood Foods – Zesty Garlic Aoili
---
Plant-based chicken MENU OPTIONS AT CHAIN RESTAURANTS:
El Pollo Loco – Vegan Chickenless Pollo Burrito
Ike's Love and Sandwiches (West Coast) – Offers several sandwiches featuring plant-based meats, including vegan fried chicken
KFC – Beyond Fried Chicken is exclusively available in select KFC restaurants in Southern California
Tropical Smoothie Café – Sub for plant-based chicken on any sandwich or salad
Veggie Grill – Try the vegan wings, Buffalo Bomber sandwich, or numerous other options
Yardhouse – Several menu items feature Gardein's plant-based chicken and can be made vegan
---
PLANT-BASED EGG MENU OPTIONS AT CHAIN RESTAURANTS:
Peet's Coffee – Everything Plant-Based Sandwich made with JUST Egg Folded
Starbucks – Plant-Based Breakfast Sandwich made with a plant-based egg patty available at select locations only.
*List last updated April 2021. Not all products offered by the brands listed are vegan, so please check the labels before purchasing.