Who will you share yours with?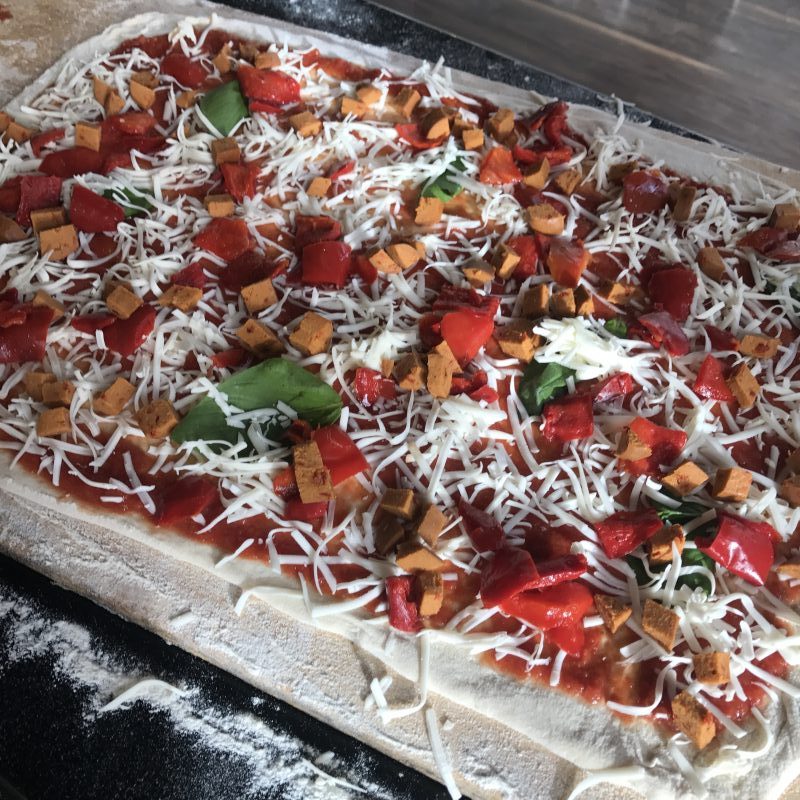 Firezza Pizza is helping you to get your pizza fix this January, with the launch of their new and exciting vegan chorizo pizza. The new toppings have been introduced especially for Veganuary, and they are hoping that it is the start of a new trend of vegan pizzas for the restaurant and takeaway chain.
At Firezza Pizza, they pride themselves on making traditional Neapolitan-style pizza, that is made from scratch, handcrafted and baked in a traditional wood fire oven. They believe in proper pizza that's created for sharing and with Firezza, vegans don't have to miss out on this. They have taken this love and passion for pizza to create these new flavours, that will be enjoyed by everyone.
The vegan chorizo pizza is made of 100% handmade dough, with a rich tomato sauce, and fresh basil, dairy-free mozzarella style cheese, topped with plenty of the vegan chorizo and sweet red peppers, then fire baked at 430˚ in the traditional pizza oven, before being finished off with crisp fresh rocket. With this offering Firezza is leading the way for vegan pizza creations.
As well as the new pizza, vegan cheese is also currently available at no extra cost, and can be used instead of dairy cheese to customized any of the vegetarian pizzas, and make them vegan. To do this all you have to do is ask for the dairy to be removed and the vegan cheese added, which is no problem as all pizzas are made to order. You can also create your own pizza, by changing the cheese and adding some of the delicious toppings such as Fresh Field Mushrooms, Italian wild broccoli, and fire-roasted sliced potato or one of the many other suitable options. All ingredients are fresh and simple and all information about it is available on the Firezza website so you won't be in any doubt about what you are eating. With all this choice, vegans will never have to go hungry again at a pizza restaurant, and the options could even entice meat eaters to try plant based, after seeing all the tasty alternatives.
Firezza decided to make the pizza after the success of their vegan cheese and the new high demand for plant based options, they hope this will be the first of many vegan pizzas to come. Vegan options are now available in restaurants and can be ordered online for delivery in all of their locations. They believe in super-fast delivery, so you can be sure to simply order your vegan pizza when you feel hungry, and have it delivered to your door, fast and conveniently. Vegan food has never been so easy.
The chain originally started in Battersea, and has now expanded out across London and as far as Kent, with over 20 different locations in the south of England, meaning there's plenty of choice of where to pick up your vegan pizza.
Firezza is describing their new creation as the best vegan pizza ever, and you will have to visit one of restaurants or order a takeaway to find out. Enjoy!