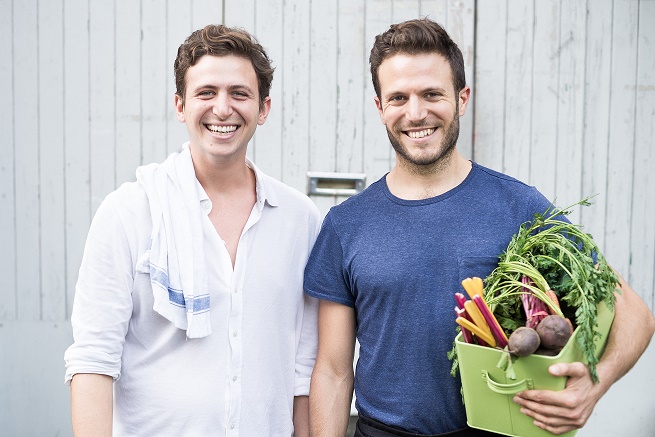 We met JP and Alex on the back of a successful Veganuary 2016. They're passionate brothers and foodies with an appetite for helping people and planet thrive together. This led them to the vegan way of life and a busy year, launching allplants: delicious, plant-based meals, delivered to doorsteps nationwide.
With over 1,000 meals served to a queue of early tasters during their winter, soft-launch, allplants now have a beautiful kitchen, buzzing with energy, cooking and delivering dishes nationwide.
They've timed their launch with this year's Veganuary campaign, so you can get a taste of what's possible with plants and make your Veganuary the extra bit special. As friends and big supporters of all we do, they're giving 50% of their profits this month to help our charitable venture continue to grow. So please make sure to use the code "GiveLovetoVeganuary" at checkout to help us keep track (it'll give you £0.01 off and donate half of profit back to us!).
When it comes to their food, taste is everything. Each dish is inspired by visits and workshops with expert chefs and tastemasters from across the world. From a light and creamy Cashew Mac to their Jerk Jackfruit or Black Bean Chilli, muddled with dark chocolate and chipotle, each meal is a warm blend of flavour and nutrition, suitably indulgent for these chilly winter months.
We all know it because the science is clear. Eating more plants, and less of everything else, is healthier and more sustainable for all life on this precious planet. With that in mind they set out to show it's about creativity and flavour, not compromise.
Using nothing but plants they deliver exciting, handmade meals to homes across the country. Each dish is prepared by hand and delivered frozen, so you can cook delicious, nutritious meals with ease, any night of the week.
We've tried the whole menu, and it's simply delicious.
Head to allplants.com, where you can try it too. Please make sure to use the code "GiveLovetoVeganuary" so we can keep track of all our fundraising efforts!