Dreaming of a green Christmas this year? It's easy to shop sustainably with these unique, eco-friendly Christmas gifts that are kind to the planet.
This is a beautiful gift for the tea-loving, environment-enthusiast in your life. The set features two bags of hand-blended loose-leaf tea in flavours of your choice, along with eco-friendly, tea-making accessories: bamboo tea-infuser, reusable cotton tea bags, and a bamboo spoon and tongs.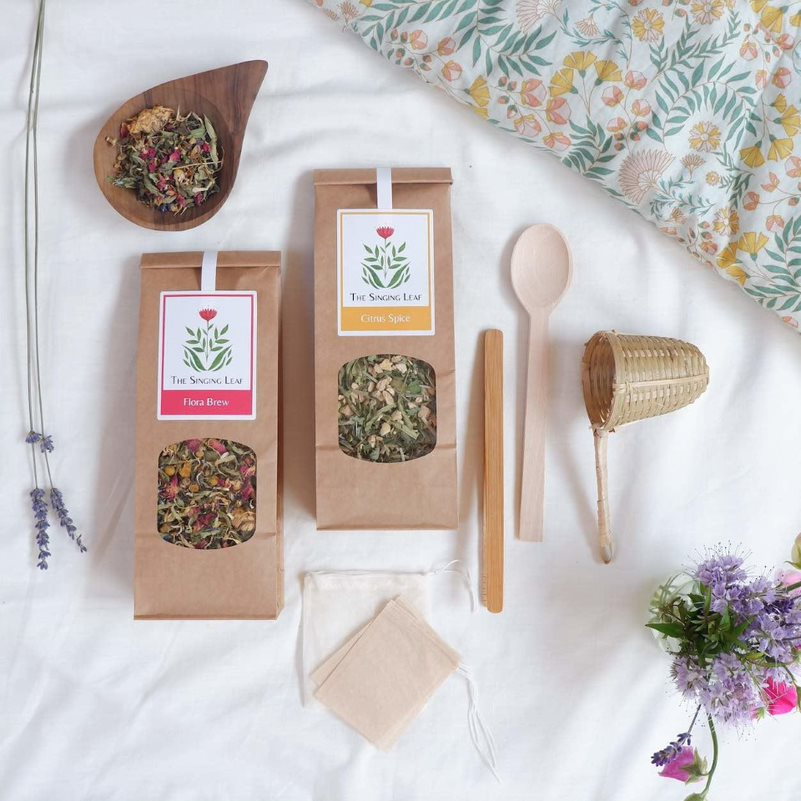 Cheshire's Finest Ultimate Sleepy Gift Box (from £10)
Make the most of a little rest and relaxation over Christmas with this calming gift box. With all products being vegan, cruelty-free, sustainably sourced and 100% recyclable, you can sleep easy with this eco-friendly Christmas gift.
WakeCup Zero Waste Lunch Kit (£40)
Save money and save single-use plastic pollution with WakeCup's zero waste lunch kit. Perfect for packed-lunch-lovers, the kit includes a washable, waterproof vegan lunch bag, a reusable cutlery set and a bamboo water bottle.
Crafted from FSC-certified wood, this gift is great for the environment in so many ways. And, for every bee hotel sold, Beevive plants one tree. So, in giving the nature-fanatic in your life a thoughtful gift, you're also giving back to the planet.
Know a vegan on a budget? Miguels' plant-based version of his one-pound meals is sure to be a successful addition to any kitchen's bookshelf. Packed with more than 85 recipes, it'll keep your recipient inspired for the year to come.
Help your loved-one show their love for plants with this cool tee from Vegan & Friendly. This is one of our favourite eco-friendly Christmas gifts. Why? Made using organic materials by a company committed to sustainability and fair-working conditions, it's guilt-free all round.
Grab someone a beautiful and biodegradable phone case this Christmas. Established by three friends on the North-East coast, Wave phone cases aim to reduce the devastating impact of plastic on our oceans. So, your recipient can protect their phone as well as protecting the planet!
Specialising in handmade, recycled jewellery, Smoke and Ash has a collection for everyone. Whether you're treating a fan of all things celestial or an ocean lover, you'll find something special here. We love this gorgeous whale tail bracelet from the ocean collection.
Social Stories Club Vegan Treats Gift Box (£36)
Who doesn't love edible Christmas gifts? This vegan gift box is a treat for everyone. As well as being a tasty gift, each box contains items which support social causes. Packed with hot chocolate, chutney and tea, it's a lovely way to spoil the vegan in your life.
Full of heavenly citrus scents, this moisturising body scrub will have the recipient feeling and smelling like Christmas. Made with all-natural ingredients, including mood-boosting essential oils, this gift is great for the skin, great for the mind and great for the planet.
If you're thinking about trying out a cruelty-free lifestyle, why not sign up to our free 31-day email series and learn more about veganism?
PAGE UPDATED NOVEMBER 2020