Wagamama has launched the most eagerly anticipated vegan dish ever – the vegatsu!
Vegans across the nation will at long last be able to taste wagamama's famous dish: the iconic katsu curry.
The biggest menu shift in the brand's 25-year history, the vegatsu is now available across its 130 UK restaurants. The addition is designed to appeal to both dedicated vegans and a growing 'v-curious' population. Steve Mangleshot, executive chef at wagamama said:
Following the huge success of our vegan menu it made sense for us to create a vegan version of our world-renowned katsu curry. Vegan, vegetarian, v-curious and flexitarian customers will be amazed by how similar it tastes to the original and iconic Katsu. We are delighted to bring this new dish to our fans across the UK.
The original katsu curry – introduced by wagamama in 1992 – is one of the UK's most popular dishes, currently a number three seller on Deliveroo and number one for the Japanese-inspired restaurant brand, selling over 3.5million dishes a year (10,000 daily).
V-curious Brits: The seitan version of the iconic chicken katsu curry dish will cater to the millions who now identify as vegan.
The restaurant itself has seen a sharp increase in vegan, vegetarian, 'v-curious' and flexitarian customers looking for alternatives to traditional meat classics.
The launch of the vegatsu comes following a hugely successful three-month trial at the brand's test and innovation kitchen, noodle lab in the heart of Soho. The dish has been the most popular item on the noodle lab menu since it was introduced by wagamama executive chef, Steve Mangleshot who has switched out chicken for the vegan alternative, seitan.
In October 2017 wagamama launched its vegan and vegetarian menu across the UK, which comprised of 28 dishes.
This May (2018) sees the addition of even more plant-based dishes to the new menu for summer including 3 new dishes Harusame glass noodle salad (tofu), Mushroom + panko aubergine steamed hirata buns and Yasai katsu curry.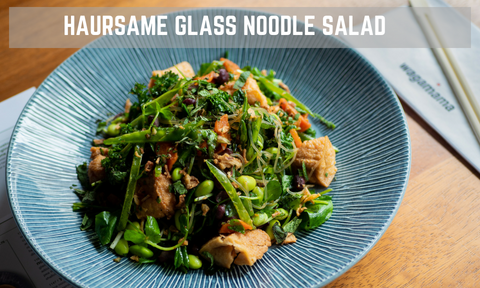 The vegan menu also features a wide range of craft beers, spirits, wines as well as the delicious range of vitamin-packed juices; all perfect for those enjoying a vegan lifestyle.
Check out our vegan curry recipes blog if you've been inspired to try new flavours and styles!

We also have hundreds of other recipes for you to try too!
PAGE UPDATED MAY 2020