Having a kitchen full of versatile and tasty ingredients is your first step to creating fantastic vegan food! Use our list of vegan food essentials to get started.
Don't feel that you need to rush out and buy everything straight away though. Simply use this as a guide to grow your Veganuary larder.
You'll find all the inspiration you need for cooking with these within our recipe section, and If you're not sure where to find them then our Product Directory is here to help. Happy cooking!
Jump to each section:
Dairy Replacements
Vegan Butter
Supermarkets offer an array of vegan butter (or 'spreadable joy,' as we like to call it). Perfect for your morning toast, cooking and baking, vegan margarine doesn't disappoint.
Flora Vegan Spread
Blossom Spread
Irene's Gourmet
Green Heart Organics
D'lite
Fauxmage
Miyoko's Organic Cultured Vegan Butter
Vegan Cheese
Can't live without cheese? Well, you don't have to! Cheese may be one of the hardest animal-based products to recreate, but many brands offer amazing dairy-free alternatives to mozzarella, parmesan, cheddar and much more.
No vegan food list would be complete without these cheeses.
Violife
Le Coquin
Nature et Moi
Irene's Gourmet
Woolworths Dairy Free Range
Fauxmage
Earth & Co.
Plant Milks
Embrace the exciting tastes and textures plant-based milks have to offer. There are so many non-dairy options to choose from, so you're guaranteed to find one you love.
Perfect for your morning cuppas, baking endeavours and everything in between, dairy-free milks won't let you down. Here's a round-up of our favourite plant milk brands, including soy, rice, almond, oat, hemp and coconut varieties.
Alpro
Oatly
Oh Oat!
Good Hope Soy
Almond Breeze
Rude Health
ButtaNutt
MILKLAB
Earth & Co.
ok ja
Simple Truth
Lifestyle Food
Supermarket own label
Dairy-Free Yoghurts
We couldn't leave dairy-free yoghurts out of our vegan food list. Whether you're looking for a Greek yoghurt alternative for your breakfast or a fruity-flavoured treat, these brands have you covered. Some are based on soya, others coconut, so test them out and see which works for you.
Yokos
Alpro
Supermarket own label
Woolworths yoghurt
Vegan Mayonnaise
Some dishes just aren't complete without a dollop of mayo, right? Thick, creamy and full of flavour, vegan mayonnaise ticks every box. Once you enjoy these delicious animal-free alternatives on your sandwiches and salads, you won't look back.
Hellman's Vegan Mayo
B-Well Range
Vegan Chocolate
Chocoholics rejoice: vegan chocolate has never tasted better. Whether you love decadent dark chocolate or classic milk-infused varieties, there's a dairy-free chocolate for you. When that sugar craving strikes, here are the brands to look out for.
De Villiers Nut Butter Chocolate Bar Selection
The Chocolate Yogi
Cocoa Fair
Nova (not white chocolate)
Mojo Me
Orbs
Bare
Honest Chocolate
Beacon TV Bar slab only (chocolate bars contain milk)
Lindt Excellence (70% and above slab are milk free)
Dairy-Free Ice Cream
We all deserve an indulgent treat from time to time, which is why dairy-free ice cream has to be on our vegan shopping list. There's no shortage of sweet treats to help you cool down, whether you're looking for classic tubs or ice cream bars. Get stuck into these dairy-free delights.
Virtue Ice Cream
Phat Fox
Gaia & I
Unframed
Kirsten's Kick ass Ice Cream
Lis
Vegan Desserts
Trying vegan food means embracing delicious new flavours. Thanks to the growing range of vegan dessert offerings, it's never been easier to satisfy your sweet tooth as a vegan.
From soft, spongy cakes to devilishly decadent puddings, there's a dessert to suit everyone. Next time you're looking for a sweet fix, bite into the many vegan option offered by the brands below:
The Allergen Baker
Yum Baker
Baking Premixes: Ina Paarman, Outcast Foods and Glutagon.
Moro Gelato, certain flavours.
Royale Eatery, certain
Dolcé Bakery
Grumpy & Runt
Vegan by Crumb
Thank Goodness Foods
Supermarket own label
Protein
When grocery shopping, be sure to grab a few protein sources for your vegan meals.
Tofu –

Extra firm for cooking or silken for sauces and desserts.

Seitan –

Meat replacement made from wheat gluten – great 'meaty' texture.

Peas –

Garden peas (frozen or canned).

Beans –

Dried and/or canned kidney beans, black beans, pinto beans.

Chickpeas –

These are good as a healthy savoury snack, or sprinkled onto your dinner to add a little crunch.

Seeds –

Sunflower, pumpkin, sesame, chia, flax, hemp etc. Seeds are packed full of good stuff!

Nuts and nut butters –

Almonds, cashews, walnuts, Brazil nuts, pine nuts.

Lentils –

Puy, red, brown and green in dry form or packed ready to throw straight into sauces/curries. A wonderful 'meat' substitute in Bolognaise, Shepherd's Pie, Lasagne etc.

Tempeh –

Similar to tofu in that it is made from fermented soy beans, but less popular in Western countries. Firmer than tofu with a stronger flavour. Great to marinate.

Meat alternative products – Fry's, Quorn, Linda McCartney's, Urban Vegan, Herbivohr, Oh! Poppyseed.
Grains & Dry Ingredients
Make sure you get plenty of these whole, plant-based foods in your diet.
Brown or wild rice
Couscous
Oats and millet
Whole or multi-grain pastas
Whole grain / sprouted bread and tortillas
Polenta
Noodles
Cooking
There are so many wonderful ingredients out there for vegan cooking.
Agar agar – Vegan substitute for gelatine.
Nutritional yeast – A lovely cheesy flavour and can be fortified with B12, although SA brands are not.
Vegetable stock – (Cubes or powder) Go for the low sodium option.
Vegetable bouillon
Tomato paste/puree
Worcester sauce – A great way to add extra flavour to soups and stews (check that it doesn't contain fish/anchovies – Wellington's is vegan).
Oils – Extra Virgin Olive Oil is the best for cooking, but there's a range of vegetable oils at your disposal – including canola and sunflower.
Pizza bases – Pick n Pay fresh bases, Woolworths thin & crispy bases, Simple Truth gluten-free bases (Checkers).
Baking
Exploring vegan baking products that work for you is a process and it may take time to find something you like.
Egg Replacer – A great egg replacer for baking is Orgran No-Egg.
Flax seeds – Good source of Omega 3 and you can use it to replace eggs.
Chia seeds – Great replacement for eggs. One chia 'egg' equals 1 tablespoon of seed to 2 tablespoons of water.
Coconut oil – Good for replacing butter.
Agave nectar – Great honey replacement.
Maple syrup – Great honey replacement.
Blackstrap molasses – Fantastic source of iron.
Pastry – Today brand puff and short crust pastries are vegan, as is Pick n Pay and Checkers' home brands, as well as Woolworths' puff pastry.
Sugar – South African sugar is vegan, yay!
Condiments & Sauces
Egg-Free Mayonnaise – B-Well, Cross & Blackwell Trim, Martinnaise, Taysti.
Mustard – Most mustard is vegan. Dijon, Hot English, American, etc (Steers mustard is not vegan).
Tomato Sauce/Ketchup – All Gold, Heinz, Pick n Pay brand, Simple Truth (Checkers), etc.
HP Sauce
Hot Sauce – Tabasco, Sriracha, Sriracha mayo, Fynbos Fine Foods sauces.
Wellington's Sweet & Sour sauce – Perfect for stir fries.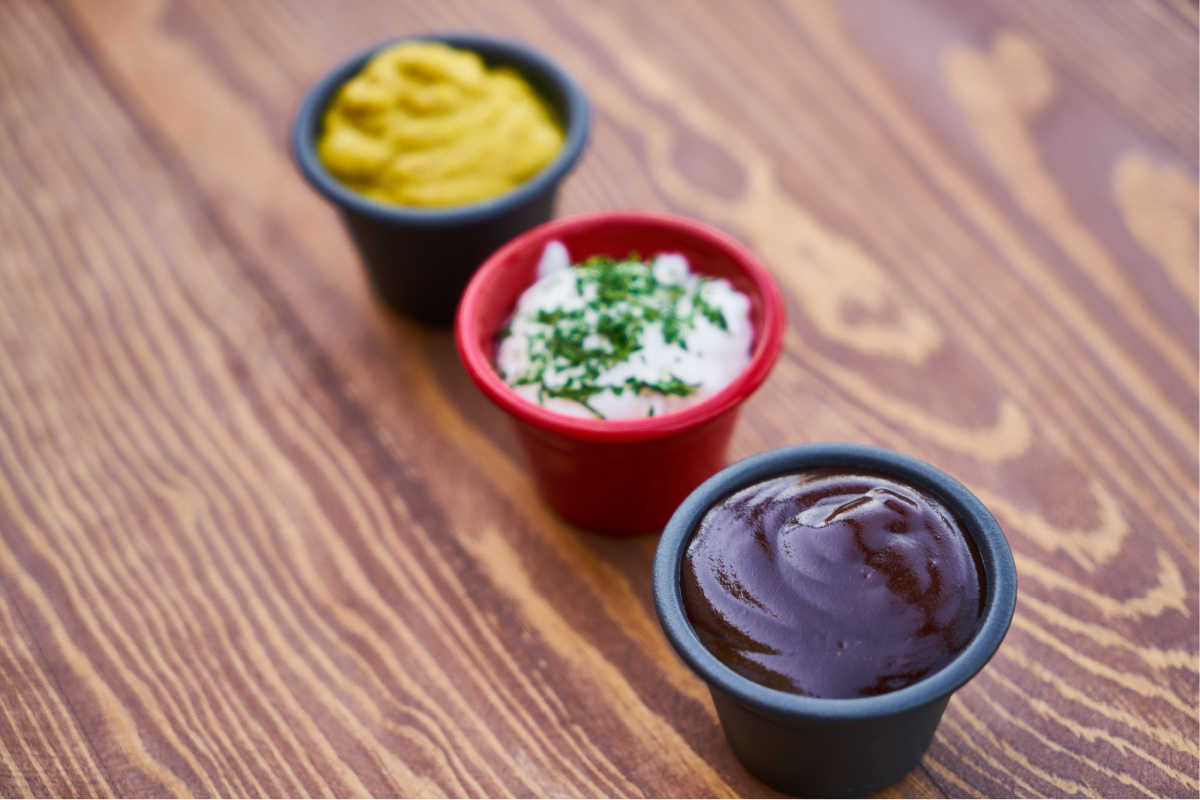 Snacks
Whether you need an energy boost on the go or a tasty treat, there are plenty of vegan-friendly snacks. You'll be pleasantly surprised to know that many of the snacks you enjoy are accidentally vegan!
There are lots of vegan crisps and popcorn
Vegan Biltong and droewors – Earthshine, Herbi Vōhr
Sausage rolls and pasties
Samosas and bhajis
Dried fruit
Nuts and seeds
Sweets and candies
VEGAN READY MEALS
Although the healthiest options usually involve cooking for yourself, sometimes we need a quick meal on a busy day! These brands offer healthy or indulgent convenient meals that can be ready in minutes.
Pick n Pay
Woolworths
Checkers -Simple Truth
Kauai Ready Meals
Fruits & Vegetables
For more support with fruit and vegetable servings, check out Dr Greger's Daily Dozen checklist.
Kale – A vegan superfood (along with other cruciferous vegetables), an excellent source of calcium and other vitamins and minerals.
Bell peppers – Great raw dipped in hummus or in a stir fry (buy organic when possible).
Sweet potato – A fantastic source of vitamin A.
Mushrooms – Get your B vitamins here!
Berries – Strawberries, blueberries and raspberries.
Avocados – One of the good fats!