A charity bike ride for the animals in 2019
Day 1 – February 9
All cyclists to arrive at Delhi airport in the morning (this needs coordinating as people will be arriving from different destinations and on different flights).
We then transfer from Delhi to Agra on an approximately 5½ hour bus transfer where we will pass through villages and start to embrace the Indian lifestyle. We will stay overnight at Agra, one of the prominent destinations of the World Tourism map.
We will stay at the Crystal Sarovar Premiere, Agra which is conveniently located in the city's tourist hub in a calm and peaceful location with a magnificent view of Taj Mahal.
Day 2 – February 10
Today we will visit one of the most breath-taking and extravagant monuments ever built – the Taj Mahal. It was constructed by Emperor Shah Jahan in memory of his beloved wife in 1631-1653.
After the visit we will be transferred to Bharatpur, known for the Keoladeo Ghana National Park: one of the finest water-bird sanctuaries in the world. Its shallow, fresh water marsh attracts thousands of migratory birds.
We will stay at the Udai Vilas Palace.
Day 3 – February 11
First day of cycling!
Today we will have an initial 45km transfer in coaches to the start point of cycling at Bayana. We will start cycling from here and pass through many small villages as we can see and experience the way of life around this region. The route is scenic passing through agricultural fields and is free of traffic until we reach Masalpur after which we will be passing through the busy town to make it to the Palace.
Cycling distance 70km
We will stay at the art deco Bhanwar Vilas Palace which is the property of the erstwhile rulers of Karauli who has turned their historic home into a hotel.
Day 4 – February 12
We will continue cycling to Ranthambore National Park, one of the prime examples of Project Tiger's conservation efforts in Rajasthan and a favourite haunt of wildlife buffs and professional wildlife photographers from around the world. The park is famous for its tigers, one of the most magnificent animals of India. There are also many other species to see including samba, cheetah, wild boar, leopard, sloth bear, jackal and hyena among others. The park itself covers 1334sq km and its scenery is beautiful.
Cycling distance 99kms
We will stay at the luxurious Tiger Den Resort.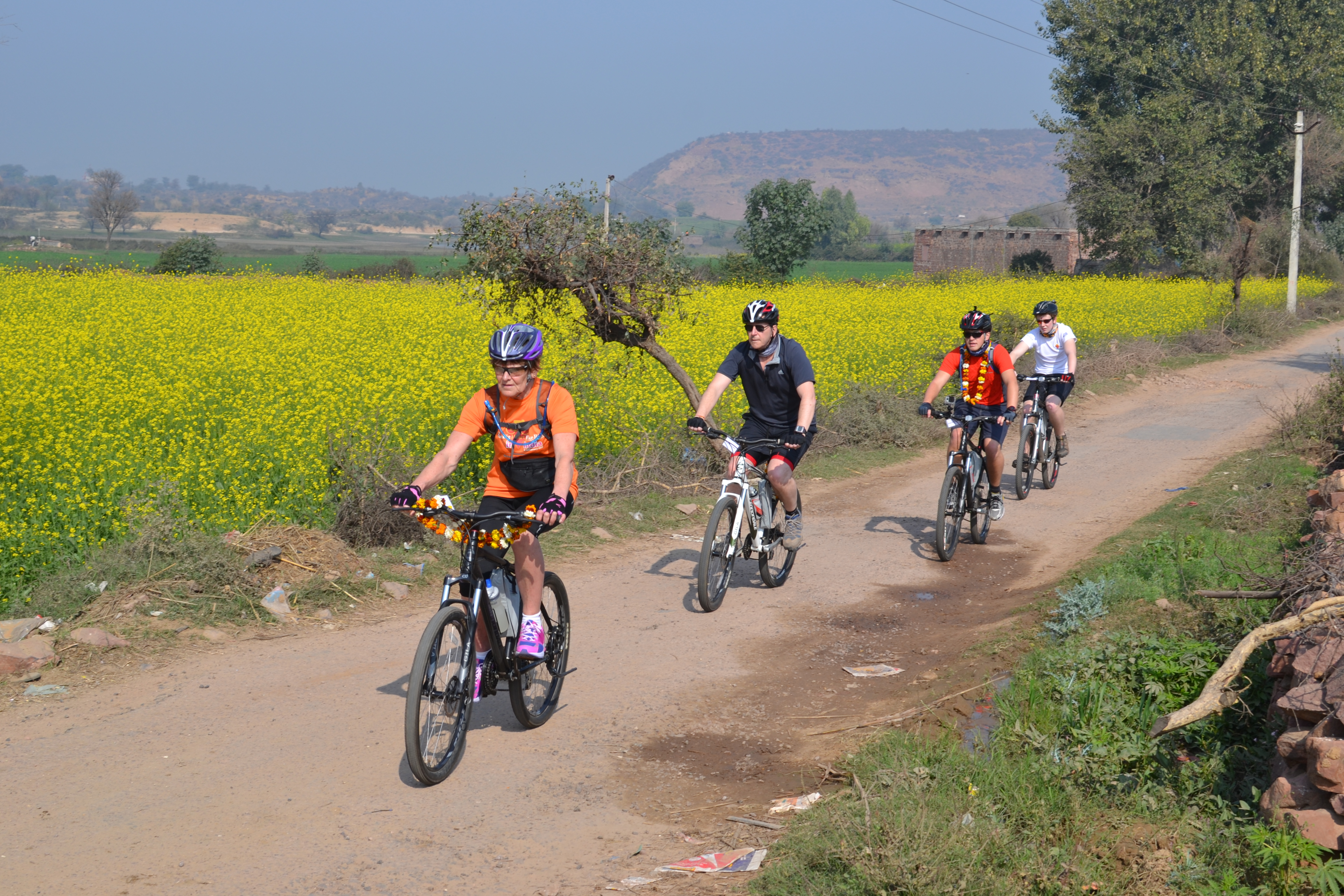 Day 5 – February 13
Today our destination will be Talabgaon, a city that inherited the rich culture of the Rajasthan region, reflecting the ancient Indian way of life. There are rich and varied cultures within the villages which are often depicted as symbolic of the state. This region is rich in music and dance culture with its own distinct style that plays a major part of the local traditions and celebrations.
Cycling distance 91kms
We will be staying overnight at th 200 year old Talabgaon Castle.
Day 6 – February 14
Today our destination will be Dausa, an ancient town of archaeological significance. The city was the first capital of this region and is now a silent spectator of the bygone glory with an old fort on one side and small havelis dotted all over the terrain. Experience the stunning countryside of Rajasthan as we cycle through these vibrant villages to make it our hotel for an overnight rest.
Cycling distance 95kms
We will be staying at Umaid Lake Palace.
Day 7 – February 15
Today will be the last day of our cycling and also the shortest. By now we would be well accustomed to our saddles and should be able to swiftly make it to Ramgarh hunting lodge, our finish line for the day. After our brief celebration and a scrumptious lunch, we head towards the vibrant capital of Rajasthan and popularly known as the 'Pink City'.
Cycling distance 55kms
We will be staying at the Hotel Diggi Palace which is situated in the heart of the Pink City of Jaipur.
Day 8 – February 16
We have a full day to explore the fascinating city of Jaipur. For things to see and do, you need at least a lifetime in Jaipur. In the heart of the old city, is the City Palace, an incredibly well preserved and interesting palace to view with museums and artefacts. Jaipur is the place to shop until you drop, you cannot beat its variety. There are many handicrafts ranging from papier-mâché puppets to exquisitely carved furniture. Jaipur is well known for precious and semi-precious gems, marble statues, costume jewellery and textile prints are other specialities. You can shop in the Johri Bazaar selling local handicrafts, jewellery and sweets. There is a timeless appeal to Jaipur's colourful bazaars.
We will stay a further night at the Hotel Diggi Palace.
Day 9 – February 17
It's the end of our adventure as the Kalypso team transfer us back to Delhi airport.
All images on this page are courtesy of Kalypso Adventures.
If you're interested in taking part in Vegan Cycle India please email Matthew at [email protected].
Please note: this is an outline itinerary and subject to alterations if required.