Can vegans eat chocolate? Absolutely! Here are some of the best vegan chocolates available in the US.
Chocolate is one of life's greatest pleasures, and we're sure most people would agree with us! This doesn't need to change when you go dairy-free, thanks to the exciting variety of vegan chocolate hitting supermarket shelves right now. Plant-based brands are launching alternatives to milk chocolate that are so delicious you won't be able to tell the difference.
Keep reading to discover some of the best vegan chocolate in the US.
vegan 'milk' chocolate
Go Max Go
If there is a childhood chocolate bar you are craving, chances are Go Max Go has created a delicious vegan version. With clever names to hint at their non-vegan counterparts (like their Twilight bar, which tastes remarkably similar to a Milky Way bar).
Available at select retailers.
Sjaak's
Sjaak's offers one of the biggest varieties of artisanal vegan chocolates. From different flavored chocolate bars to truffle and bite assortments to seasonal chocolates like white chocolate ghosts filled with green apple slime for Halloween, you'll most likely have to order from their website, but we promise it's well worth it.
Available online and at select retailers.
No Whey! Foods
Thanks to No Whey, nobody has to miss out on tasty chocolate. Choose from chocolate bars, chocolate candies, truffles, or seasonal chocolate treats. No Whey chocolates are fully vegan, free from the top 9 most common food allergens, and are fun and delicious — plus, these products are a bit easier to find!
Available at select retailers and grocery chains or online.
Enjoy Life Foods
While this company is not fully vegan, they strive to make delicious products for people with all different dietary needs to enjoy. All of their products are gluten-free and free of 14 additional allergens. While their vegan chocolate selection isn't as broad as some other brands, it is definitely just as delicious! We recommend checking out their rice milk chocolate bars and if you need chocolate morsels for any baking endeavors, Enjoy Life has you covered!
Available at most US supermarkets.
Trupo Treats
Trupo Treats is a fully vegan chocolate company, and their specialties are chocolate-covered crispy wafer bars. But they also offer "mylk" chocolates as well as seasonal treats like truffle boxes that make great Valentine's Day gifts or hot chocolate bundles that would make the perfect stocking stuffer!
Available online and at select retailers.
Lagusta's Luscious
This company makes some of the most visually appealing vegan chocolate we've ever seen. It's almost too pretty to eat. But it's also delicious, so we are definitely going to eat it. Everything is small-batch, and you can see the amount of time and effort that is put into every item. From chocolate barks and bars to bonbons and caramels, you do not want to sleep on Lagusta's.
Available at select retailers and online.
Rose City Chocolatier
Rose City Chocolatier is not a fully vegan company, so be sure to select the vegan catalog when shopping online. But if you are looking for something elaborate, this will be your go-to. They offer an 8-box chocolate tower containing over 145 pieces of chocolate! They also offer nut clusters, truffles, barks, and even chocolate-covered pretzels and cordial cherries.
Available online.
Missionary Chocolates
This company has an unexpected backstory! The founder of the company began making chocolates as gifts for her vegan mother during her final year of medical school, and her goal is to build an integrative healing center in Portland, OR, funded by the chocolate they sell. They even offer CBD truffles!
Available online or in the Portland, OR area.
Sweet Vegan Chocolates
While all of Sweet Vegan's chocolates are vegan, nut-free, dairy-free, and gluten-free, they're not just for vegans or those with food allergies… they're a delicious treat for everyone. Indulgent flavors include Energizing Espresso, Luscious Lemon, Midnight Passion, and Spicy Ginger. Vegan owner Chef Andrea Young's chocolates are artisanal-made in small batches with hand-crafted boxes.
Available online, or in the NYC-area
Supermarkets
Many supermarkets now have their own vegan chocolate treats, usually found in the "free-from" section, including Kroger, Trader Joe's, and Whole Foods.
Vegan Dark Chocolate
Green and Black's
Most of the dark chocolate bars from Green and Black's are accidentally vegan, including some of the flavored varieties. Just check the ingredients to ensure milk isn't present.
Available at most US supermarkets.
Chocolate Inspirations
If you prefer dark chocolate but were thinking there are only simple, "accidentally vegan" dark chocolate bars out there, guess again! Chocolate Inspirations has an entirely vegan line, including barks, toffee, peanut butter pillows, and marshmallow "sweet buddies bars" — all made with dark chocolate!
Available at select retailers and online.
Endangered Species Chocolate
An ethically centered dark chocolate brand we can get behind! While this company is not fully vegan, it donates 10% of its annual proceeds to conservation efforts. Choose from chocolate bars in multiple mouthwatering flavors like lemon poppyseed, cranberries and almonds, and espresso!
Available at most US supermarkets.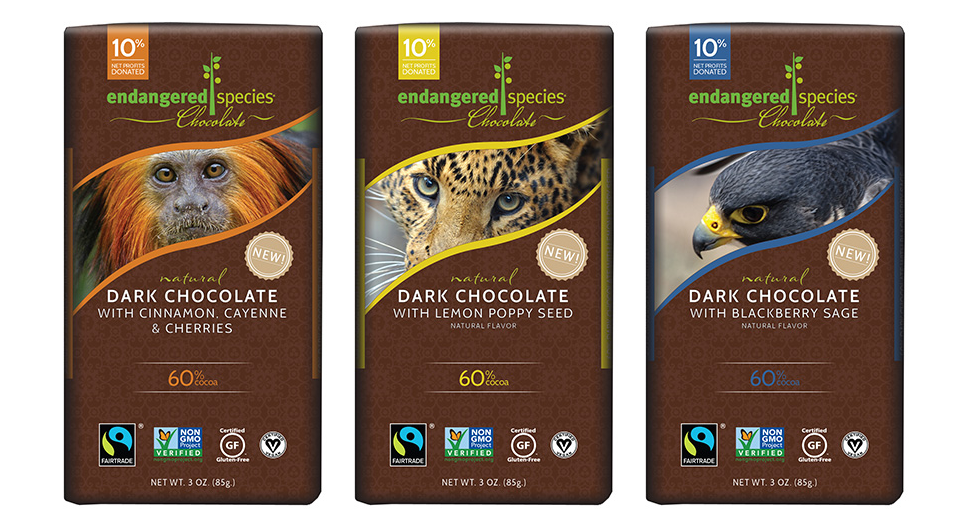 Divine Chocolate
Divine offers a range of Fairtrade vegan-friendly chocolates, including large bars, mini bars, and crispy thins. Enjoy flavors like hazelnut truffle, ginger and orange, and mint chip!
Available at most US supermarkets.
Tony's Chocolonely
This brand is on a mission to end exploitation in the chocolate supply chain. Find a few vegan bars on the website, including Dark Almond Sea Salt and Dark Pecan Coconut flavors.
Available to buy online and at select retailers.
Vegan Chocolate Spread
Whether you like it on sandwiches, toast, or straight from the jar, there's a dairy-free spread to keep your cravings at bay. Look out for these in your local supermarket:
Violife Cocospread
Nutiva Organic Hazelnut Spread with Cocoa
Justin's Chocolate Hazelnut Butter
Lekkco Belgian Dark Chocolate Spread
Nocciolata Dairy-Free Hazelnut and Cocoa Spread
Vegan Hot Chocolate
Is there anything more comforting than a mug of hot chocolate? We think not! There are plenty of vegan drinking chocolates available in US supermarkets:
Hotel Chocolat Nutmilk or Dark hot chocolate
Swiss Miss Non-Dairy Chocolate flavored hot cocoa mix
Hershey's Chocolate syrup
Divine Chocolate's Divine Cocoa Powder