Working out the best vegan sandwich fillings can be a surprisingly tricky business for plant-based beginners.
Finding fillings that are both delicious and provide a plant-based protein boost can take a bit of thinking about. Do you want to replicate a beloved pre-vegan favourite like tuna mayo, or are you willing to spend an extra 5 minutes in the kitchen to make your sandwich into a real showstopper?
Whatever your preference, you'll find inspiration in our top ten vegan sandwich ideas. These recipes are sure to whet your appetite and inspire some lunchbox creativity.
1. Chickpea 'Tuna' Mayo from Veggie Desserts
Who doesn't love a classic tuna mayo? The good news is you can veganise this iconic sandwich. "Mashed chickpeas make a fantastic base for flavourings, and give the sandwich a filling density," says Kate from Veggie Desserts. You can add nori (seaweed) for a 'fishier' flavour, salty capers and other umami-boosting ingredients, or just keeping it quick and simple. This is a must-try vegan sandwich filler. Check out Veggie Desserts' recipe!
2. Creamy Beetroot Hummus from Little Sunny Kitchen
Hummus is one of the most versatile ingredients around, so if you're not sure what to put in a vegan sandwich, you really can't go wrong with it. The colour of this creamy beetroot hummus is a knockout, and its flavour really packs a punch too with tahini, garlic and lemon juice. Your perfectly pink sandwich will be the envy of your workmates – pile it up with crisp lettuce and tomatoes.
3. Sun Dried Tomato Butterbean PÂTÉ from The Veg Space
Looking for a vegan sandwich that's high in protein? This is the one for you. Butterbeans are protein powerhouses and packed with vitamins, making them must-have staples in a plant-based diet. They make a creamy base for this flavourful pâté from The Veg Space. Great in sandwiches, wraps or spread on crispbreads and scattered with pine nuts.
4. Minted Broad Bean Spread from Tin & Thyme
Enjoy a taste of summer with this satisfying minted broad bean spread from Tin & Thyme. This plant-powered recipe makes a deliciously cool sandwich filling during a summer heatwave. Broad beans give it a creamy texture, with added flavour from fresh mint, garlic and lime juice. We're sure you'll savour every bite of it!
5. Vegan Bacon Lettuce Avocado & Tomato Sandwich from The Vegan Larder
Why not try BLT with a vegan twist? This classic sandwich has been reimagined by The Vegan Larder. Even if you think you don't like tofu, you MUST try making smoked tofu 'bacon.' It's incredibly tasty with a crispy and chewy texture and pairs perfectly with the avocado, lettuce and tomato in this recipe.
6. Vegan Chickpea Caesar Salad Wraps from Rhian's Recipes
Chickpeas are so versatile – used above to make a tuna replacement, and here as a chicken replacement in these classic Caesar salad wraps from Rhian's Recipes. A creamy Caesar dressing is made from cashews, lemon juice and mustard, and the wraps (gluten free if you like) layered up with lettuce and red pepper. Delicious!
7. Roasted Vegetable and Tofu Sandwiches from Tinned Tomatoes
If you're after easy vegan sandwich fillings that are a bit different, here's a creative recipe from Tinned Tomatoes. Using roasted vegetables (which you may even have hanging around from last night's dinner) and ready-cooked tofu pieces from the chiller cabinet, it's bursting with flavour and simple to make. If you ask us, it's a must-try!
8. Curried Tofu Salad from Veggie Inspired
If you were an egg mayonnaise sandwich fan before going vegan, the texture of this curried tofu salad from Veggie Inspired will be right up your street. This isn't just mush, though – crisp apple and celery give it a pleasing crunch, and it can even be whizzed up in just 5 minutes. What more could you want from a sandwich?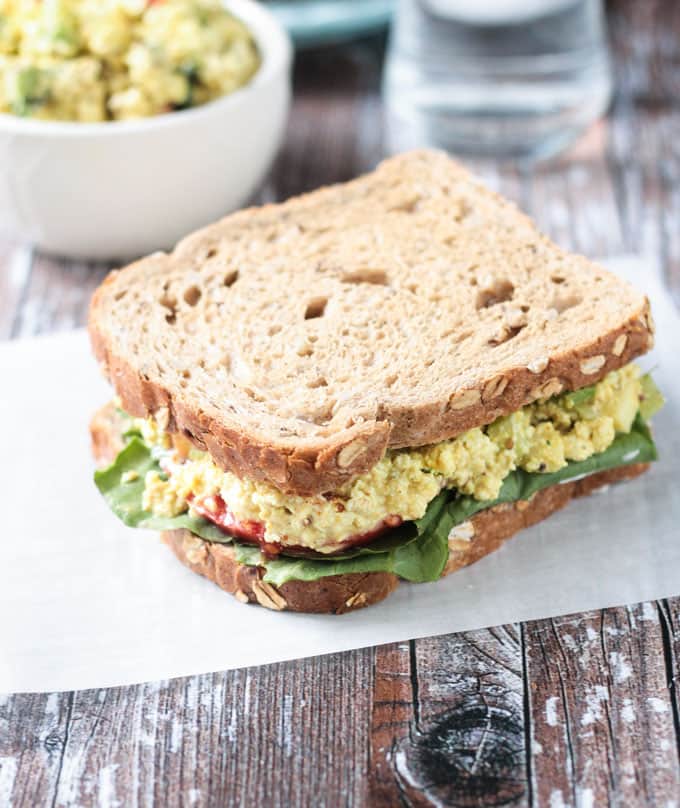 9. White Bean & Artichoke Vegan Sandwich Filling from A Virtual Vegan
Smashed white beans and artichokes in a creamy sauce with an extra crunch from sunflower seeds – yum! This flavour-packed filling from A Virtual Vegan is both delicious and nutritious, making it one of our favourite vegan sandwich ideas. Layer it up with grated carrot, sun dried tomatoes or jalapeños for even more wow factor.
10. Broccoli Slaw Veggie Wrap with Spicy Hummus from Veggie Inspired
Crunchy broccoli slaw, apple and crisp romaine lettuce – this wrap from Veggie Inspired is all about the texture, with a spicy kick from homemade (or shop-bought) hummus. Easy to make gluten-free if you like, and perfect for picnics.
What are your favourite vegan sandwich fillings? Let us know your ideas.
Have you signed up to try vegan? We'll send you daily emails with delicious recipes, meal plans and helpful tips. We'll also send you information about the impact of what we eat on our health, animals and the environment. And you'll be the first to hear about appeals, vegan news and exciting offers – click here to find out more.
Page updated May 2020