These are some of the best vegan apps making vegan life so much easier
We know plant-powered life can be tricky to navigate when you're a new vegan. There are so many things to think about! Is this product vegan? Am I getting enough iron? Are there any vegan restaurants near me?
Fortunately, there are lots of handy vegan apps to ensure living life on the veg is easy-peasy. From recipe recommendations and help hitting your nutrition targets to finding vegan food on the go, there's an app for your every need.
1. Happy Cow
Not sure where to find yummy vegan food? Happy Cow has your back. Enter your location and you'll see all the vegan-friendly eateries around you – perfect if you're travelling or searching for plant-based gems in your local town that you didn't know existed. You can also leave reviews and share pictures of your food to help other vegans looking for somewhere to eat.
Apple iOS: £3.99
Android: £3.59
2. 21-Day Vegan Kickstart
Going vegan for your health? 21-Day Kickstart is curated by the Physicians Committee for Responsible Medicine and designed to make your vegan transition simple. Download the app for tons of healthy plant-based recipes and nutrition tips developed by expert dieticians and chefs.
Apple iOS: Free
Android: Free
3. VNutrition
Whether you're a newbie or veteran vegan, it's important to ensure you're getting the right nutrition. The VNutrition app was designed by Heather Russell, the Vegan Society's dietician, and helps you track your food intake. This easy-to-use app includes a food diary and a checklist of reminders to eat enough portions of the right foods.
Apple iOS: Free
Android: Free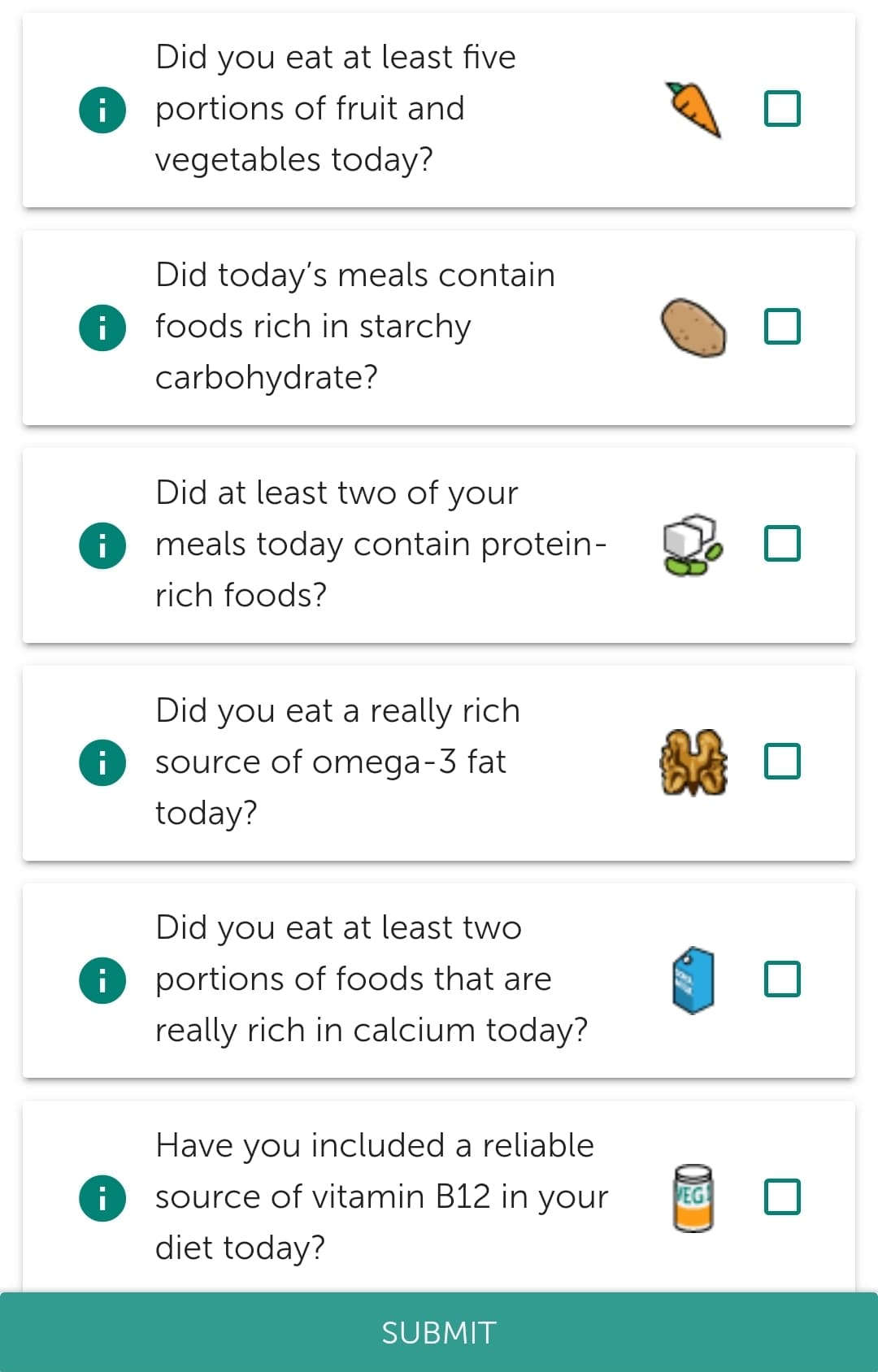 4. Vegan Friendly
If you live in the UK, you may be familiar with the Vegan Friendly team on social media who share the latest vegan product launches and explore vegan food options all over the nation. Now they've launched an app to help you find the best plant-based dishes in the area, making it ideal for vegans on the go.
Apple iOS: Free
Android: Free
5. Dr Greger's Daily Dozen
Dr Michael Greger, founder of NutritionFacts.org, is a well-known expert in plant-based nutrition. He provides plenty of free resources to empower people to eat healthily. The Daily Dozen app includes daily checklists to help you eat enough portions of fruit, veg, nuts, seeds, legumes and whole grains every day.
Apple iOS: Free
Android: Free
6. So Vegan
Get tasty and simple plant-based recipes at your fingertips thanks to So Vegan's app! The app gives you access to over 350 vegan recipes and you can even export ingredients to a shopping list.
Apple iOS: 7-day free trial. Yearly (save 50%) – £14.99 / $19.99 / €17.99. Monthly – £2.49 / $3.99 / €3.49.
Android: 7-day free trial. Yearly (save 50%) – £14.99 / $19.99 / €17.99. Monthly – £2.49 / $3.99 / €3.49.
7. Vegan Scan
There's nothing worse than reading labels in a busy supermarket, trying to figure out whether a product is vegan. We've been there! Thanks to the Vegan Scan app, you can scan the barcode and quickly discover whether it's suitable for vegans or not.
Apple iOS: Free
Android: Free
8. Veggly
Finding a vegan bae isn't the feat it used to be thanks to Veggly. The app caters to vegans and vegetarians, helping you connect with people who share the same values as you. Veggly has surpassed over 200,000 worldwide users, so finding the avocado to your toast may be easier than you think!
Apple iOS: Free
Android: Free
9. ABillion
With so many vegan menus to try, it can be hard to decide where to go. The abillion app allows you to discover vegan options around you and explore reviews and ratings to help you choose the dishes for your tastes.
Apple iOS: Free
Android: Free
10. Naturally Stefanie
Thanks to Naturally Stefanie's new app, you can get all your workouts and plant-based recipes to fuel your fitness in one place. Follow a set programme or choose workouts from the extensive workout library.
Apple iOS: £9.99 per month
Are there any recommendations that should be in our guide to the best vegan apps? Let us know if we've missed any!
PAGE UPDATED: AUGUST 2023