Sun's out, salads out! Here are some vegan salad recipes to brighten up your plate.
All too often, plant-based food is stereotyped as bland and boring, but these vibrant salads prove that this couldn't be further from the truth. It's the time of year to eat the rainbow and embrace all the colourful foods to power us through the sunny days.
We've put together 10 of the best vegan salad ideas to see you through the summer, from protein-packed lunches to easy weeknight dinners. No measly servings of carrots or lettuce here!
Craving a classic Caesar salad? This creation by The Vegan Larder has it all: crunchy texture, garlicky flavour, creamy dressing.
The smoked tofu makes a great plant-powered alternative to chicken or bacon, while the chickpea croutons add an irresistible crunch. It's proof that vegan meals are far from lack-lustre and even non-vegans would lap this up without complaint. Warning: it may be a little bit addictive!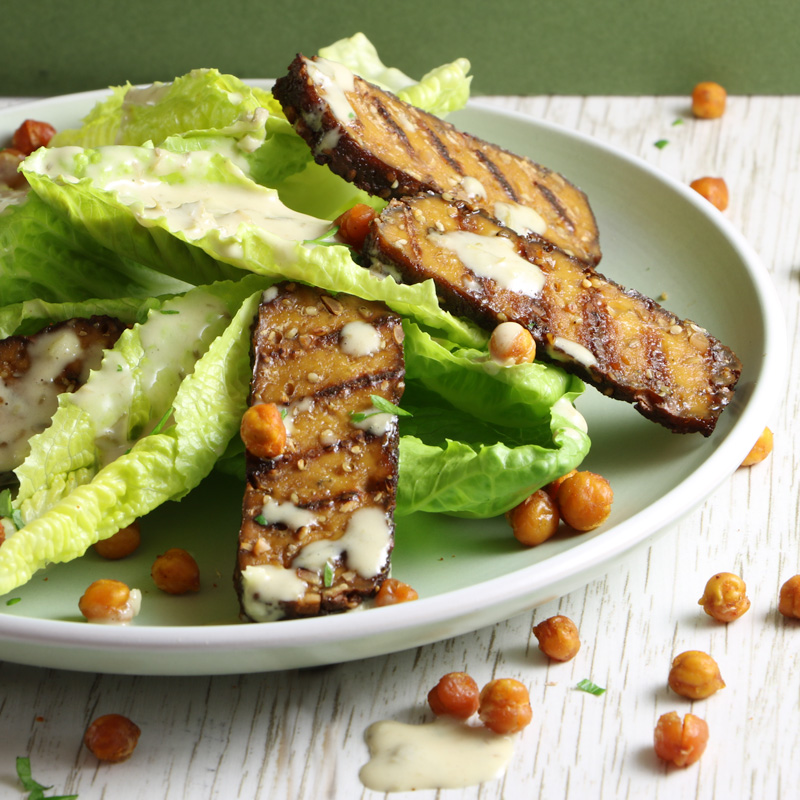 Fancy a good old hearty salad? This quinoa Mexicana salad by Figs and Fennel does the job.
The quinoa and beans will boost your protein intake and keep you feeling full, and the veggies offer plenty of colour and crunch. This quick, easy dish is sure to see you through the summer months and is ideal for a vegan picnic.
Looking for protein-packed vegan salad recipes? You'll love this amazing dish by our friends at Better Nature.
In this refreshing salad, tempeh takes centre stage and gives it a meatier bite. The blanched hazelnuts make a dreamy topping, while the plums offer a sweet aftertaste that not all salads deliver. It's perfect if you're a busy vegan who works from home or you need a convenient lunch to eat on the go.
In the mood for a vegan take on a meaty salad? Heura has created the ultimate recipe for alfresco lunches with non-vegan guests.
Just choose your favourite meat-style strips, add avocadoes, chickpeas, and colourful veggies. Then whip up a simple homemade sauce and you've got a show-stopping salad!
Here's another salad that's packed with plant protein. If tofu is your protein source of choice, this will be right up your street.
This healthy dish is full of flavour, thanks to the homemade dressing and tofu feta. The ripe figs bring a beautiful kick of summer sweetness that tastes so good, this recipe will be a firm favourite in no time.
This amazing recipe by Pulsin showcases the tastes and textures plant-based foods have to offer. Instead of using bulgur wheat, this plant-based salad uses quinoa to keep it gluten-free (but the recipe includes some substitutions if you aren't avoiding gluten).
You'll end up with a plate that's exploding with colour and flavour thanks to pomegranates, berries, radishes and avocadoes. This tasty twist on tabbouleh promises to brighten up your meals all summer long.
If you're looking for vegan salad ideas that pack in all the greens, here's one that won't disappoint. Not confident in the kitchen? Vegan Chef Day has put together the easiest dish you could ever wish for.
You just need pea shoots, cucumbers, mint and other greens of your choice, along with sundried tomatoes. For the dressing, throw on some nutritional yeast, miso, lemon juice and seeds and you've found your new go-to salad. This will also complement a plant-based BBQ nicely.
Let's keep up the green theme with this gorgeous barley salad by our friends at Clive's Pies and Romy London. It's nutritious, easy to make and you can use an array of seasonal fruits and veggies to throw it together.
The toasted pumpkin seeds add a flavourful crunch, while the fruity dressing makes it super refreshing. Perfect for a hot summer day, if you ask us.
This effortless butternut squash salad really brings the flavour! Not only is it loaded with plant-powered goodness, it's also budget-friendly.
Butternut squash is a versatile ingredient to use in salads and you can buy it frozen and pre-chopped to save time and effort. Pair it with spinach, cucumber, peppers, tomatoes and a zingy dressing to create a dish you can eat by the bucketload.
It's called a superfood salad for a reason! This wholesome dish by Vegan Chef Day will leave you feeling full and energised.
The edamame and quinoa give this plant-based salad a protein boost, while the sweet potato and kale pack in the vitamins. You can make this simple, budget-friendly recipe using kitchen basics and you don't need to be a pro in the kitchen either.
Did these vegan salad recipes leave you feeling inspired? Check out these plant-based pasta ideas too.