Enjoy the ultimate alfresco feast with these vegan picnic ideas
It's finally that time of year when we can pack our picnic baskets, head outside and enjoy the outdoors (for as long as the British weather permits).
Whether you're planning a fun family outing or need inspiration for a last-minute vegan picnic, we have plenty of plant-based food ideas for your portable feast.
From meatless sandwiches to dairy-free desserts, there's something to suit everyone in our guide.
Vegan Picnic Sandwiches
No picnic is complete without a show-stopping sandwich, right? This recipe by Plant-Based Magazine ticks all the boxes: delicious, creamy, filling and easy to throw together.
It's ideal if you're not a fan of meat alternatives but still want a wow-worthy main for your picnic.
Enjoying a picnic with kids or fussy eaters? These chickpea tuna sandwiches by Ethics and Antics are sure to go down a treat.
Complete with a creamy filling, this classic sandwich will become a family favourite in no time.
3. Cheatin' Chicken
Sometimes, the best vegan picnic foods are the ones you improvise!
The beauty of this vegan chicken sandwich is you can use any sliced meat alternative and mayo of your choice and chuck it together in minutes. Why not throw some cheese on there too?
When you want to make the most of the British sunshine, sometimes you have to act fast!
This falafel and hummus sandwich is a quick fix for your last-minute picnic.
Vegan Picnic Salads
Looking for the ultimate alternative to a classic Caesar salad? This amazing creation by The Vegan Larder proves that vegan salads are far from boring.
It's smoky, garlicky and creamy, meaning it's slightly addictive (we'll let you decide if that's a bad thing or not).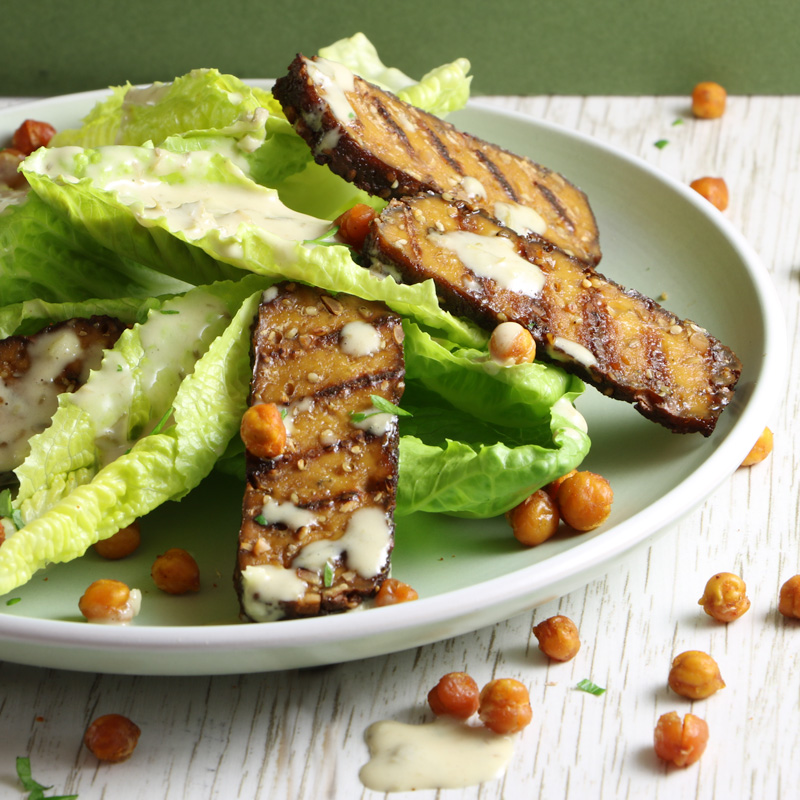 Need a simple dish that's packed with plant-powered flavour? Potato salad is one of the most versatile vegan picnic foods.
This recipe by Meat Free Monday is super simple to make and a guaranteed crowd-pleaser, making it perfect if you're dining with non-vegans.
This easy salad recipe by Figs and Fennel is packed with plant-based nutrients, making it one of our favourite vegan picnic food ideas.
It's also cool and light, so it's ideal for warm summer days.
If you're looking for a filling and flavourful recipe, try this amazing salad by Garden Gourmet.
This flavour-packed vegan chorizo salad uses baby potatoes and avocado to give you a warm yet refreshing dish.
Vegan Finger Foods
No picnic is complete without a delicious dip! This red pepper hummus by Trinity's Kitchen is ideal for enjoying with other foods in your picnic and adds a touch of sweetness to fruit and veg.
There's no picnic classic quite like the sausage roll, and thankfully, there are tons of vegan options to try. If you don't fancy a supermarket sausage roll, try this recipe by Quorn.
Complete with flaky pastry and moreish filling, it's the ultimate alfresco snack.
Need something savoury for your outdoor feast? These cheese scones by Applewood are must-haves for your plant-based picnic.
The melt-in-your-mouth texture and smoky flavour make these a guaranteed hit and they're ready in just 25 minutes!
Nothing says 'vegan picnic' like rice paper rolls!
These lovely and light summer rolls by Tammy Fry Kelly make delicious finger foods. Packed with vegan prawns and plenty of herbs, it's a tasty addition to any picnic.
Vegan Picnic Desserts
Cookies are go-to comfort foods for a picnic because they won't melt or spoil.
These chocolate, orange and walnut cookies by OGGS are irresistibly soft and crunchy and will go down well with kids and adults alike.
Who doesn't love a cinnamon roll? If you have time to prepare ahead of your vegan picnic, these sweet treats are worth the effort.
These berrylicious muffins are so delicious and easy to make. You can add any berries you fancy or whatever is in season to make this yummy snack for your vegan picnic.