Here's our guide to the very best of the best vegan packed lunches – for school, for work, or when you're on the go.
We've scoured our favourite recipe sites and thought outside the (lunch) box to bring you some of best, simple, tasty meal ideas that will please the whole family.
Boredom-busting Bento Box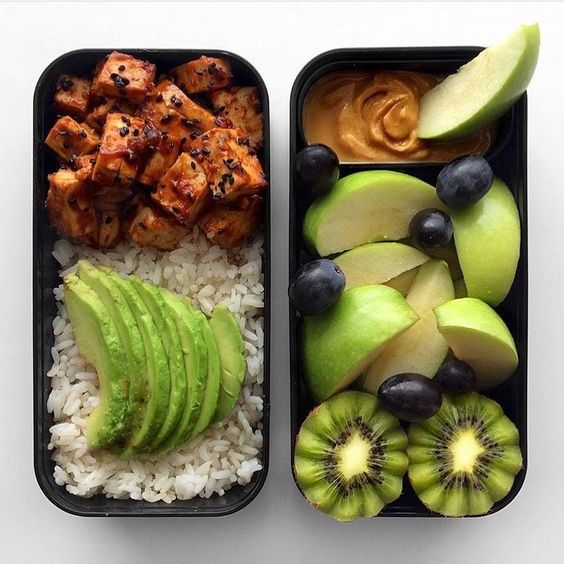 A bento box is essentially a mix of different foods, sectioned into mini portions. What's more, there are some super cute bento box style lunchboxes available on the high street.
They also offer a way to be adventurous with food, keeping things fun for younger children. Some ideas to include in your bento box are:
Tofu cubes
Pin-wheel falafel and hummus wraps
Steamed broccoli and carrot batons
Rice and edamame beans or chickpeas
Sweet potato wedges
Vegan sausage
Vegan yoghurt with chia seeds
A colourful mix of berries
Fruit kebabs
Check out this video for more inspiration on bento box ideas you and your little ones are bound to love.
2. Tasty Taco Wraps
Tacos always seem to be a winner, even for the fussiest of children. Fill a taco wrap of your choice (available from most supermarkets) with black beans or lentils, roasted sweet potato, lettuce, guacamole, salsa and veggies.
Serve with a side of corn on the cob to continue the Mexican vibe, and some pineapple and melon sticks for a tropical feel. Yum!
3. Pitta Pizza Power
Show us a kid who doesn't like pizza! These pitta pizzas are super easy to make – simply top a wholemeal pitta bread with a spread of passata, a sprinkling of vegan cheese, and a selection of your child's favourite toppings. Tomato, onion, roasted peppers, and sweet corn always seem to go down well! Pop under the grill for a couple of minutes until the cheese has melted and place inside a lunchbox to cool.
Serve with a side of hummus and veggies and a protein flapjack.
4. Cream Cheese and Cucumber Bagel
A cream cheese and cucumber bagel is another super easy lunch idea that is popular with children of all ages. Spread a bagel of your choice with vegan cream cheese, add slices of cucumber and sprinkle with a tiny pinch of pepper.
Serve with a side of roasted chickpeas and a fruit salad.
5. Chickpea Tuna Sandwich
Super quick to make, simply mash chickpeas with hummus or vegan mayo, celery, red onion, and seasonings. Follow this link to make your own chickpea tuna sandwich.
When creating your child's lunch we recommend including:
A portion of grains such as bread, pasta, or rice
A serving of legumes, nuts or dairy alternative, e.g. lentils, beans, vegan cheese cubes, vegan yoghurt, peanut butter
A generous portion of vegetables
At least one portion of fruit
Healthy snacks such as protein flapjacks, raw energy bars, or homemade low-sugar muffins
For more vegan lunch ideas visit our recipe section.
Have you signed up to try vegan? We'll send you daily emails with delicious recipes, meal plans and helpful tips. We'll also send you information about the impact of what we eat on our health, animals and the environment. And you'll be the first to hear about appeals, vegan news and exciting offers! Click here to find out more!
PAGE UPDATED JULY 2020