Where to find the best vegan food in London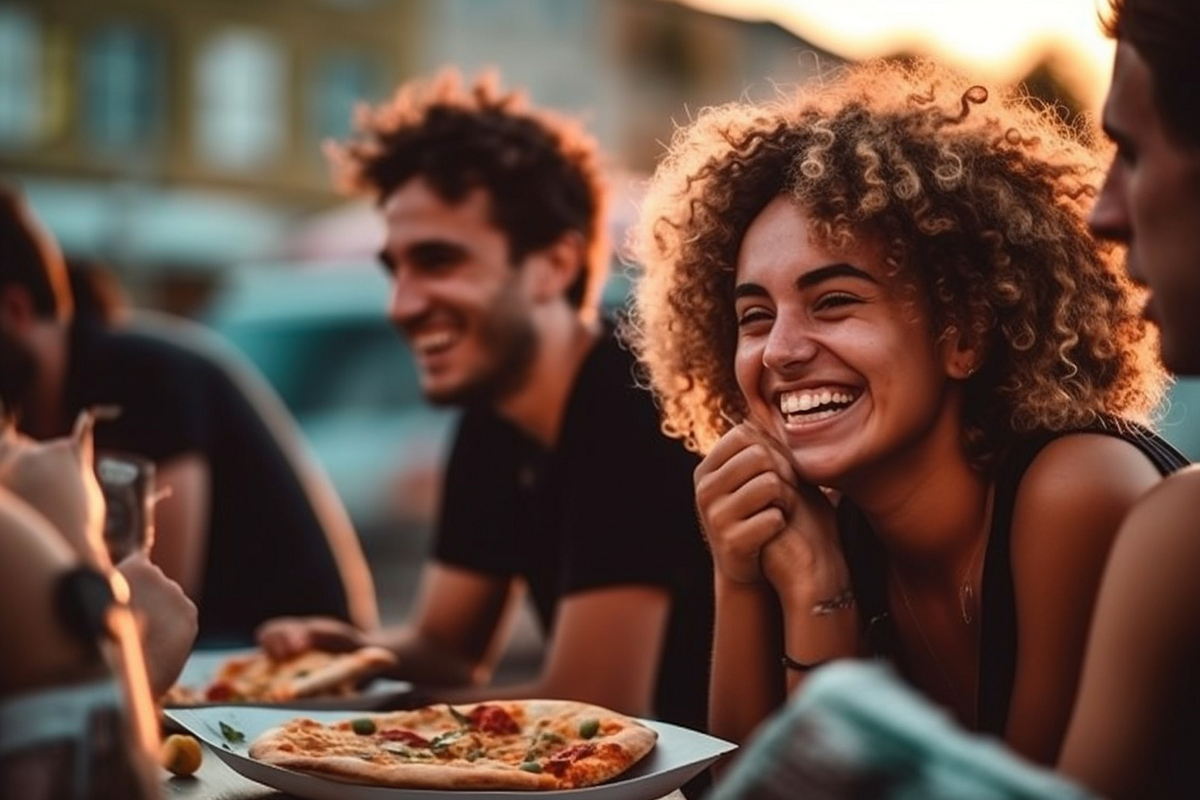 England's capital has a thriving food scene, and there are now more vegan-friendly restaurants in London than ever before. Whether you're looking for a casual lunch spot or a fine dining experience, you'll find something suited to your palate here.
The vegan food in London varies from burgers, nuggets and milkshakes to wholesome dishes and global cuisines. No matter where you are, you'll never be too far from eateries with options for plant-based health enthusiasts and junk food vegans alike.
Ready to embark on your culinary adventure? Here's our guide to some of the best vegan restaurants in London, as well as dining spots with impressive plant-based options (perfect when dining out with omnivores).
Note: Eateries marked with * are not 100% vegan but have vegan options
Jump to each section:
Vegan Fast Food
There's no shortage of vegan fast food in London. When you're craving junk food, you'll find pizza, burgers, nuggets, kebabs, pies, fish and chips, mac 'n' cheese and so much more all over the city.
Unity Diner – Diner and cocktail bar offering burgers, fish and chips, salads, loaded fries, vegan steak, mac 'n' cheeze, desserts and so much more (Spitalfields)
The Vurger Co – Diner serving burgers, nuggets, salads and shakes (Shoreditch)
Temple of Seitan – Indulgent fast food including burgers, fried chick'n and shakes (Camden and Hackney)
Biff's – Leading the jackfruit revolution with crispy wings and burgers (Available for delivery throughout London)
Young Vegans Pizza Shop – An exciting range of pizzas and pasta dishes (Bethnal Green)
Oowee Vegan – Choose from burgers, wraps, mac 'n' cheeze, popcorn chick'n, dirty fries and more (Brixton and Dalston)
What the Pitta – Plant-based kebab joint (Camden)
Neat Burger – Burgers, hotdogs, wraps, salads and shakes (Camden, Finsbury Park, Soho, Oxford Circus and Stratford)
Ready Burger – Home of the world's first 99p plant burger! Also offers fried chick'n, nuggets, ice cream and doughnuts (Finchley Road and Crouch End)
Halo Burger – Get your fix of vegan burgers, ice cream and milkshakes (Brixton and Shoreditch)
Flower Burger – Colourful plant-based burgers (Fitzrovia)
Hogless Roast – Vegan street food (Hackney)
Haché Burgers* – Parisian-inspired burger joint with vegan options (Holborn, Kingston, Chelsea, Balham and Camden)
Sutton and Sons Chip Shop* – Family-run fish and chip shop with vegan fish made from banana blossom (Hackney and Stoke Newington)
Healthy Vegan Food
On the hunt for healthy vegan food in London? Of course, vegan junk food isn't the only thing on the menu when you eat out. There are plenty of eateries using fresh, seasonal ingredients to create wholesome and nourishing plant-based dishes. Many use locally sourced ingredients too.
123Vegan – Veganuary Ambassador, chef Alexis Gauthier, has a restaurant offering healthy dishes and junk food options (Bond Street)
Holy Carrot – Sophisticated plant-based eatery with a globally inspired menu (Battersea)
Mildreds – Fresh and colourful dishes with gluten-free options (Soho, Camden, King's Cross, Dalston and Convent Garden)
Mallow – Run by the same team behind Mildreds, serving dishes with sustainable and locally sourced ingredients (Borough Market)
Stem & Glory – A varied menu inspired by international cuisines. There are lots of gluten-free options too (Bartholomew)
Omni – Creative and vibrant dishes with vegetables front and centre (Peckham)
Naïfs – Family-run vegan bistro (Peckham)
The Gleaners Community Café – Uses surplus produce that would go to waste to serve delicious plant-based food (Walthamstow)
Powerplant – Plant-based restaurant serving fun, colourful dishes (Camden)
Clean Kitchen – Nourishing plant-based dishes including breakfast bowls and sandwiches as well as smoothies (Camden and Battersea)
Wulf & Lamb – Comfort food and healthy options (Chelsea and Marylebone)
Crussh* – Plenty of plant-powered fitness foods including protein shakes, salads and wraps (Available at eight locations including Westminster, Bank and Liverpool Street)
The Gate* – Vegan and vegetarian eatery with a focus on sustainability (Hammersmith, Islington and Marylebone)
Island Poké* – Healthy poké bowls, including three plant-based options (Find them at over 10 locations in London, including Richmond, Boxpark Wembley, Camden and Canary Wharf)
Vegan Cafés
When you're looking for somewhere to sit and enjoy a coffee or a pastry, check out these vegan cafés in London.
The Fields Beneath – Serves hot and cold food as well as cakes (Kentish Town)
Black Cat Café – Homemade comfort food, soups, salads and more (Hackney)
Thenga Café – Indian-inspired vegan food (King's Cross)
WAVE – Breakfast and brunch dishes, pastries, smoothie bowls and salads (Hackney and Stoke Newington)
Knead A Little Love – Family-owned bakery serving baked goods and lunch options (Bethnal Green)
Vegan Cakes, Doughnuts and Pastries
London is paradise for those with a sweet tooth! Whether you're longing for a decadent slice of cake or a refreshing scoop of ice cream, you're sure to find something to your taste.
Vida Bakery – Incredible, mouth-watering cakes. There are gluten-free options too (Shoreditch)
Floozie Cookie – An array of dreamy vegan stuffed cookies (Convent Garden)
Ruby's of London – Plant-based bakery serving cakes, brownies and doughnuts (Greenwich Market)
Cookies and Scream – Vegan and gluten-free cakes, cookies and pastries (Holloway Road)
Crosstown Doughnuts* – Luxury sourdough doughnuts with vegan options (20+ locations in London including Shoreditch, Soho, Fitzrovia, and Marylebone)
Doughnut Time* – Indulgent doughnut bakery including some vegan options (Multiple locations including Charing Cross, Convent Garden, Fleet Street, Soho and Shoreditch)
Ole & Steen* – All-day Danish bakery with vegan pastries (20+ locations across London including Canary Wharf, Richmond, Hampstead and Leicester Square)
Soho Coffee* – Coffee chain with plant-based breakfasts, sandwiches and cookie options (Multiple locations including Baker Street, Kingsway and St Paul's)
Vegan Asian Food
If you're looking for vegan Asian food in London, you won't be disappointed with these restaurants offering Chinese, Thai, Japanese and Pan-Asian dishes.
Tofu Vegan – Chinese restaurant with an extensive menu (Islington, Golders Green and Spitalfields)
Itadakizen – Japanese restaurant with plenty of delicious lunch and dinner options (King's Cross)
Alter – Pan-Asian vegan food with gluten-free options (Aldgate East)
Rosa's Thai Café* – Thai restaurant with vegan options including curries, stir fries and noodles (Soho, Seven Dials and Carnaby)
Busaba* – Thai restaurant with a vegan menu including rice bowls, curries, small plates and more (Soho)
Banana Tree* – Pan-Asian restaurant with an impressive vegan menu (O2 Arena, Islington, West Hampstead, Haywards Heath, Battersea, Soho and Convent Garden)
The Pepper Tree* – Thai restaurant with a vegan menu including curries, Pad Thai stir fries and desserts (Clapham)
Ugly Dumpling* – Pan-Asian street food with a range of vegan-friendly dumplings (Carnaby and Fitzrovia)
Marugame* – Japanese udon restaurant with plant-based options (Liverpool Street, The O2, Canary Wharf, Bond Street and Brent Cross)
Vegan Indian Food
We hope you're hungry, because you'll want to eat all the plant-based options at these Indian restaurants in London.
En Root – Indian-inspired vegan food (Peckham, Clapham, and Brixton)
Sagar* – South Indian vegan and vegetarian restaurant (Hammersmith, Convent Garden, Leicester Square, West End and Harrow)
Govinda's* – London's oldest vegan and vegetarian Indian restaurant (Soho)
Namaste* – Vegan and vegetarian Indian cuisine (Holborn)
Vegan Caribbean Food
You'll fall in love with the colourful, creative and tasty dishes on the menu at these vegan Caribbean restaurants in London. From plantain to curry goat alternatives, there is so much to try!
Jam Delish – Family-owned Caribbean restaurant (Angel)
Livity Plant Based Cuisine – Jamaican-inspired vegan meal prep business run by twin sisters who are trained as chefs (Croydon)
All Nations Vegan House – Wholesome Caribbean cooking (Dalston)
Eat of Eden – Healthy and fresh Caribbean food (Brixton)
Vegan African Food
There are several vegan African restaurants in London that offer delicious and authentic dishes from across the continent.
222 Vegan Cuisine – Health-focused African food crafted by vegan chef Ben Asamani (West Kensington)
Andu Ethiopian Café – Cosy café serving Ethiopian cuisine (Dalston)
Addis Vegan Kitchen – Authentic Ethiopian eatery using fresh, seasonal ingredients (Bermondsey)
Beza – Ethiopian restaurant where everything is vegan and gluten-free (Walworth)
Vegan Mexican Food
When you fancy vegan Mexican food in London, you're truly spoiled for choice. From tacos and loaded nachos to enchiladas and burritos, these restaurants have it all.
Club Mexicana – Mexican-inspired street food (Shoreditch and Soho)
Chilango* – Mexican street food with vegan options including burritos and hot boxes (Balham, Peckham, Chancery Lane, Upper Green and Wood Green)
DF Tacos* – Mexican restaurant with vegan options including tacos, nachos, burritos, rice bowls, salad and ice cream (Brixton, Shoreditch, Tottenham Court Road, Victoria, Oxford Street and Canary Wharf)
Mestizo*– Mexican restaurant with a vegan menu offering tapas, enchiladas, tacos and more (Hampstead)
Vegan Italian Food
Some occasions call for pizza; others call for a comforting bowl of pasta. Whatever mood you're in, there are a few go-to places for vegan Italian food in London.
Purezza – Pizza and Italian-inspired food (Camden)
Plant Club – Vegan and gluten-free Italian restaurant (Newington Green)
Pastan – Plant-based pasta restaurant (Barbican)
Spaghetti House* – Italian restaurant with vegan dishes such as spaghetti, pizza and desserts (Nine locations across London including Marble Arch, Holborn and Oxford Street)
Vegan Sunday Roasts
Vegans don't have to miss out on a classic Sunday dinner! Here are some pubs and cafés with vegan Sunday roast options in London.
Café Van Gogh – Vegan non-profit café with a Sunday menu including nut, squash and chickpea wellington (Brixton)
The Old Queen's Head* – Vegan roast option is a mushroom wellington (Islington)
The Oval Tavern* – Pub with offering Mediterranean mixed nut, pepper and aubergine loaf (Croydon)
Vegan Fine Dining
Celebrating a special occasion? There are some vegan fine dining experiences in London to explore.
Gauthier – French vegan food owned by Veganuary Ambassador and vegan chef, Alexis Gauthier (Soho)
Edit – Modern British plant-based dishes with a focus on seasonality (Hackney)
Don't forget to check out our restaurant guides to help you eat out as a vegan all over the UK.