These are the best vegan ice cream options to keep you cool this summer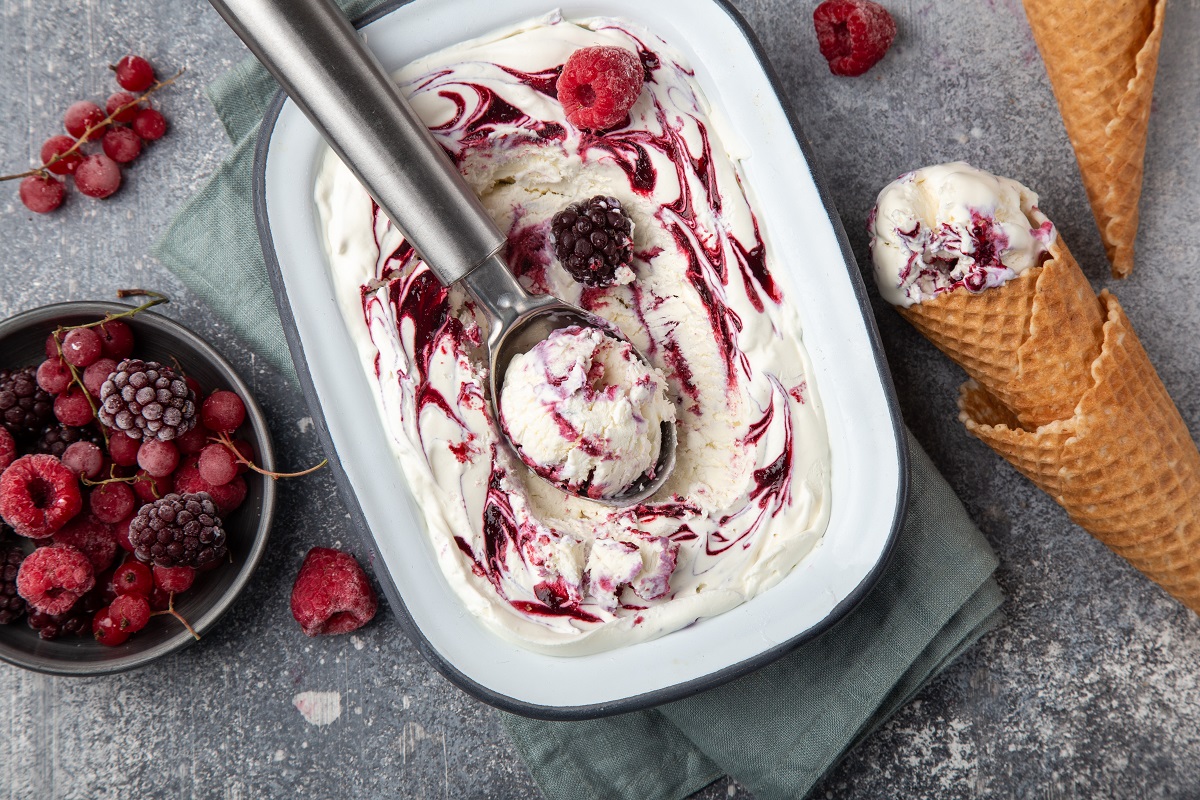 Gone are the days when the only ice cream flavour that vegans could find in the shops was vanilla. Now, there are heaps of dairy-free ice creams on the market and the biggest problem is fitting them all in your freezer. Whether you're looking for simple yet sweet flavours or more indulgent options, there's something to cater to everyone's tastes.
Here's our round-up of the best vegan ice cream in the UK.
Ben & Jerry's NON-DAIRY
Ice cream wizards Ben & Jerry's long-anticipated vegan delights are whipped up using almond milk. With a range of amazing flavours, including Chunky Monkey, Peanut Butter & Cookies and Chocolate Fudge Brownie, there's something for everyone. Currently, five are available in the UK.
Available at most UK supermarkets.
Just one Cornetto… or maybe two
Vegan Cornetto ice creams are here – hurrah! This summer staple means that you can chomp your way through a traditional vanilla ice cream cone topped with chocolate and nuts. They're made with soy and have a crunchy cone that's gluten-free too! If you can't find the Wall's version, then you'll find own-brand Free From Cones in various supermarkets.
Available at most UK supermarkets.
Booja-Booja
Delicious Booja-Booja vegan ice cream is dairy free, kosher and available in six amazing flavours including Caramel Pecan Praline and Chocolate Salted Caramel. Look out for it in larger supermarkets, health food stores and independent vegan stores in the UK.
Available at health stores and independent stockists.
Alpro Ice Cream
The dairy-free genius that is Alpro has four flavours of ice cream under its belt: Vanilla, Coconut, Chocolate Hazelnut and Salted Caramel… mmmm. Completely plant-based, these tubs contain less sugar than the others in the UK market.
Available at most UK supermarkets.
Magnum
What a wonderful day when Magnum launched a Vegan Classic and a Vegan Almond version of its incredibly popular chocolate-covered ice cream! They taste just as good as the original, if not better. Believe us when we say it's hard to stop at one…
Available at most UK supermarkets.
Swedish Glace
If you're looking for a heavenly taste in every scoop, Swedish Glace is the vegan ice cream for you. Available in most UK supermarkets, it's easy to get hold of and it's not too pricey, either. There are various flavours to choose from, including classic Vanilla, Chocolate and Raspberry.
Available at most UK supermarkets.
Oatly
The popular oat milk brand has expanded into the world of ice cream… and we love it! Oatly's vegan ice cream is available in Chocolate, Vanilla, Salted Caramel, Chocolate Fudge, Strawberry and Hazelnut Swirl flavours.
Available at most UK supermarkets.
Halo Top
If you really fancy treating yourself, Halo Top offers a whopping 7 vegan ice cream flavours to choose from! Go for classic varieties like Chocolate, or indulge in Birthday Cake, Candy Bar and Peanut Butter Cup flavours.
Available at most UK supermarkets.
Roar
Roar offer a range of must-try ice creams with a slightly more unusual twist, from Hazelnut Chocolate Cookie to Coconut Mango Passionfruit Oat Cookie. This brand is perfect if you prefer more adventurous flavours.
Available at Tesco, Sainsbury's, Waitrose, Ocado and M&S.
M&S Plant Kitchen
M&S expanded their Plant Kitchen range to include two vegan ice cream flavours: Chocolate and Raspberry Ripple. This dairy-free ice cream is made using coconut cream and it's utterly delicious.
Available at M&S and Ocado.
MIIRO
MiiRO's Chocolate and Hazelnut ice cream is the ultimate decadent treat on a hot day. Be careful, though: these are so moreish you may end up eating the entire pack in one sitting! (Well worth the brain freeze, if you ask us.)
Available at Ocado.
Wicked Kitchen
Wicked Kitchen launched an extensive range of frozen dairy-free products and they don't disappoint. Choose from classic ice cream tubs, cones and lollies to stay cool all summer!
Available at Tesco.

You can also make your own ice cream too! Check out our Double Dark Chocolate ice cream recipe, or go for this classic Easy Peasy Banana flavour.

We have hundreds of other plant-based recipes for you to try, too!
PAGE UPDATED JULY 2021