From chorizo to hotdogs, there are plenty of vegan sausages to choose from
Switching to plant-based sausages has never been easier or more delicious. The array of meat-free sausages available in supermarkets is so impressive that it's difficult to decide which to go for.
Whether you love fiery flavours or mild and meaty options, there's a plant-based sausage for you. Our ultimate guide covers traditional bangers, as well as sausage rolls, cocktail sausages, chorizo alternatives and hotdogs. Perfect for throwing on your vegan barbecue, eating with your fry ups or cocktail sausages or simply snacking!
Traditional Vegan Sausages
Beyond Meat
Packed with protein, these meatless sausages are sure to seamlessly replace bangers in your favourite dishes. Recreate classic meals like toad in the hole or throw them on the grill at your next summer barbecue.
Beyond Meat sausages are also free from soy and gluten.
Available at Sainsbury's, Tesco and Ocado
Aldi Plant Menu
The frozen sausages from Aldi's growing Plant Menu range have proved popular with vegans and Veganuary participants. Please note that stock may change depending on seasonality and individual locations.
Battered No Pork Sausages
Ultimate No Pork Vegan Sausages
Onion & Rosemary Sausages
Tesco Plant Chef
Derek Sarno's Plant Chef range exclusive to Tesco includes an array of plant-powered sausages bursting with flavour.
Cumberland Style Bangers (Chilled)
Meat-Free Korean Style Bangers (Chilled)
Caramelised Onion Meat Free Bangers (Chilled)
Red Pepper & Bean Bangers (Chilled)
Herby Bangers (Frozen)
Asda Plant-Based and OMV!
At Asda, you'll find realistic alternatives as well as mushroom-based bangers which aren't as meaty. You can't go wrong with these sausages in a fry up, barbecue or on a sarnie.
OMV! Deliciously Vegan No Pork Sausages
OMV! Chilli No Pork Sausages
Plant-Based Mushroom Sausages
Co-Op GRO Sizzlin' Sausages
The GRO range by Co-Op has great customer reviews and the sausages are no exception. Try these mushroom-based vegan sausages seasoned with parsley and black pepper – yum!
Richmond Meat-Free Sausages
If you were partial to Richmond's sausages before your vegan lifestyle, you'll be happy to know the meat-free alternatives are just as good.
Available at Tesco, Asda, Morrisons, Waitrose and Sainsbury's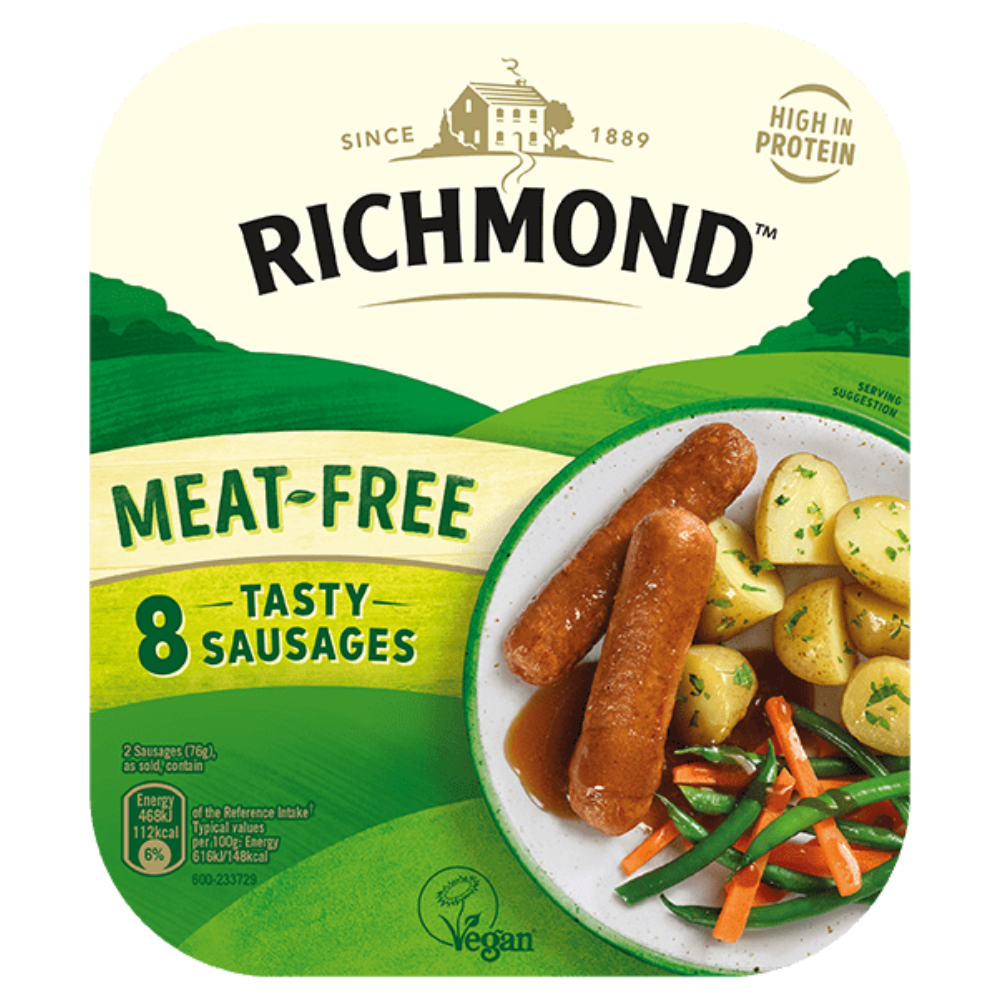 Quorn Vegan Brilliant Bangers
The plant-based bangers by Quorn offer a succulent texture and are high in protein. They're ideal for replacing meat sausages in everything from full English breakfasts to casseroles. Buy in chilled and frozen versions.
Available at Tesco, Sainsbury's and Ocado
THIS™ Isn't Pork Sausages
Take your bangers and mash to the next level with the plant-based sausages by THIS™ Isn't Meat. If you're looking for a low-fat option, these sausages boast 75% less saturated fat compared to a standard pork sausage of the same weight.
Available at Sainsbury's, Tesco and Waitrose
Linda McCartney's
If you're after versatile vegan sausages, check out the options by Linda McCartney's.
Vegetarian Sausages
Vegetarian Red Onion and Rosemary Sausages
Available at Ocado, Sainsbury's and Morrisons
Vegan Sausage Rolls
These meat-free sausage rolls are ideal for picnics, lunchboxes and snacking on the go.
Plant Based by Asda Meat-Free Sausage Rolls
Tesco Plant Chef Meat Free Sausage Rolls
Aldi Plant Menu No Pork Sausage Rolls
Lidl Vemondo Vegan Sausage Rolls
Sainsbury's Plant Pioneers Meat-Free Mini Sausage Rolls
Plant Kitchen No Pork Sausage Rolls (Marks & Spencer and Ocado)
Birds Eye Green Cuisine Vegan Sausage Rolls (Tesco, Sainsbury's and Ocado)
Quorn Vegan Sausage Rolls (Asda, Tesco and Morrisons)
Wall's Tasty Vegan Jumbo Roll (Asda and Tesco)
Linda McCartney's Vegetarian Sausage Rolls (Tesco and Sainsbury's)
Greggs Vegan Sausage Rolls (Iceland)
Vegan Chorizo Sausages
Prefer your sausages to have a fiery kick? You can find these vegan chorizo sausages in the supermarkets.
Wicked Kitchen Chorizo Style Bangers (Tesco)
Heura Vegan Chorizo Sausage (Ocado)
Plant Kitchen Chorizo Puppies (Marks and Spencer and Ocado)
Linda McCartney's Vegetarian Chorizo & Red Pepper Sausages (Sainsbury's, Tesco, Ocado, Asda, Morrisons and Iceland)
Squeaky Bean Cooking Chorizo Style Sausage (Sainsburys, Waitrose and Tesco)
Vegan Hot Dogs
Summer weather calls for vegan hotdogs! There are several options to choose from in supermarkets.
Aldi Plant Menu Meat-Free Hotdogs
Tesco Plant Chef Spicy Katsu Hot Dogs
Frys Meat Free Original Hot Dogs (Iceland, Tesco and Asda)
Moving Mountains Meat-Free Hot Dogs (Waitrose and Ocado)
Vegan Cocktail Sausages
In need of nibbles for parties and alfresco feasting? Grab some of these vegan cocktail sausages.
Richmond Meat-Free Minis (Waitrose and Sainsbury's)
Gosh Veggie Cocktail Sausages (Sainsbury's, Morrisons and Tesco)
Linda McCartney's Vegetarian Cocktail Sausages (Sainsbury's and Morrisons)
Co-Op GRO Tomato & Basil Cocktail Sausages
Did you find this helpful? Check out our guide to vegan bacon too.