Celebrating a special day? Here's where to buy vegan birthday cakes in the UK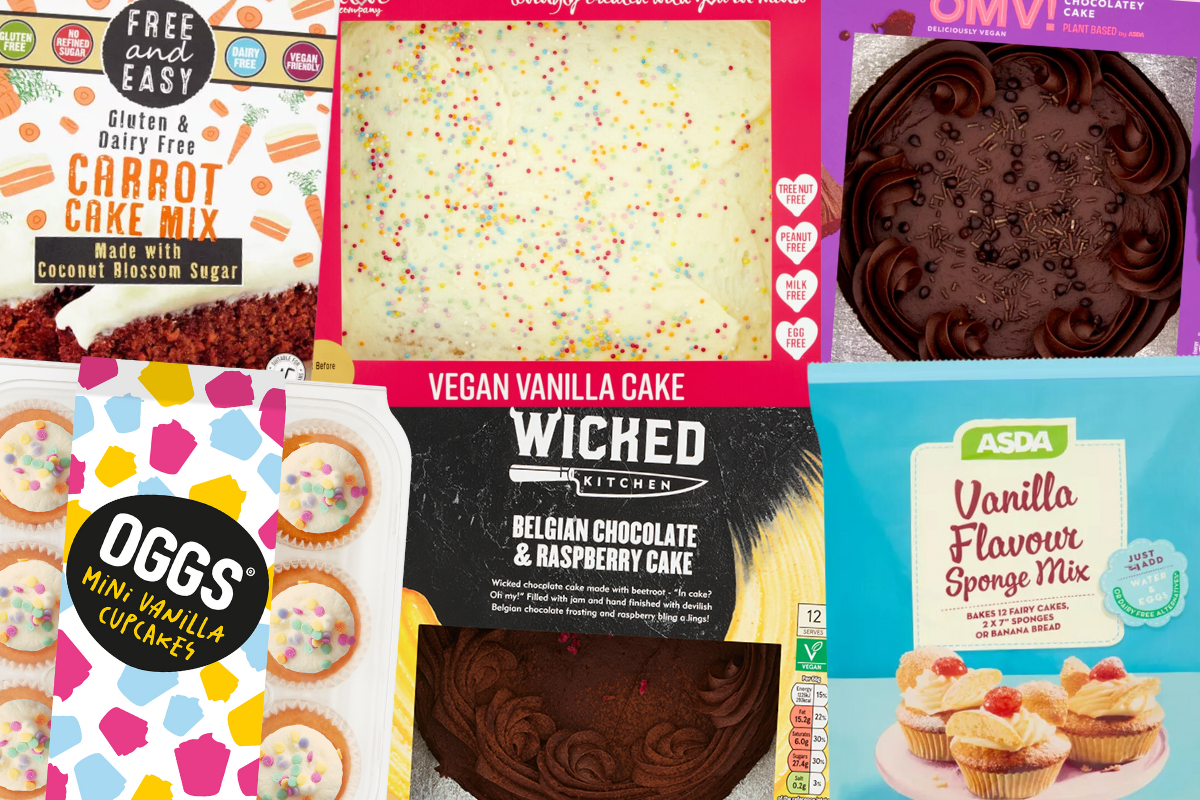 Many people assume that going vegan means waving goodbye to delicious cakes and other baked treats, but that couldn't be further from the truth.
Vegan options are becoming more mainstream by the day, which means you can celebrate your birthday (or any occasion for that matter) with an indulgent, cruelty-free cake. Whether you're shopping for a loved one or a vegan colleague at work, there are plenty of options to choose from.
As well as vegan birthday cakes and cake mixes in supermarkets, there are also options at independent bakeries.
Jump to each section:
VEGAN BIRTHDAY CAKES IN SUPERMARKETS
Asda OMV! Deliciously Vegan Chocolatey Cake
Asda have made our birthday wishes come true with this decadent vegan chocolate cake.
This dairy-free delight is made with beetroot and topped with rich chocolate frosting, sprinkles and brownie fudge pieces. What more could you possibly want?
Sainsbury's Plant Pioneers Cakes
These indulgent layered cakes are ideal for celebrations and come in two flavours:
Lemon Cake
Chocolate Cake
Just Love Vegan Cakes
The impressive cakes by Just Love are ideal for those avoiding allergens. After all, nobody should have to miss out on cake! There are two vegan flavours to choose from:
Enticing Chocolate Cake – free from peanuts, nuts, milk and eggs (available at Asda)
Vegan Vanilla Cake – free from tree nuts, peanuts, milk and eggs (available at Tesco, Sainsbury's, Asda and Ocado)
OGGS
If you're looking for smaller cakes to celebrate an occasion, check out the cupcakes from OGGS:
Mini Vanilla Cupcakes (available at Sainsbury's, Tesco, Waitrose and Ocado)
Chocolate Vanilla Cupcakes (available at Sainsbury's, Tesco, Waitrose and Ocado)
Zesty Lemon Cake (available at Waitrose and Ocado)
Wicked Kitchen
When a plain chocolate cake just won't do, try Wicked Kitchen's offering of Belgian chocolate sponge filled with raspberry jam. It's even topped with chocolate frosting and pieces of raspberry to pack an extra punch of flavour.
Look out for these options in Tesco stores:
Belgian Chocolate & Raspberry Cake
Chocolate Cupcakes
Lemon Cupcakes
Daiya Chocolate Cheezecake
If someone isn't a fan of traditional birthday cake, Daiya's vegan cheesecake is the perfect alternative. This Chocolate Cheezecake is also free from soy and gluten, making it ideal for those with allergies.
Find this in the frozen section at Asda.
Lazy Day Foods
This selection of sweet treats is pretty special! If you're on the hunt for vegan birthday cakes that are also free from other allergens, make sure you check out Lazy Day Foods.
Vanilla Sponge Cake (available at Sainsbury's)
Celebration Chocolate Cake (available at Sainsbury's)
Mini Vic the Vegan Caterpillar Cakes (available at Morrisons and Co-Op)
Independent Bakeries
Looking for an extra special vegan birthday cake? There are lots of online bakeries offering show-stopping cakes and treats, some of which are fully vegan.
Most bakeries serve only a specific local area, so you'll need to find one close to you. Try asking on local vegan Facebook pages, searching Google, or getting recommendations from vegan friends in your area.
Some vegan bakeries can deliver all over the UK, but will usually have to be ordered well in advance.
Vegan Cake Mixes
Don't forget that many boxed cake mixes in supermarkets are accidentally vegan if you make them using an egg replacer – perfect if you're not a keen baker but still like the idea of making your own cake!
Free and Easy Gluten & Dairy Free Carrot Cake Mix
Betty Crocker Devil's Food
Sainsbury's Vanilla Sponge Mix
Sainsbury's Chocolate Sponge Mix
Asda Chocolate Fudge Cake Kit
Asda Chocolate Sponge Mix
Asda Vanilla Flavour Sponge Mix
If you're going down this route, check out our guide to vegan egg substitutes.
Fancy making your own vegan birthday cakes from scratch? Check out our guide to baking without eggs and dairy.