It's your birthday? Here's where to buy vegan birthday cakes in the UK.
Many people assume that going vegan means waving goodbye to delicious cakes and other baked treats, but that couldn't be further from the truth. Vegan options are becoming more mainstream by the day, which means you can celebrate your birthday by indulging in these yummy cakes.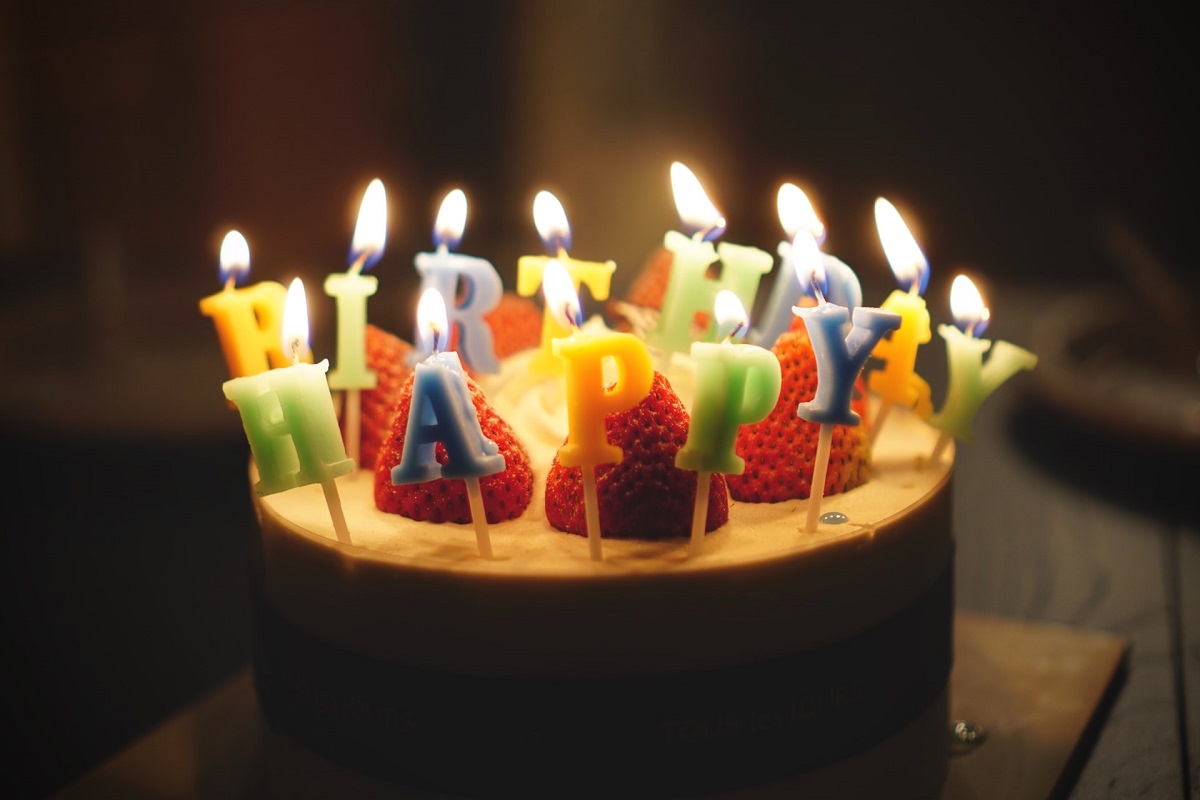 You have a few options when it comes to vegan birthday treats – you could hit the supermarkets for a ready-made dessert, contact a vegan bakery for a bespoke cake, or get creative in the kitchen and make your own.
Where to Buy Vegan Birthday Cakes and Treats in Supermarkets
Whether you're in a rush, on a budget, or not a fan of baking, being able to find vegan birthday treats in the supermarket is really handy – keep scrolling for some of our favourite options.
Just Love Vegan Chocolate Cake
You can find this little gem of a cake at various supermarkets. It's free from eggs, milk, and nuts, and is topped with chocolate frosting and lustred chocolate drops.
Bosh! Vegan Cakes
Choose from Luscious Lemon and the Ultimate Vegan Chocolate Cake. Both are amazing! You'll find them in Tesco and coming soon to Asda.
Wicked Kitchen
Not quite a traditional birthday cake, but choose from Red Velvet Chocolate Brownie, Pineapple Dream Cake and Sticky Toffee Pudding. Or buy them all.
OGGS
These gorgeous cupcakes come in Zesty Lemon, Salted Caramel, Chocolate Fudge, and Victoria Sponge flavours. You'll find them in selected Sainsbury's and Waitrose stores.
Daiya Chocolate Cheezecake

This Daiya Chocolate Cheezecake is a delicious, indulgent option – find it in the frozen section at Sainsbury's or Asda.

Food Heaven Dairy Free Lemon Dessert
If you like the idea of a vegan birthday cheesecake but aren't keen on chocolate, this dairy-free lemon dessert from Food Heaven is the perfect choice. It's also gluten-free! Available from Waitrose and Asda.
Lazy Days Foods
This range of sweet treats is pretty special. From Millionaire's Shortbread to Belgian Dark Chocolate Tiffin and Iced Fruit Cake Slices. Deliciously moreish. Find them in supermarket free-from sections.
Independent Vegan Bakeries Which Sell Birthday Cake
If you're looking for an extra special vegan birthday cake, you may wish to check out an independent vegan bakery.
Most bakeries serve only a specific local area, so you'll need to find one close to you. Try asking on local vegan Facebook pages, searching Google, or getting recommendations from vegan friends in your area.
Some vegan bakeries are able to post cakes out, so don't worry if there's nothing available near you. The Vegan Cakery posts out cakes of all sizes if ordered in advance, and Vegan Antics can deliver delicious cookies and traybakes.
Many vegan bakeries will create personalised cakes just for you – ideal if you're looking for a unique gift.
Vegan Birthday Cake Recipes
Fancy making your own vegan birthday cake? Check out some of the best vegan cake recipes below.
Vegan Chocolate Cake
This vegan chocolate cake recipe is simple, indulgent and delicious – and it looks beautiful topped with fresh raspberries.
Vegan Carrot Cake
Carrot cake is an old favourite, and it's easy to veganise. Check out this yummy vegan carrot cake recipe which includes cashew icing.
Vegan Victoria Sponge
If you fancy something traditional, try this vegan Victoria sponge recipe from Jamie Oliver. Using fresh fruit in the filling makes this cake feel extra fancy.
Boxed Cake Mix
Don't forget that many boxed cake mixes are accidentally vegan if you make them using an egg replacer – perfect if you're not a keen baker but still like the idea of making your own cake!

Were you worried that vegan birthday cake would be impossible to find? Hopefully this article has shown you that there are plenty of options out there. If you'd like more tips to make going vegan easy, sign up to our free 31 day vegan email series!
PAGE UPDATED NOVEMBER 2020