Believe it or not, lots of the foods you already eat are vegan! From chocolate to wine, there are many accidentally vegan foods at your fingertips without you even knowing it.
This is fantastic news for several reasons. Not only does it make the transition easier, it's also handy when you're on the go and there aren't immediately obvious vegan options available.
We've compiled some of our favourite products you didn't know were vegan. Some of them may surprise you!
Accidentally Vegan Everyday Foods
If you're new to veganism, you may think you haven't tried many vegan foods before. However, tons of day-to-day foods are vegan by accident.
Read more about vegan cupboard essentials in our vegan shopping list.
Pasta: most dried pasta is made without egg and is therefore 100% vegan
Fresh bread: most bread, bagels and crumpets are vegan. Ciabatta is always vegan as it is made with olive oil
Rice and rice noodles: when ordering a Chinese takeaway, ask for rice noodles
Yeast extracts like Marmite and Vegemite
Nut butters
Baked beans (original recipe, without cheese or sausages etc.)
Tinned/canned spaghetti (original recipe, without cheese or sausages etc.)
Sauces: tomato sauce/ketchup, HP sauce, Tabasco and other pepper sauces, most mustards, Branston pickle
Jam: typically made with pectin (to thicken) rather than gelatine
Hummus
Chips/French fries: if cooked in veggie oil then they are vegan!
Porridge/oatmeal: when made with water or plant milk
Bisto Gravy: Original, Reduced Salt, Vegetable, and Onion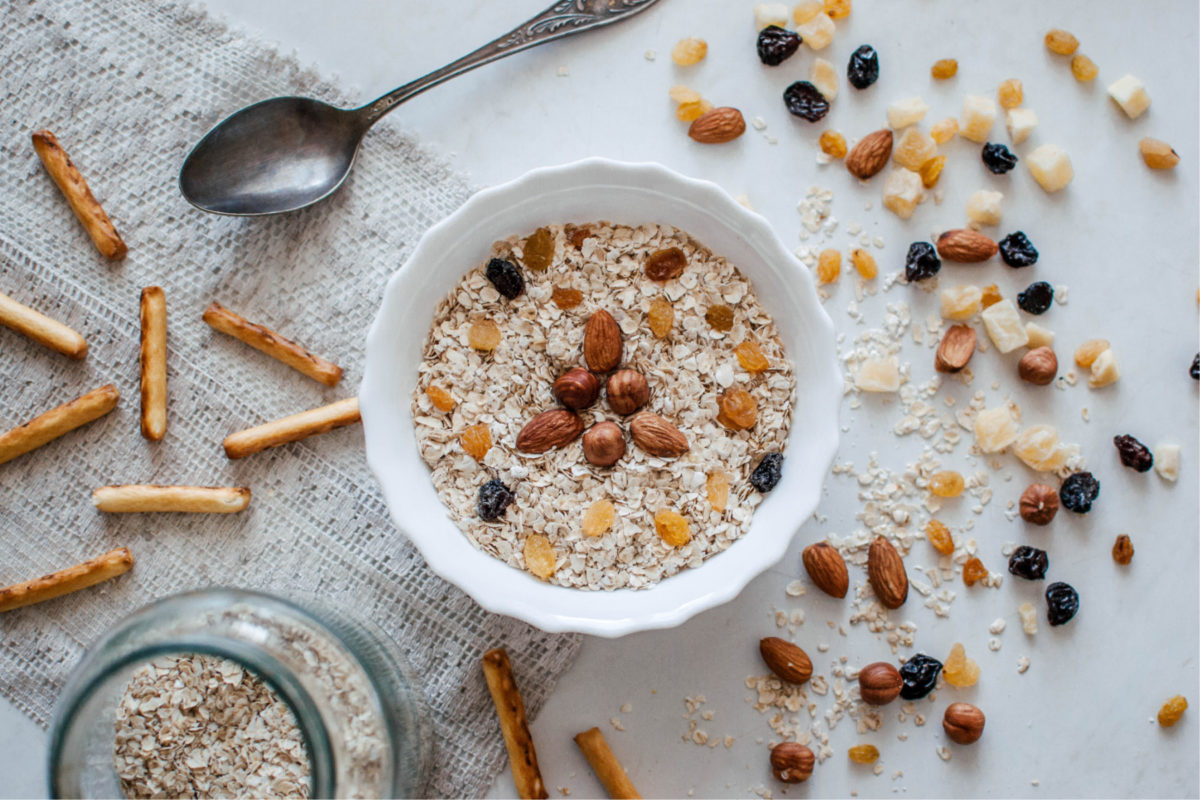 Crisps, Chocolate and Sweets
Love to indulge in junk food every now and again? You're in luck, because there are tons of accidentally vegan chocolates, sweets and crisps available in the UK.
Doritos: Chilli Heatwave and Lightly Salted
Hippeas crisps: these are all vegan – even the cheese-flavoured ones!
Walkers crisps: Ready Salted, Salt and Vinegar, Pickled Onion, Prawn Cocktail, Worcester Sauce, Crinkles Simply Sea Salted, Chipsticks Salt 'n' Vinegar Flavour, Sensations Lime & Coriander Chutney Poppadoms, Sensations Balsamic Vinegar & Caramalised Onion, Sunbites Sweet Chilli, Sunbites Original, Sausage and Brown Sauce
Wotsits: Prawn Cocktail flavour
Snyder's Jalapeno Pretzels
Kettle Chips: Sea Salt, Sea Salt and Balsamic Vinegar and Cracked Pepper. They also have a vegan Sheese and Onion flavour!
McVities: Fruit Shortcakes, Original and Choc Chip Hobnobs, Ginger Nuts, Light Rich Tea
Ritz Crackers: Original, Crisp and Thin (Salt & Vinegar)
Oreos: Original (They have milk as cross-contact, but it is not included as an ingredient, so they are suitable for vegans)
Fox's: Fruit and Oat Chunkie Cookies, Party Rings
Prewetts Gluten Free Jammy Wheel Biscuits
Bourbon Biscuits: most brands, but always check the label
Ritter Sport chocolate: Marzipan
Skittles: E120/carmine/cochineal has been removed from the ingredients list in the UK. Only a few old packets (with E120) still exist. So if a pack is marked 'Suitable for vegetarians' then it will be vegan and safe to eat!
Cream Crackers and many other crackers
Belvita Breakfast 'Tops': Choco Hazelnut
Guinness Rich Beef Chilli Thick Cut Potato Chips (yes, really!)
Rowntree's Jelly Tots and Fruit Pastilles
Lotus biscoff bicuits
Snacks and Desserts
Moving on from animal-based foods doesn't mean missing out on flavour. These vegan snacks and desserts prove that great-tasting foods don't need cruelty.
Nairn's Oatcakes: Dark Chocolate Chip
Co-op jam and custard doughnuts
Apple Strudel (the kind found in most supermarket freezers)
Mr Kipling: Treacle Tart, Apple and Blackcurrant Pies
Lidl's Bramley Apple Pies
Jus Rol: Gluten-free Puff Pastry, Pain Au Chocolat, Croissants and Cinnamon Swirls
Tesco Chocolate And Hazelnut Filled Mini Churros
Bird's Custard (when made with plant milk)
Pot Noodles: beef and tomato, Bombay Bad Boy, sweet and sour, southern fried chicken (no meat in any of these!)
MacSween Vegetarian Haggis
Beers and Ciders
Yes, you read that right: many beers and ciders are vegan-friendly. Refer to this guide when you're out and about.
Beck's Blue

Heineken

Carlsberg

Amstel
Peroni

Budweiser

Corona

Weston's:

Al

l

Thatcher's:

All
Aspall's:

All

Merrydown:

All

Brother's:

All, including fruit flavours

Gui

n

ness
Wine
Several UK supermarkets now label their vegan-friendly wines.
Sainsbury's, Co-op, Waitrose and Marks & Spencer clearly label the vegan wines in their selections
For more information on understanding whether alcohol is vegan, check out our guide to vegan food labels.
Please note:
We haven't included the obvious plant foods in our guide (fruits, vegetables, grains, pulses, legumes, dried fruit, nuts, pickled vegetables, olives etc.). Rest assured they are most definitely vegan.
Ingredients can differ from brand to brand. Don't assume just because an item is vegan in one store that it will also be in another. Crumpets are a good example: vegan in both Tesco and Sainsbury's, made with milk in Waitrose.
We're always updating our guide, so keep checking back to discover more vegan-friendly favourites. Know of an accidentally vegan product that's not listed above? Please contact us on Facebook, Twitter or email us at "info @ veganuary.com" and we will add it. Thank you!
LAST UPDATED: AUGUST 2023