Treat the leading lady in your life to these special vegan Mother's Day gifts
Make sure your mum feels loved this year with vegan-friendly presents she won't forget, even if she's not vegan! Whether she loves at-home pamper sessions or exploring the great outdoors, there's a gift for every mum in our handy guide.
1. Kakoa Chocolates
When it comes to Mother's Day, average chocolate just doesn't cut it! Treat your mum to Kakoa's Iconic Vegan Milk Chocolate Box to mark the occasion. These premium chocs are made with rice and almond milk, giving them a deliciously smooth and creamy texture. These boxes include tasty truffles, caramel delights and much more.
Priced at £24.99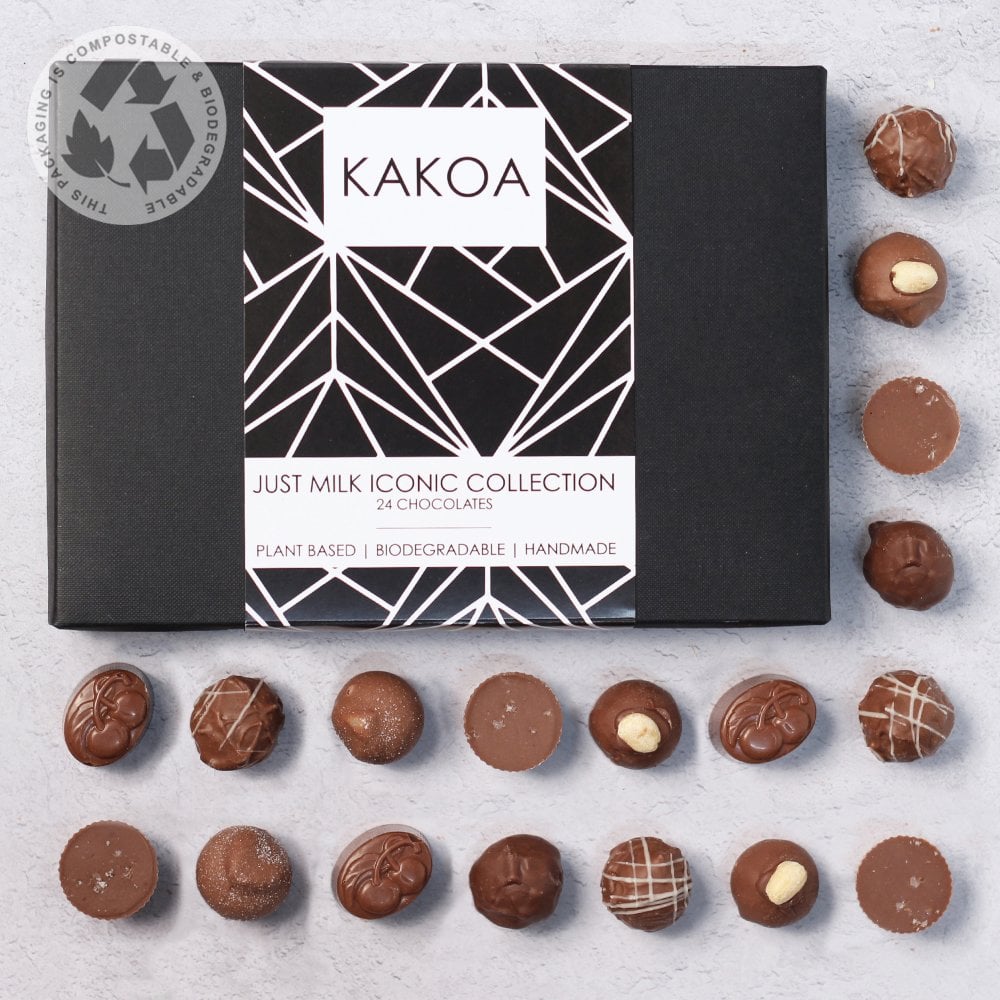 2. Olivia Burton Watch
If you're looking for sophisticated gifts she'll remember for years to come, check out Olivia Burton's range of vegan watches. Choose from gorgeous floral patterns to celestial designs to wow your mum this year.
Prices range from £55 – £130
3. Letterbox Pamper Gift
Letterbox presents are perfect if you can't see your mum in person. This pamper gift includes a face mask, nail balm, lip balm, bath bombs and handmade soap to ensure your mum can still treat herself this Mother's Day.
Priced at £14.50
4. Vegan Hiking Boots
Does your mum love all things nature? Give her walking gear an upgrade with a pair of Will's Vegan Shoes. Their waterproof hiking boots are designed for demanding terrains without compromising on comfort. This is a perfect, long-lasting gift she will definitely thank you for!
Priced at £116
5. The Vegan Kind Subscription Box
Who doesn't love surprises delivered to their door? The Vegan Kind's subscription is the gift that keeps on giving! The Lifestyle Box offers a selection of food and household goodies, while the Beauty Box provides skincare and makeup products. Your gift subscription can range from 3, 6 or 12 months.
Prices range from £36.45 to £133.80 depending on the subscription length
6. Floral Street Fragrances
Perfume always goes down well, so surprise your mum with a new signature scent from Floral Street. These award-winning vegan and cruelty-free perfumes make gorgeous gifts, even if your mum is trickier to buy for. Choose from summer-ready citrus scents to bold and beautiful tones.
Prices range from £24 – £86
7. Elf Skincare Set
Does your mum love her skincare? Elf's Brightening range is the ultimate present to see your mum into the new season. The budget-friendly range includes cleanser, toner, mask and moisturiser to refresh, brighten and moisturise the skin. You can also buy these items separately.
Priced at £40 for the full range or £8 – £12 for individual items
8. Vegan Cheese Making Kit
If your mum loves experimenting with new culinary creations, the Big Vegan Cheese Making Kit makes a fun vegan Mother's Day gift. This is a great activity you could even do together, especially if your mum isn't vegan and you want to introduce her to the world of animal-free cooking. Create vegan halloumi, ricotta and feta, start adding them to yummy recipes and see where it takes you!
Priced at £27.50
9. Wearth London Eco-Friendly Jewellery
You can never go wrong with jewellery gifts! These eco-friendly and ethical products from Wearth London are made from recycled materials, giving them an extra-special touch. Choose from understated pieces to statement items for dressy occasions and make your mum smile this Mother's Day.
Priced from £12
10. Matt & Nat Purse
A new purse never goes amiss, whatever the occasion. Matt & Nat's vegan wallets are beautifully crafted from 100% recycled plastic bottles, making them ideal for eco-conscious mums. These chic wallets are available in a range of colours, so there's sure to be a shade your mum will love.
Priced at £40
Have you signed up to try vegan? Sign up for our free email series and you'll receive tons of tasty recipes, tips and support!
PAGE UPDATED MARCH 2021