Treat the leading lady in your life to these special vegan Mother's Day gifts
Make sure your mum feels loved this year with vegan-friendly presents she won't forget, even if she's not vegan!
Whether she loves at-home pamper sessions or exploring the great outdoors, there's a gift for every mum in our handy guide.
1. Kakoa Chocolates
When it comes to Mother's Day, average chocolate just doesn't cut it! Treat your mum to Kakoa's Iconic Vegan Milk Chocolate Box to mark the occasion.
These premium chocs are made with rice and almond milk, giving them a deliciously smooth and creamy texture. These boxes include tasty truffles, caramel delights and much more.
Priced at £24.99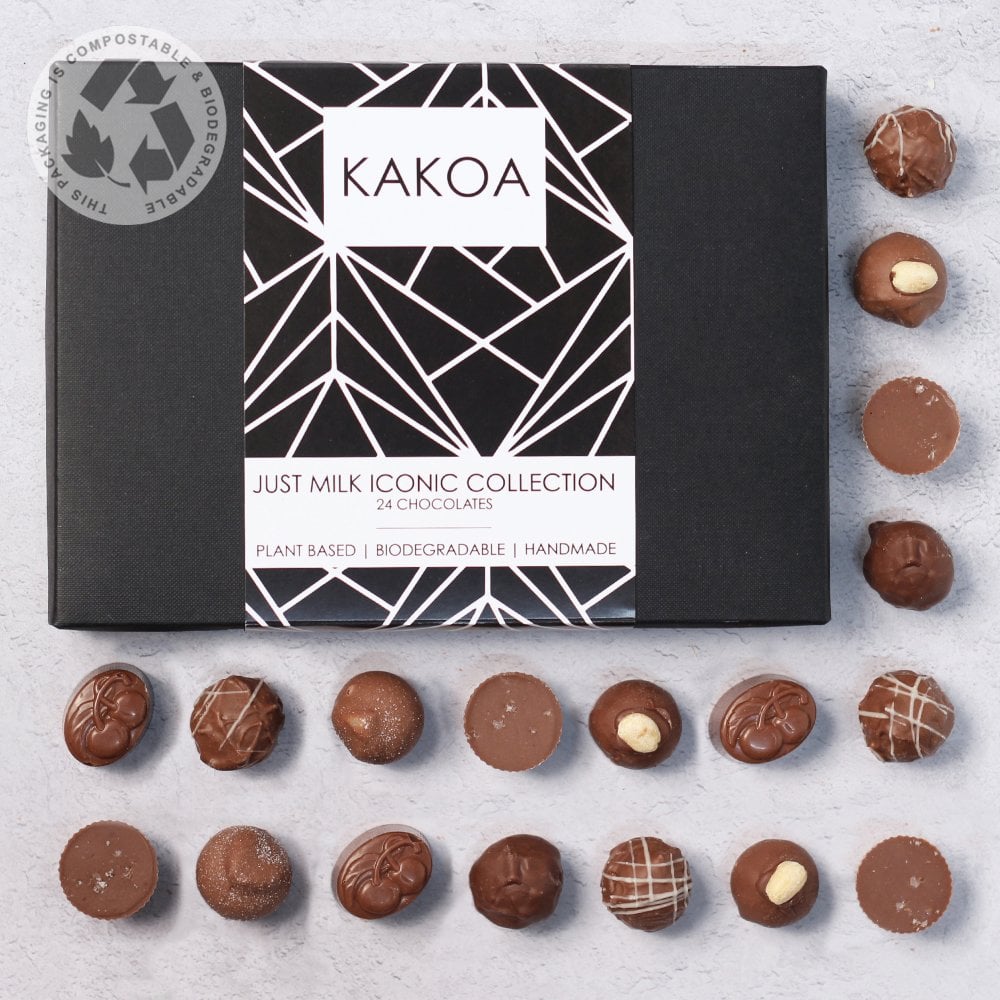 2. Sustainable Jewellery
If you're looking for sophisticated gifts she'll remember for years to come, check out Immaculate Vegan's stunning jewellery.
From understated and elegant pieces to stand-out statement jewellery, there's a gorgeous gift for every mum here.
Prices start from £39
3. Pamper gifts
Every mum deserves a good pamper!
This pamper gift set from Lush includes Dream Cream Body Lotion, Sleepy Shower Gel, Twilight Bath Bomb and French Kiss Bubble Bar to ensure your mum can relax this Mother's Day.
Priced at £27
4. Vegan Hiking Boots
Does your mum love all things nature? Give her walking gear an upgrade with a pair of Will's Vegan Shoes.
Their waterproof hiking boots are designed for demanding terrains without compromising on comfort. This is a perfect, long-lasting gift she will definitely thank you for!
Priced at £122
5. Vegan Fragrances
Perfume always goes down well, so surprise your mum with a new signature vegan scent from Floral Street.
These award-winning vegan and cruelty-free perfumes make gorgeous gifts, even if your mum is trickier to buy for. Choose from summer-ready citrus scents to bold and beautiful tones, as well as gift sets.
Prices start from £5
6. Skincare and Beauty Gifts
Does your mum love her skincare? Elf's Mother's Day range has plenty of amazing skincare goodies to see your mum into the new season.
Their budget-friendly range includes everything from cleansers, toners, masks and moisturisers to lipsticks, foundations, mascara and brow sets.
Prices start from £4
7. Vegan Cheese Making Kit
If your mum loves experimenting with new culinary creations, the Big Vegan Cheese Making Kit makes a fun vegan Mother's Day gift.
This is a great activity you could even do together, especially if your mum isn't vegan and you want to introduce her to the world of animal-free cooking.
Create vegan halloumi, ricotta and feta, start adding them to yummy recipes and see where it takes you!
Priced at £27.50
8. Cruelty-free Handbags
A new purse or handbag never goes amiss, whatever the occasion. Why not update your mum's existing one with a cruelty-free, vegan version?
Matt & Nat's vegan handbags are beautifully crafted from 100% recycled plastic bottles, making them ideal for eco-conscious mums. These chic accessories are available in a range of colours and styles, so there's sure to be a piece your mum will love.
Price start from £26
9. Gardening Gifts
Treat a green-fingered mum to beautiful, eco-friendly gardening gifts.
This gift set from Etsy includes sunflower seeds, handmade seed bombs filled with attractive wildflowers, floral jasmine scented candles and more.
Prices start from £13.99
10. Vegan Cookbooks
Does your mum love to get creative with food? Plant-based cookbooks are great gifts for mums who love experimenting with new dishes.
The Vegan Family Cookbook by Anna Pippus is just one of many vegan cookbooks packed with plant-based meal inspiration. Check out more vegan cookbooks in our dedicated blog.
Priced at £20