The best vegan Easter treats in UK supermarkets this year
Easter comes with many traditions, but the best one is undoubtedly eating chocolate! Thanks to the cracking range of chocolate eggs and other dairy-free delights, vegans no longer have to miss out on the foodie fun. If full-sized Easter eggs aren't your thing, no problem. There are plenty of other vegan Easter treats on offer, from cupcakes to hot cross buns.
1. Plant Kitchen Luxury Hot Cross Buns
Easter isn't complete without a hot cross bun! These Plant Kitchen Luxury Hot Cross Buns from Marks & Spencer are satisfyingly sweet thanks to the sultanas and raisins, and the avocado puree adds a further fruity punch. Much tastier than the non-vegan version, if you ask us!
Available at Marks & Spencer and Ocado – Priced at £1.75
2. Sainsbury's Easter Cupcakes
Fancy some creative cupcakes but not up to making them yourself? Sainsbury's have come to the rescue with their yummy Easter Cupcakes. These chocolate sponge cakes are topped with vanilla frosting and edible carrot icing – ideal for kids!
Priced at £1.50
3. Mummy Meagz Sunnycomb Bar
If you miss classic Crunchie chocolate bars, you can still enjoy the genius combination of honeycomb and chocolate as a vegan. The Sunnycomb Bar by Mummy Meagz includes delicious dark chocolate covering a golden honeycomb centre, perfect for the chocoholics out there.
Available at Holland & Barrett – Priced at £1.49
4. Moo Free Mini Choccy Eggs
On the hunt for some bite-sized Easter treats to nibble on? Moo Free's Mini Choccy Eggs are the ultimate indulgent snack. The hard chocolate shell is filled with even more soft, creamy chocolate, making them dangerously more-ish!
Available from Tesco and The Vegan Kind Supermarket – Priced at £2.50
5. Hotel Chocolat Free From Milk Bunnies
Missing milk chocolate? Hotel Chocolat's impressive range of vegan Easter treats includes these Milk Bunnies. They may be free from dairy, gluten, nuts and wheat, but they're definitely not free from flavour. They're just as smooth and creamy, so you can't tell the difference.
Priced at £8.00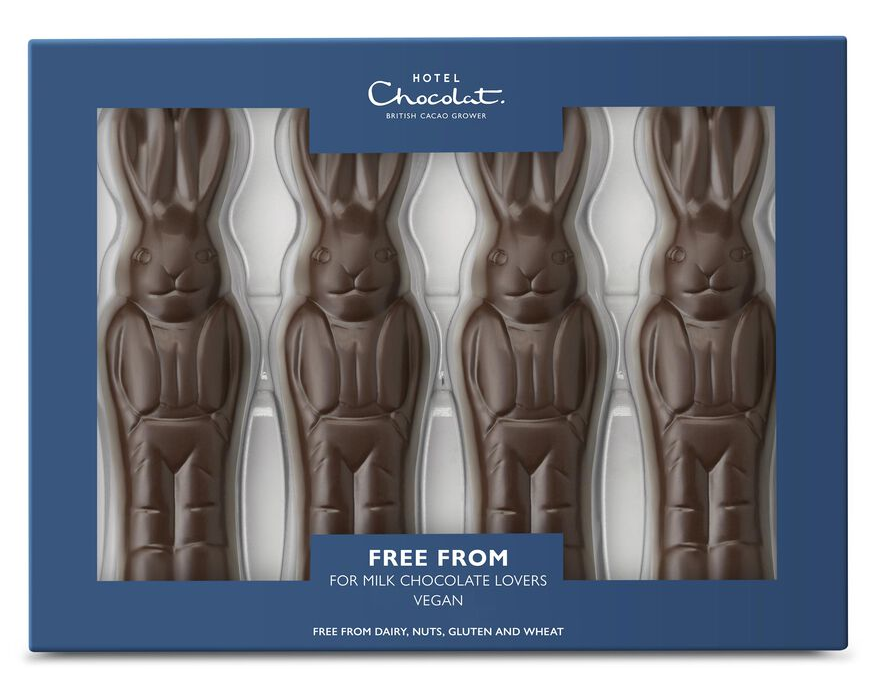 6. Rhythm 108 Truffle Mini Eggs
Small yet satisfying, these Mini Eggs are made with organic Swiss chocolate and filled with truffle. These are perfect for those who want an indulgent chocolate fix this Easter!
Available at The Vegan Kind Supermarket – Priced at £1.99
7. Asda Free From Easter Choc Friends
If you're looking for Easter treats the kids will love, Asda's Easter Choc Friends are sure to do the trick. Made with rice milk, they're appetising alternatives to dairy and just as delicious. Free from gluten, milk and egg, they're great for those with specific dietary requirements.
Priced at £2.25
8. Doisy & Dam Dark Chocolate Good Eggs
Crunchy mini eggs are among the most popular Easter treats and Doisy & Dam are making sure vegans don't miss out! These crunchy Good Eggs are made with ethically sourced chocolate and free from palm oil, ideal for conscious shoppers.
Available at Holland & Barrett – Priced at £1.99
9. Buttermilk Choccy Peanutsters
Fans of chocolate and peanut butter will love these Choccy Peanutsters! These egg-shaped treats are the plant-based equivalent of peanut M&Ms, complete with dark chocolate and a satisfyingly crunchy shell.
Available at The Vegan Kind Supermarket – Priced at £2.99
10. Cocoa Libre Orange Milk & Dark Chocolate Rabbit Slab
This one is for those who enjoy chocolate with a tangy twist! Cocoa Libre's Chocolate Rabbit Slab is crafted with decadent dark chocolate based on rice powder and it's perfect for those who love a bit of indulgence at Easter.
Available at The Vegan Kind Supermarket – Priced at £3.99
If you needed any more convincing to have a vegan Easter, this is it!