Can vegans eat chocolate? Absolutely! Here is some of the best vegan chocolate available in the UK.
Chocolate is one of life's greatest pleasures and we're sure most people would agree with us! This doesn't need to change when you go dairy-free, thanks to the exciting variety of vegan chocolate hitting supermarket shelves right now.
Plant-based brands are launching alternatives to milk chocolate that are so delicious, you wouldn't be able to tell the difference. Even major confectionery brands such as Nestlé and Mars are swapping cow's milk for oat and rice alternatives to embrace the ever-growing demand for vegan products.
Keep reading to discover some of the best vegan chocolate in the UK.
vegan 'milk' chocolate
Cadbury Plant Bar
This is the one we've all been waiting for! Veganuary research revealed that more than a quarter of plant-based Brits say the iconic Dairy Milk is their most missed chocolate treat and Cadbury listened. Try the Cadbury Plant Bar in Smooth Chocolate or Almond Salted Caramel.
Available at supermarkets and newsagents nationwide
Terry's Chocolate Orange
This nostalgic favourite has finally been veganised! Although it's not the classic orange we know and love, the Terry's plant-based bar is still a huge step in the right direction.
Available at Sainbury's, Ocado and Co-Op.
Milky Way
Who doesn't have great memories of eating Milky Way chocolate as a kid? Vegans can now enjoy dairy-free Star Bars in a smooth variety or with popping candy.
Available at Asda and Tesco.
Lindt
Finally some dairy-free chocolate from one of the UK's most beloved chocolatiers! Lindt's Vegan Smooth and Vegan Hazelnut bars are available at select supermarkets now.
Kit Kat
Nestlé launched a dairy-free version of their classic Kit Kat in the UK earlier this year. The Kit Kat V is certified by the Vegan Society and made using 100% sustainable cocoa and rice milk, giving the chocolate-covered wafer a smooth, creamy finish.
Available at Sainsbury's.
Mars
Chocoholics will be delighted to know that Mars has given Galaxy, Bounty and Topic a vegan makeover.
There are currently five flavours of the dairy-free Galaxy: Caramel and Sea Salt, Caramelised Hazelnut, Crumbled Cookie, Smooth Orange and Smooth Mint. They're gluten-free too!
Available at Asda, Tesco and Morrisons.
Nomo
Thanks to Nomo, nobody has to miss out on tasty chocolate. Choose from small and large bars in various flavours including Salted Caramel, gooey Caramel and Fruit and Nut. Nomo is free from dairy and eggs, as well as nuts and gluten – winner!
Available at Tesco, Holland & Barrett, Waitrose, Asda and Amazon.
Moo Free
This chocolate brand ensures no one misses out on indulgent treats, as all chocolates are free from dairy, gluten and soya.
Choose from organic 'milk' chocolate bars, as well as Fruit and Nut, Chocolate Orange, "Bunnycomb" and many more.
Available at most UK supermarkets.
Love Raw
This brand is changing the game when it comes to plant-based chocolate! Choose from delightful cream-filled wafers coated in chocolate, as well as m:lk chocolate bars and nut butter cups in various flavours.
Available at Asda, Waitrose, Co-Op, Boots, Ocado, Holland & Barrett, Spar, WH Smith, The Vegan Kind Supermarket and more.
Buttermilk
Just in time for Veganuary 2022! The impressive Buttermilk Plant-Powered range is chocka-block with goodies, including snack bars, buttons and fudgy bites.
Jeavons Toffee
If you're craving vegan versions of classic chocolates like Snickers, head over to Jeavons Toffee and you won't be disappointed!
Available at independent stockists and their website.
Vego
If nutty chocolate is your thing, then Vego's Whole Hazelnut Chocolate Bar will change your life. Chunky, creamy and dangerously more-ish, this chocolate bar is a favourite among vegans.
The bar is also available in white and dark chocolate varieties.
Available at Asda, Holland & Barrett, The Vegan Kind Supermarket and independent stockists.
Rhythm 108
Chocoholics are in for a treat with Rhythm 108's range of decadent bars, truffles and biscuits. The chocolate bars come in an array of exciting flavours, including Dark Cocoa Orange, Mint Fondant and Hazelnut Truffle. If you're looking for an unforgettable gift, check out their truffle selections.
Available at Sainsbury's, Boots, Alternative Stores, Amazon, Holland & Barrett and The Vegan Kind Supermarket.
Happi
Oat milk chocolate offers the same silky-smooth finish as cow's milk, so making the switch to Happi chocolate is a no-brainer! The delicious bars, nibbles and buttons are perfect sweet treats and they make tasty sharing snacks too.
Available at WHSmith, Holland & Barrett, Selfridges and The Vegan Kind Supermarket.
Supermarkets
Many supermarkets now have their own vegan chocolate treats, usually found in the "free-from" section, including Asda, Tesco, Sainsbury's, Morrisons and Marks and Spencer.
Vegan Dark Chocolate
Hotel Chocolat
If you're gift-hunting for a vegan chocoholic or just really want to treat yourself, Hotel Chocolat has an impressive range of dairy-free chocolates. From creamy and smooth chocolate fingers to truffles and selection boxes, there's something for everyone.
Green and Black's
Most of the dark chocolate bars from Green and Black's are accidentally vegan, including some of the flavoured varieties. Just check the ingredients to ensure milk isn't present.
Available at most UK supermarkets.
Booja-Booja
These chocolates are award-winning and you'll soon realise why.
Booja-Booja's indulgent gourmet truffles are complete with a cocoa dusting and come in various flavours, including Hazelnut Crunch, Almond Salted Caramel and Champagne. These make special, stand-out gifts too.
Available at Asda, Waitrose, Holland & Barrett, Amazon, Ocado, Harvey Nichols and independent stockists.
Ombar
If you love dark chocolate with a kick of flavour, Ombar is the brand for you. This fair trade, organic chocolate is also free from palm oil and refined sugars, but doesn't compromise on flavour.
Choose from various flavours, such as Hazelnut Truffle, Strawberry Mylk, Coconut and Vanilla and so much more.
Available at Ocado, Planet Organic and Whole Foods Market.
Doisy & Dam
This vegan brand has ethics and sustainability at its core and proves that dairy-free chocolate is far from boring.
Choose from chocolate bars in multiple mouth-watering flavours, as well as truffles, chocolate drops, buttons and more. Perfect for snacking or sharing!
Available at Sainsbury's, Waitrose, Ocado, Holland & Barrett, The Vegan Kind Supermarket and Amazon.
Cocoa Libre
This is another brand making it easier for vegans who also avoid gluten and nuts! Made with rice milk, this is a great choice for people who want a smooth, creamy alternative to milk chocolate.
These delightfully thick chocolate slabs come in several flavours, such as Espresso, Salted Caramel, Dark Mint and more.
Available at The Vegan Kind Supermarket, Ethical Wares and other independent stockists.
Dirty Cow
These unique plant-based bars are bursting with flavour – literally! Cookies No Cream, Netflix and Chill, Hail Mary Berry and Cinnamon Churros are just some of the unique flavours on offer from Dirty Cow.
Available at Sainsbury's and Holland & Barrett.
Divine
Divine offers a range of Fairtrade vegan-friendly chocolates, including large bars, mini bars, chocolate thins and edible coins.
Available to buy on Divine's website.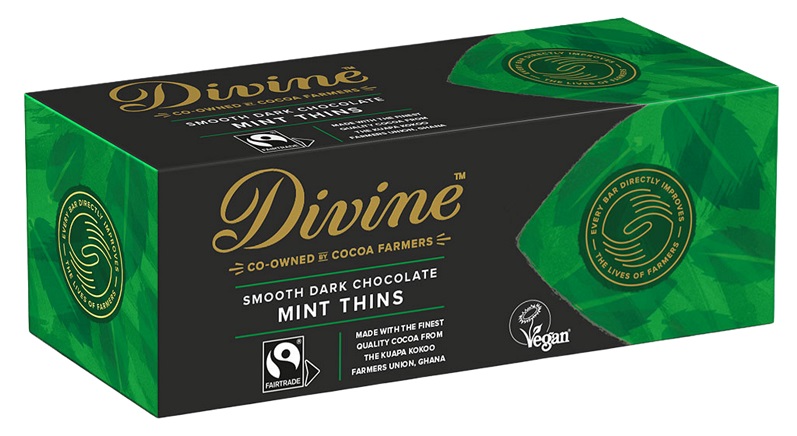 Tony's Chocolonely
This brand is on a mission to end exploitation in the chocolate supply chain. Find a selection of vegan bars on the website, from Dark Almond Sea Salt to Mint Candy Cane flavours.
Available to buy on Tony Chocolonely's website.
Ritter Sport
This certified sustainable chocolate comes in three accidentally vegan flavours: Marzipan, 74% Intense Dark Chocolate and 61% Fine Dark Chocolate.
Available at select Sainsbury's, Waitrose, Ocado, Nisa, Cooperative, Wilko and Spar stores.
Vegan Chocolate Spread
Whether you like it on sandwiches, toast or straight from the jar, there's a dairy-free spread to keep your cravings at bay. Look out for these in your local supermarket:
Biona Organic Dark Chocolate Spread
Vego Organic Hazelnut Crunchy Chocolate Spread
Sweet Freedom Choc Pot
Pip & Nut Chocolate, Coconut And Hazelnut Butter
Mr Organic Vegan Chocolate Spread
Vegan Hot Chocolate
Is there anything more comforting than a mug of hot chocolate? We think not! There are plenty of vegan drinking chocolates available in UK supermarkets:
Galaxy Vegan Drinking Chocolate
Cadbury's Freddo Drinking Chocolate
Twinings Swiss Hot Chocolate Drink
Green & Black's Organic Cocoa
Sweet Freedom Choc Shot Liquid Hot Chocolate
Divine Smooth Hot Chocolate
Waitrose Luxuriously Rich Drinking Chocolate
Asda Chosen By You Cocoa
Tesco Cocoa Powder
Want even more animal-free treats? Check out our guide to vegan sweets.