Curry is one of the nation's favourite dishes to cook and one of the easiest to veganise! We've put together 10 of the best vegan curry recipes you need to try.
It's easy to see why curries are so popular. This a versatile dish you can cook regardless of your skill level and you can often use whatever you have in your cupboards.
Whether you're a vegan veteran or just beginning your plant-based journey, a homemade curry should definitely be on your list.
Here are just a few of our favourite recipes for you to try, from mild and creamy dishes to fragrant and spicy curries. If you ask us, preparing a delicious curry is almost as fun as eating it!
The tikka masala is a firm favourite among curry lovers for good reason. Rich, creamy and aromatic, it ticks every box.
Why not change it up and treat your tastebuds to Oumph's vegan version of this classic dish? There are tons of meat-free chicken chunks which are just as tasty as the 'real thing,' making this a guaranteed hit with guests!
There are countless chicken alternatives available in supermarkets to feature in your plant-based curries, but tofu also does a fantastic job.
This Thai Green Curry is complete with a creamy sauce and crispy veggies, offering a blend of flavours that would rival your local takeaway.
Next time someone asks "Where do you get your protein from?" you can simply point to this Quinoa Curry recipe.
Inspired by Dr Greger's Daily Dozen checklist, this dish includes quinoa and chickpeas to give you a protein boost, as well as mushrooms, cauliflower, cashews, sultanas and spinach for lots of plant-powered goodness!
This proves a vegan curry can taste good and be healthy too.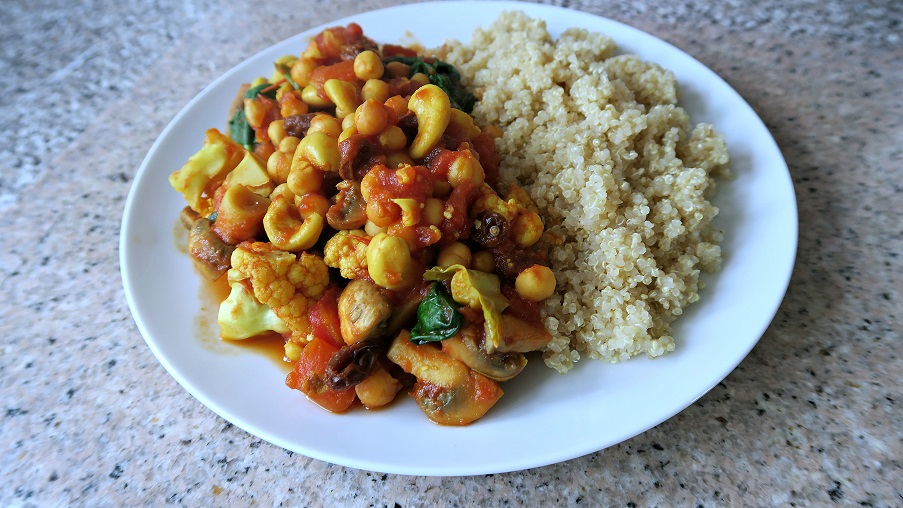 Not a fan of meat replacements? Chickpeas and butternut squash work wonders in a curry.
This One Pot Butternut Squash and Chickpea Curry by School Night Vegan is a quick, easy recipe featuring some go-to cupboard staples, delicious veggies and big, bold spices.
A veggie curry is the ultimate hearty meal on a chilly day and it's a perfect budget-friendly meal too.
In this simple Vegetable Curry recipe by Provamel, you can use chickpeas to create texture, or lentils if you prefer a crunchy bite.
Typically made with beef or chicken, massaman curry is full of flavour and fragrance.
Tempeh makes an excellent alternative, as you'll see with this Aubergine and Tempeh Massaman by Nourishing Amy. It's also served with crunchy cashews, making it ideal if you love a nutty taste.
Known for its classic creaminess, heavenly scent and mild flavour, korma is a popular dish many of us can't live without.
This veggie-filled version by Tideford Organics gives it a vegan twist we think you'll love. Why bother going to a restaurant when you have vegan curry recipes like this at your fingertips?
Panang curry is one of the most popular dishes in Thailand and it's simple to veganise with tofu.
Bursting with flavour, this Tofu Panang Curry is proof you can make tasty meals using only plant-based ingredients. Give this quick and easy recipe a try if you don't believe us!
When you want an easy vegan meal you can make with minimum fuss, try Squeaky Bean's Chicken Style Curry recipe.
Served with naan and basmati rice, this makes a great dish for Friday night fake-aways with the family.
This Tibetan-style Coconut Curry by Food Rhino offers plenty of flavour and only takes up to half an hour to prepare.
It serves between four and six people, making it perfect for family dinners or freezing for later. If you're looking for a winning combination of sweet and spicy, this is the curry for you!
Did these vegan curry recipes make you hungry for more plant-based meal inspiration? Check out our vegan dinner recipes.