These vegan soup recipes are sure to brighten up dull days
Who doesn't love a comforting bowl of soup? Perfect for quick weekday meals or warming us up on winter days, soups are ideal for a range of occasions.
If you're a busy vegan in need of some easy plant-based recipes you can whip up in no time, a good soup is the ultimate solution!
Here are 10 of our favourite vegan soup recipes for you to try, from fragrant Thai-inspired bowls to vegan versions of beloved classics.
This wholesome soup by Givaudan is ideal for busy vegans, as you can have it ready in just 30 minutes. Loaded with white beans and veggies, it's packed with goodness and is sure to leave you feeling energised for the rest of the day.
You can enjoy it on chilly evenings to liven up a dull day and make it even better by throwing some vegan bacon on top.
If you're trying to boost your veg intake, why not use spare veggies to make a soup?
This vegetable and bean soup is a great option for lunchtime, as it's full of vibrant veggies and protein to keep you full all day long. It's also freezable, which means you can save some for a day when you don't feel like cooking. Winner!
Many shop-bought soups include milk, so having a go-to veganised recipe for your favourites is always a good idea!
This simple leek and potato soup doesn't take much effort to make, but it goes a long way.
Add a spicy kick to your mealtimes with this cheery and colourful Moroccan soup by Pulsin.
It's another recipe that uses cupboard staples, making it a quick and cheap vegan meal. Tuck into this when you need a warming, fragrant energy boost.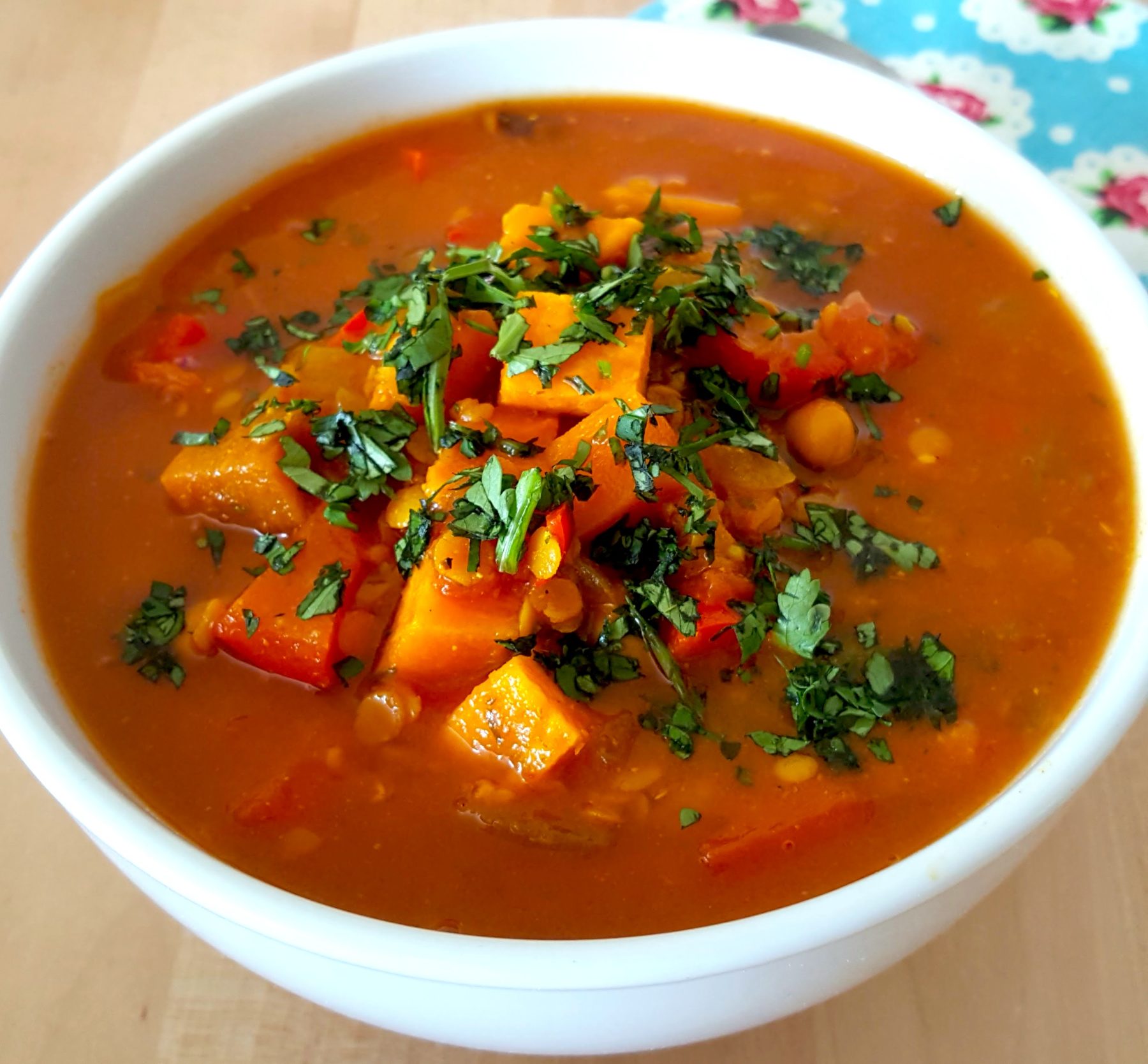 Some of the best dishes are made with staples we already have lying around and this marrow and carrot soup is one of those dishes. This easy vegan soup recipe is easy to throw together and it's a comforting winter warmer.
Add a touch of brightness to your mealtimes with this roasted red pepper soup. The peppers, cumin and chilli flakes give this vibrant dish a warming quality, so it's a perfect recipe for chilly days. Finish it off with a swirl of dairy-free cream or yoghurt.
This is one of our most popular vegan soup recipes! Pureed white beans or tofu make a thick, creamy base for this soup, while the green veggies add a burst of colour and plant-powered goodness. Serve this one with your favourite crusty bread.
Sometimes we just need an easy-to-make meal we can have on the table in 15 minutes. These occasions call for this chunky veggie soup by Audrey Dunham. Top tip: it's even more delicious when served with warm garlic bread. You're welcome!
No roundup of vegan soup recipes would be complete without butternut squash! The addition of apple in this recipe makes it a flavour-packed affair that's perfect for lunch or dinner. Enjoy with spiced pumpkin seeds for a protein boost.
A classic dish you can whip up for any occasion, pea and mint soup really ticks every box. It's tasty, full of flavour and easy to make. This recipe by The Coconut Collaborative is simple to follow and only uses a handful of ingredients.
For more plant-based food inspiration, check out our quick and easy vegan meal ideas.