Need some speedy meal ideas? Elizabeth from Vancouver With Love shares some quick and easy vegan meals that pack a healthy punch.
There's no doubt about it: when you're busy with work, maintaining relationships with your family and juggling life in general, eating healthily can be a real challenge. It takes time to make a meal from scratch and few of us have that luxury each day.
Below, we share some of our favourite ideas for quick, easy and healthy vegan meals when you're on the go. They're fast, full of nutrients and don't require that you stand over a stove for an hour! Whether you have a packed work schedule, or kids keeping you busy, you'll find something on this list that fits with your life.
smoothies
Smoothies loaded with fruit and veg are packed with vitamins, not to mention absolutely delicious! They offer so much nutritional goodness for so little effort. They're the ideal convenience food as well as being good for you, and there are endless combinations you can try!
Blending up your favourite fruit and veggie mixes takes less than five minutes, and helps ensure you're getting the right amount (see Dr Greger's Daily Dozen checklist for more tips on this). Find smoothies don't fill you up? That's because they don't usually contain a huge amount of calories. Just add a scoop of your favourite natural vegan protein powder, nut butter or even oats, and you'll notice the difference!
Try this Berry Blast Smoothie to set you up for the day.
Healthy sandwiches
Never knock the humble sandwich! There's a reason sandwiches have been popular for years: they simply take minutes to throw together. They're not always known for being the healthiest option, but luckily, there are a few tricks and swaps you can make to ensure your sandwich is full of nutrients and good fuel.
Try opting for a good quality, wholegrain bread rather than the pre-packaged white stuff, as this contains so much more fibre and vitamins than its white counterpart and has a whole lot more flavour. In addition to adding a range of veggies to your sandwich, try adding in a high quality source of vegan protein like hummus or homemade pate to keep you full until the next meal. Finally, add some alfalfa sprouts to boost the vitamin content and give your sandwich a satisfying crunch. Read our blog for other vegan sandwich filling ideas!
This Falafel and Hummus Sandwich is a great lunch recipe.
15 minute pasta dishes
Pasta dishes are among our go-to quick and easy vegan meals. These have saved us from keeling over on several occasions, because they're so simple to make, but are really filling! Try adding cherry tomatoes, garlic, spinach, olive oil, salt and pepper to a saucepan of your favourite cooked pasta, and heat the mixture gently for 3 minutes on the stove.
Pro tip: use a chickpea/lentil/bean-based pasta to make any pasta dish extra filling. The high protein content will fill you up and give you energy for the day! Find more easy pasta recipe inspiration in our blog.
Try this Vegan Tuna Pasta Bake for dinner.
Savoury porridge
Yes, it sounds weird…but it's really, really good. Porridge is such a great, wholesome dish, but it is often neglected and not experimented with in the kitchen nearly enough.
By making your usual oatmeal with turmeric, garlic, seasonings and grilled veggies instead of sweeter toppings and cinnamon, you can give a totally new feel to this quick staple and transform it from a sweet breakfast into a hearty dinner!
If you're feeling more adventurous, you could flavour your porridge with taco spices like cumin, coriander and chipotle, and top it with peppers, vegan cheese, avocado, black beans and spring onions for a quick Mexican-inspired meal.
Give this Choc and Peanut Butter Porridge a go.
one-pot meals
We're huge fans of throwing a load of ingredients into a pot and walking away, only returning occasionally to stir the contents. When you've got other things taking up your time but need to make a batch of food for dinner or weekday lunches, this is a great option and will yield lots of portions for future Tupperware!
Our favourite quick and easy vegan recipes for this include soups, stews, chillies and curries which take less than 40 minutes to make.
Try this One-Pot Butternut Squash & Chickpea Curry.
Simple Salads
We know salads have a reputation for being boring, but hear us out. Not only do they help you cram in lots of nutrients, they're also effortless to make.
You can throw a salad together using bits and bobs you already have in the house, saving you even more time. We have a whole blog on simple vegan pasta recipes to inspire you.
We recommend this Superfood Salad to liven up your lunches.
Simple Stir Fries
The beauty of stir fries is that you can use anything you want! A quick stir fry is a trusted vegan dinner you can rely on when you need to use up leftover veggies or noodles you've had in the cupboard for ages.
Tofu is the perfect protein source to include in your stir fries, mixed with lots of green veggies, onions, peppers and spices of your choice. It can be ready within 20 minutes!
Here's a yummy Tofu and Edamame Stir Fry.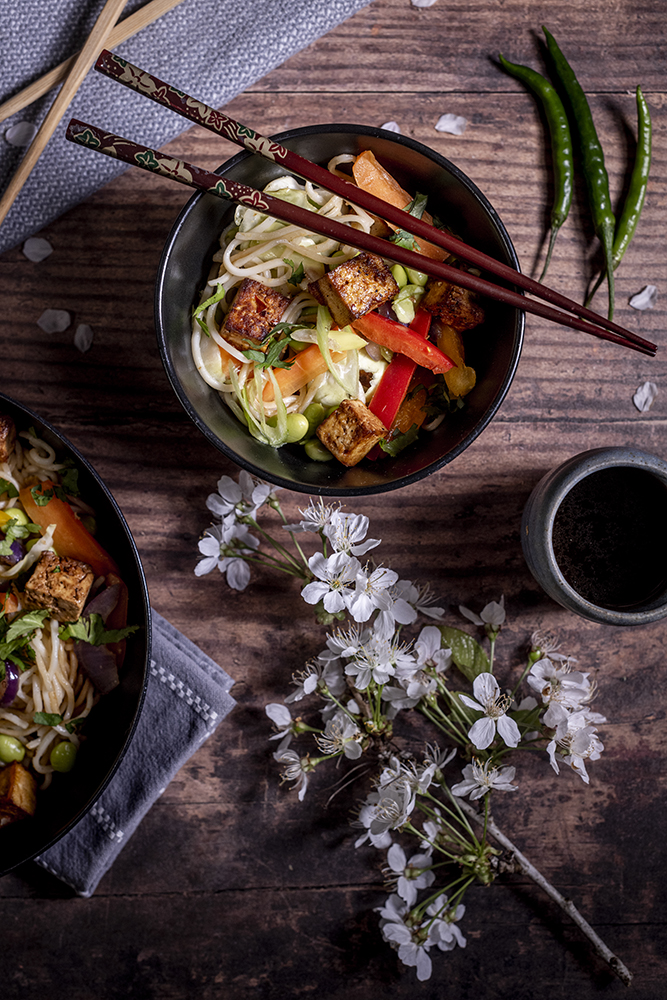 Soups
Soup is a delicious and warming food and so easy to make. Many shop-bought soups are vegan-friendly, which take a few minutes to heat up. However, if you want to use up veggies, blending them to make a soup is a great way to avoid food waste.
Include a protein source, such as lentils or beans, as well as veggies and spices for flavouring. Here are some of our best vegan soup recipes to inspire you.
This Chunky No Chop Vegetable Soup is a quick and easy winter meal.
Healthy eating has never been easier and eating plant-based can help you get there. Try vegan today and see for yourself!