These hearty vegan one-pot recipes are big on flavour without all the fuss
When you're in need of a low-effort meal that simply requires chucking ingredients into a pan, you really can't go wrong with our vegan one-pot recipes.
Rustle up quick and easy weekday meals like chunky soups and nourishing pasta dishes, as well as comforting stews and curries to feed the whole family. These one-pot dishes are ideal if you're eating vegan on a budget and want to make your food shop go further.
Keep scrolling to discover your new favourite one-pot recipes.
Cooking pasta and the sauce in the same pot will save you heaps of time and results in a rich, tasty dish. (Plus, you'll have less washing up to do.)
This linguine with olives, capers and sundried tomatoes is packed with flavour and the pasta will taste heavenly when infused with the sauce.
It takes less than 30 minutes to cook, making it the perfect fuss-free meal for hectic weekdays. You can even save the leftovers for lunch!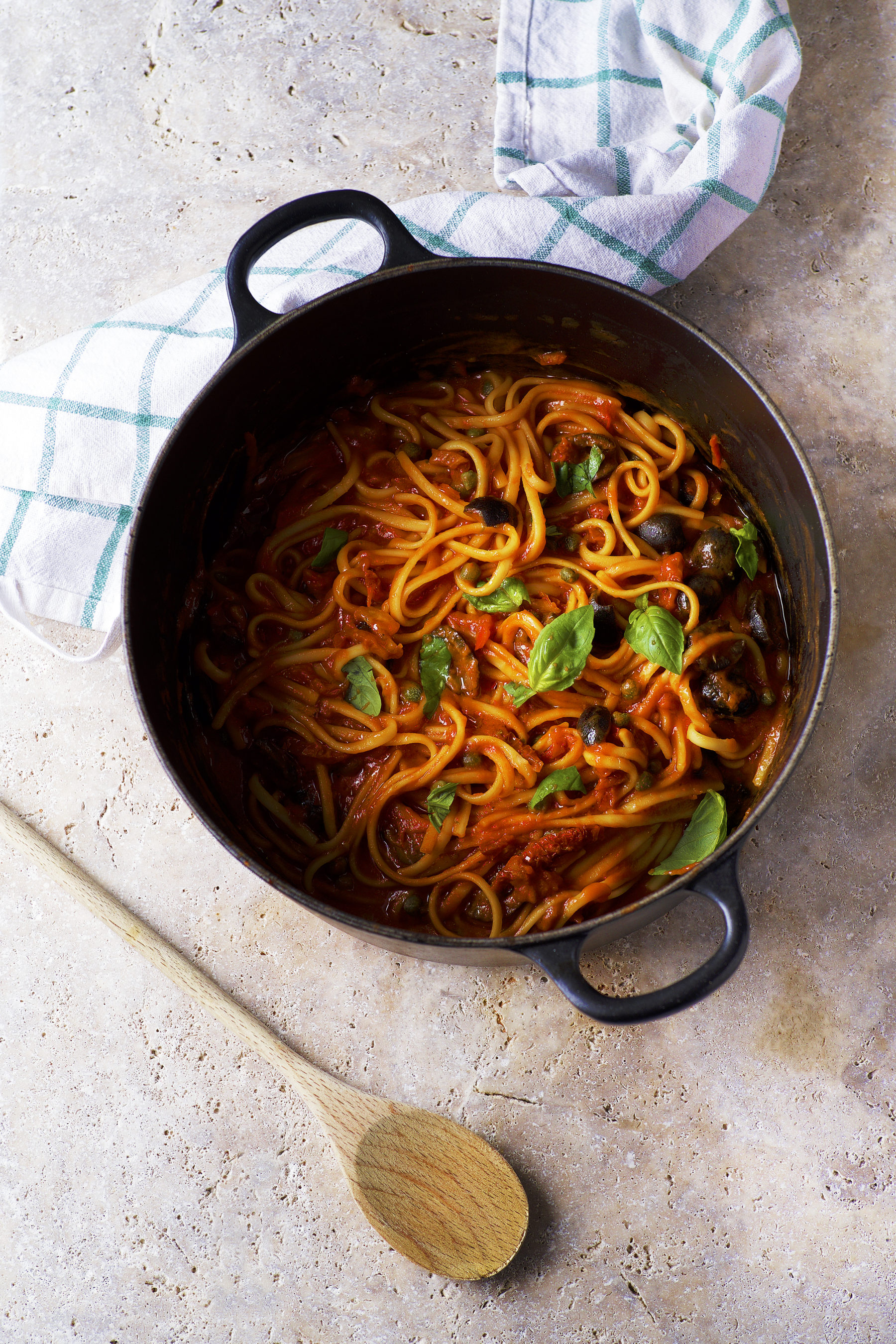 Tagine is a delicious, aromatic dish that's easy to make in one pan. When the occasion calls for a more elevated dinner, this chestnut and vegetable tagine ticks every box: it's fresh, fruity, spicy and ideal for the colder months.
Packed with seasonal produce like butternut squash, pears and carrots, it's a nourishing autumn meal you'll make again and again.
This popular Tunisian dish is traditionally made using eggs, tomatoes, onions, pepper and spices, but you can easily reinvent shakshouka using crumbled tofu instead. You'll be surprised by its egg-replacing properties!
Shakshouka is a great vegan breakfast or brunch and only takes 10 minutes to prepare in a pan. If you're looking for a one-pot vegan recipe to cook at the weekend, give this a try.
Want a filling, home-cooked dish that caters to the whole family? You'll love this cosy cacciatore.
This vegan cacciatore is made with plant-based chicken and complete with a rich, herby tomato sauce. It's a wonderfully warming and fragrant meal to prepare on the weekends and will even go down well with non-vegans.
Some days just call for lazy meals, and that's where this one-pot spaghetti comes in.
In this recipe for kale, tomato and lemon spaghetti, the sauce is magically made from the pasta water and tomatoes as the pasta cooks all in one pan. Delicious and easy!
Curry is the ultimate one-pan meal because it's budget-friendly and can be customised with whatever you have in your cupboard.
Our butternut squash and chickpea curry is a quick, healthy and simple recipe you can throw together any day of the week. We have plenty of other vegan curry recipes, so take your pick.
We all have busy days when we want a healthy meal but don't have much time to cook. Stews are perfect on these occasions because they can be made in one pot using cupboard basics.
This chipotle kale bean stew is nutritious and packs a spicy punch, so it's sure to warm you up when the cold weather creeps in. You can even keep the leftovers in the fridge and enjoy them another day.
In need of dishes you can have on the table in 15 minutes? Soup is your best friend! This no-chop vegetable soup offers maximum flavour with minimum effort and you don't need a blender to make it.
You can use any beans and fresh or frozen veggies you have to hand, resulting in a delightfully chunky soup for weekday lunches. Serve with thick bread and enjoy.
Is there anything better than tucking into a hot bowl of chilli on a cold day? This gently spiced vegan chilli takes just 20 minutes, making it ideal for hectic weeknights or days when you have no energy to cook.
Loaded with beans, veggies and mild spices, it's the ultimate comfort meal. Tip: it tastes delicious topped with vegan yoghurt.
Why order takeaway when you can put this vegan one-pot wonder together in 30 minutes? Trust us when we say this low-effort dish tastes better than takeout!
Your favourite vegan chicken pieces will taste like heaven when infused with the flavours of this rich, creamy masala.
Feeling inspired by these one-pot dishes? Why not check out our vegan batch cooking recipes and slow cooker ideas?