It's time to say goodbye to light summer salads and hello to the hearty goodness of vegan autumn recipes
The days are getting shorter, the weather is getting colder and we're getting hungrier! The season of one-pot recipes and comfort classics is upon us.
If you're looking for inspiration to welcome in this wonderful season, look no further than these plant-based autumn dishes.
Chase away the cold with vegan versions of your favourite traditional meals, from warming bowls of porridge to comforting pies.
Whether you're cooking for yourself or friends and family, we've got you covered. Many of these are perfect for your slow cooker too!
What is in season during autumn?
From September to November, many delicious fruits and vegetables come into season. Here is some of the most flavourful autumn produce to cook with:
Apples
Aubergines
Beetroot
Blackberries
Butternut squash
Brussels sprouts
Cabbage
Carrots
Cauliflower
Celery
Kale
Leeks
Onions
Parsnips
Pears
Plums
Potatoes
Pumpkins
Spinach
Turnips
Tomatoes
10 Autumn Recipes to Try
Is there anything better than a big bowl of hot oatmeal on a chilly morning? The best thing about oats is that you can upgrade them so easily and enjoy endless variations.
Kick off your day with some autumnal spice thanks to this sweet, warming protein-packed porridge. It's easy to put together on busy mornings and will help you power through your day.
Most of us can agree that shepherd's pie is one of the best hearty meals to sit down with after a long day. And the vegan version is just as good (if not better).
Whilst traditionally made with minced lamb, shepherd's pie can easily be made vegan by using lentils. Packed with flavour and nutrients, this recipe is a must-try for autumn and winter.
Discover more vegan pie recipes here.
Mac and cheese is the ultimate comfort dish, whatever the time of year. This recipe gets a seasonal upgrade with cauliflower and sweet potato thrown into the mix.
It's rich, creamy and comforting, and most importantly, has the cheesy flavour we all know and love. Give this a try when you fancy something different this autumn!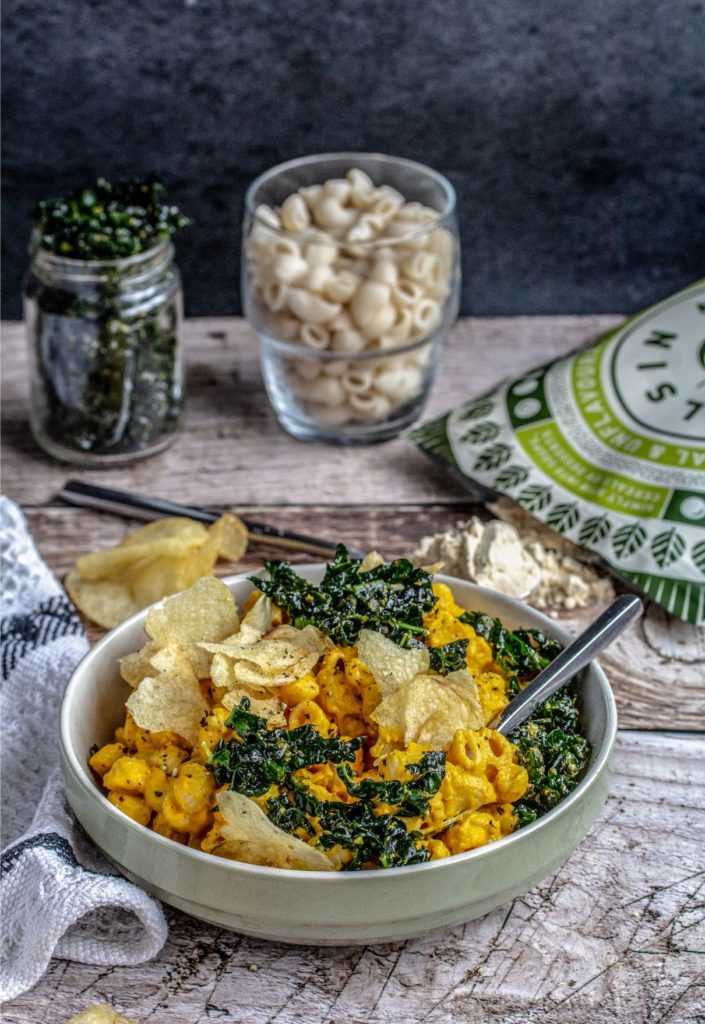 Aubergine is the star of the show in this meat-free lasagne. The combination of puy lentils and aubergines makes a mouth-watering, herby dish that will have you going back for more.
Serve with salad, garlic bread or more of your favourite seasonal veggies. If you like aubergines, why not try this aubergine and chickpea stew?
Parsnip and kale are seasonal ingredients to include in as many vegan autumn recipes as possible. Kale is one of the healthiest veggies on the planet, while parsnip is the perfect addition to cosy meals.
This easy hotpot is packed with veggies and filling kidney beans and topped with fragrant parsley and walnut pesto. It's a seasonal showstopper you'll make again and again. Hotpots are also great for batch cooking.
Blackberries and apples are among the highlights of autumn because there are so many indulgent dishes to make with them. Crumble is an absolute must at this time of year and can easily be made vegan with some simple dairy-free swaps.
This crumble is a bowl of sweet, warm goodness and is heavenly on its own or paired with vegan ice cream or custard. Make room for second (and third) helpings!
No list of vegan autumn recipes would be complete without a hearty soup. Butternut squash is a key ingredient in many autumn dishes – and for good reason!
Enter our creamy roasted butternut squash soup, complete with spiced pumpkin seeds. Rich and flavourful, this is a warming dish you can enjoy for lunch or dinner with a thick slice of sourdough bread.
We have plenty of other vegan soup recipes to try too.
Roasted veggies and crispy chickpeas make a deliciously warming but light seasonal meal. This is ideal for a healthy plant-based lunch and is sure to brighten dull autumn days.
If you're feeling particularly hungry, this could also work as a side dish for jacket potatoes. Enjoy!
When you're really feeling the chill, there's nothing better than tucking into a good old potato bake. This classic comfort food can be veganised with dairy-free milk and 'cheesy' cashew sauce.
If you're looking for vegan autumn recipes the family will love, then you need to try this one. Feel free to add a generous sprinkling of vegan cheese on top – we won't judge!
Loaded with nutrients, spinach is a superstar in the vegetable world. And it just so happens to be in season during autumn, so pack it into anything you make for a vitamin boost.
Gnocchi is simple to make and you can give it a healthy upgrade by making this spinach gnocchi. You won't look back!
If these dishes have left you feeling hungry, why not try our vegan pumpkin recipes?