These show-stopping vegan dessert recipes are so good, they'll blow your socks off
Whilst many people will tell you that going vegan has helped with their health and fitness, it's equally valid to look for sweet treats and indulgences as part of a plant-based lifestyle.
There's such a wide variety of dairy-free treats that it's often difficult to know where to start. So, we've compiled some of the best vegan dessert recipes from our website.
From classic cakes to slightly more unusual options, there's something for everyone here!
These mini strawberry cheesecakes are as pleasing on the eye as they are the tastebuds.
This recipe by Wallflower Kitchen is perfect for a sharing plate for people to nibble on if you're hosting a party. Or, if you fancy, you can keep them all to yourself!
Nothing says 'dessert' like decadent vegan chocolate and ice cream, right?
This double chocolate sundae is easy to make with a few simple staples, so you can throw it together last-minute if needed. It's sure to leave a lasting impression on your guests – for all the right reasons.
These gluten-free lemon tarts are so light and full of flavour and make amazing summer treats.
Once you've tried these tarts once, you'll almost certainly be coming back for more.
This divine chocolate cake is one of the best vegan desserts around if you ask us!
Not only is it deliciously light and fluffy, this cake is also perfect for any special occasion and proves you don't need eggs to make mouth-watering desserts.
In fact, it's enough to make us salivate just by thinking about it.
A dessert that combines sweetness, creaminess and a biscuit layer? Yes, please.
A classic banoffee pie always goes down a treat because it ticks every box. This vegan take on the beloved English classic won't disappoint.
Carrot cake is (understandably) one of the most popular cakes, which makes it the ultimate sweet treat if you're trying to impress guests.
This version is somewhat guilt-free, as it's made without flour or refined sugar. It definitely does not compromise on flavour, so don't worry about it falling flat.
Is there a dessert more elite than the mighty macaron? Rhythm 108 has created the perfect vegan version so nobody has to miss out on these delectable bite-sized treats.
With a soft nutty centre and a light crisp shell, these vegan macarons are impossible to resist.
This vanilla cake is topped with dairy-free buttercream and it's ideal for occasions when you want to pull out all the stops.
As well as being utterly delicious, this vegan dessert is really fun to decorate, so get stuck in!
Who doesn't love cinnamon rolls? Fluffy, soft with an addictively sweet glaze, this dessert is dangerously more-ish.
While this recipe is easy to put together, it takes a little extra time and patience, but it's so worth it!
No round-up of the best vegan desserts would be complete without brownies.
These vegan millionaire brownies are super chocolatey with an irresistible shortbread crunch, making them a must-try.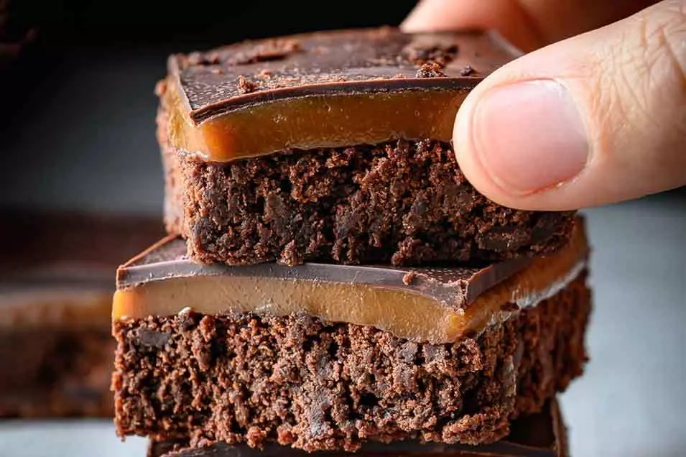 Feeling inspired by these? Browse more of our vegan dessert recipes to wow your guests.